Why yes, you can give sex toys as Christmas presents (and for Valentine's, anniversaries, birthdays, and just-because, too). What makes a good gift special is the thought and care you put into it to make sure the recipient gets something they're going to love.  This year, add a Fleshlight to your gift list for the man in your life who deserves more sexual pleasure!
Not sure which one to get him for Christmas? Try one of these top-rated Fleshlights that men swear by for their orgasms!
Pink Lady Vortex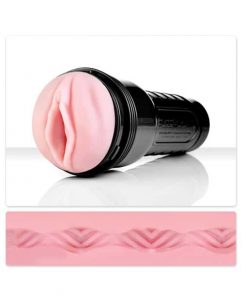 The Pink Lady is the original Fleshlight, and the Vortex puts a spin on the fun. He gets the pink SuperSkin material these sleeves are known for with the vaginal opening he craves. It's the super tight canal on the inside that makes all the difference. The Vortex offers an innovative texture unlike anything he's ever felt before.
Pink Butt Speed Bump
Does your guy love anal penetration? The Pink Butt provides the extreme squeeze anal lovers crave with the realistic material that Fleshlight users love. The canal is lined with textured bumps so each stroke in and out feels amazing. When you're not up for anal or when he needs to blow off steam, the Speed Bump gets the job done!
Flight Aviator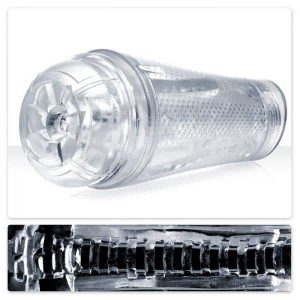 Does he want the luxury of a great masturbation stroker without the realism of most Fleshlights? Flight Aviator is a great solution. It's clear, so no flesh colors to look at. It's also sleek, aerodynamic, and compact. From across the room, this won't look like the typical masturbation sleeve. You both get discretion, and he gets the pleasure of the tight pleasure rings lining the canal.
Kiiroo Onyx 2
If you want to give your guy the gift of a virtual reality, full immersion sexual experience — or you want something you can use together even when you're apart — consider the Onyx 2 by Kiiroo. He gets all the sensations of a typical Fleshlight but with something a little extra. This Fleshlight offers 10 contracting rings that simulate penetrative sex and up to 140 strokes a minute! Even with all that power, it's a quiet, discreet sleeve that offers pure pleasure. It's the gift that keeps on giving!
Turbo Thrust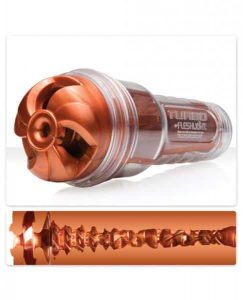 Does your guy love the realistic feel of a Fleshlight but hates the anatomical look? Is he a huge fan of fellatio? The Turbo Thrust offers a realistic and satisfying alternative to oral sex but without an opening that looks like a mouth. Because of it's design, the open slats allow air to pass through into the canal which turbo boosts the action. When you're not in the mood or available for a blowjob, this sleeve gets the job done.
Surge
Fleshlights can seem big and bulky, especially if you stick with the original or old school versions. But for the guy who wants something a little easier to handle, consider the Surge. It's lighter, shorter, and more discreet than the original. He can enjoy it with one hand which makes it easier to use and quicker to get off. The Surge features a vaginal orifice and textured canal so he gets exactly what he craves.
Quickshot Boost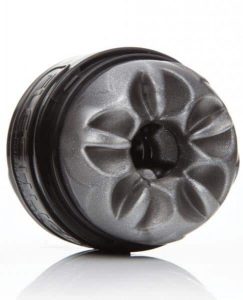 Some guys find the standard Fleshlight a bit bulky and unwieldy. It's hard to hide and takes too much effort to keep clean. For those men, the Quickshot Boost (available in black or clear) provides the perfect alternative. It's an open-ended, non-anatomical, shorter sleeve that doesn't encase the entire penis while still providing the realistic sensations of Fleshlight's SuperSkin material.
Torque
If he loves something with a bit of a twist, the Fleshlight Torque could become his new favorite. Like the Surge, it's lighter, shorter, and more discreet than the original. But it's also clear and non-anatomical. He can leave this lying around the bedroom and no one would guess what it is or how its used. But it provides all the pleasure he expects from Fleshlight.
Pink Lady Value Pack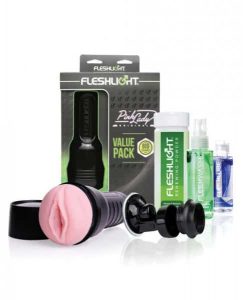 Is this your man's first Fleshlight? Start him off right and make this gift last a lifetime with the Pink Lady Value Pack. It includes everything he needs for orgasmic pleasure and to take care of his stroker. Included is the Pink Lady Original (vaginal orifice); Fleshlight renewing powder to keep it supple and soft; Fleshwash toy cleaner; Fleshlube water-based lubricant; and a shower mount so he can go hands-free in the shower. This is one gift he's never going to forget.
Conclusion
A Fleshlight is one of those gifts that you open once the kids have gone to bed and the family has gone back home. But it's also one of those gifts that tells your fella that you think he deserves more sexual pleasure in his life. Give the gift of orgasms, masturbation, and self love and put an adult toy under the tree this Christmas!