Are you the type of person who doesn't just want your dildo to feel good, but you want it to look good, too? Do the "flesh" tone toys turn you off or bore you instead of getting you excited? Do you have a favorite color? You're in luck because colorful, beautiful dildos exist, and they're perfect for people who want their sex toys to be bold!
Check out these nine dildos to help you find something gorgeous and functional!
Rainbow Justin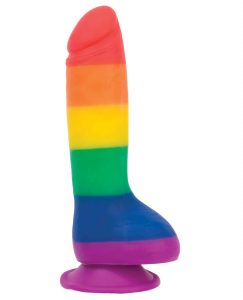 Whether you simply love rainbows or you want to sport Pride colors in every part of your life, the Rainbow Justin will not disappoint. This soft, silicone dildo is eight inches of flexible shaft designed to feel good no matter how deep you go. Use the strong suction cup for solo play or add it to your favorite strapon harness for partnered fun.
Red, White, and Green Leonardo
Lay this colorful dildo on its side, and you've got the Italian flag which is perfect for a Leonardo dong. Made by the same company who brought you Justin in rainbow colors, this dildo is seven inches of silicone bliss. Stick it to a flat surface to play alone or pop it into a harness for fun together. Either way, you'll say, "Ciao bello!" whenever you play with your new toy.
Rockabilly Blue They Them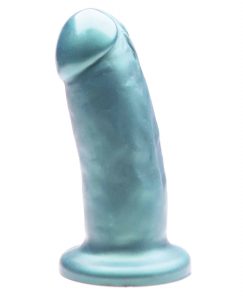 If girth matters more than length in your dildo collection, the They Them by Tantus might be your new favorite. The rockabilly blue is soft and gorgeous, as is the short, squat, and thick shaft. Made with the quality that Tantus is known for, you'll want to rub this super-soft silicone against all your most sensitive bits, inside and out.
Blue Wall Banger
For those who want to literally bang the wall, a bright blue Wall Banger dildo may be exactly what you need. Not only do you get the suction cup base and realistic design you crave, with seven inches of penetrative fun, you also get 10 vibration functions. Stick this toy to a flat surface and ride 'em cowboy!
Pink Sweet n Hard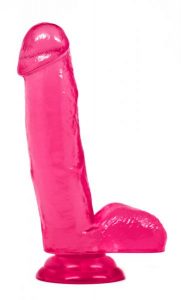 Do you love hot pink pleasure? You're going to love the Blush Novelties Sweet n Hard in pink! This dildo is great for beginners and aficionados alike. Enjoy seven inches of penetration, a slight angle to hit your hot spots, and a strong suction cup for solo, hands-free pleasure. The sculpted look gives you plenty of realism but with the fun and excitement that only a bright, hot pink can provide.
Lavender Double Dong
Want a dildo built for two? The lavender double dong is 18 inches of bendable, flexible couples fun. The girth of this double dong makes it perfect for anal to anal play, but feel free to use any combination that makes you hot and gets you off: anal to anal, anal to vaginal, or vaginal to vaginal. All that matters is that you have a good time with a great-looking dildo!
Midnight Purple Echo Handle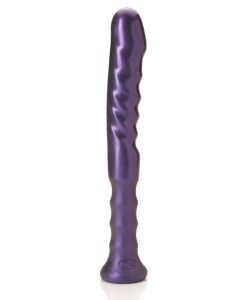 When you want a great dildo in a beautiful color, Tantus always delivers. The Echo Handle is a deep, midnight purple extra long dildo. It's made with an ergonomic grip for ultimate thrusting capability. It can target your G-spot or prostate with firm but soft silicone. Don't be fooled by the length of this beautiful shaft — it's definitely harness compatible.
Crimson Jezebel
With a name like Jezebel, it's no surprise that this Blush Novelties dildo is a deep crimson red. Enjoy the smooth texture of silky silicone as it taps your G or P-spot. Think tempting thoughts when you see the heart-shaped suction cup base. Enjoy your Jezebel status alone or with a partner, thanks to it's harness compatibility.
Neon Green Neo Elite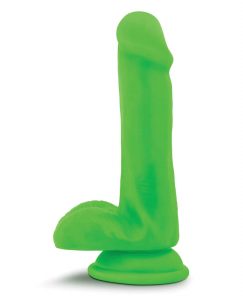 Love wild colors? You're going to love the Neo Elite in neon green! At six inches long, this dildo provides all the pleasure you'd expect from a textured, realistic shaft but with the fun of neon. Made with a soft outer layer wrapped around a firm inner core, you get a soft but rock-hard experience. Use the suction cup base when you're alone or a strapon harness when you're not!
Conclusion
Dildos don't have to look real to feel like the real thing. If you prefer your sex toys to be beautiful and functional, search for your favorite color. Not only will you get something you love to look at, but you'll get a toy you don't want to put down!
Which one in the list is your favorite? Comment below!