Looking for a special gift for yourself — or your partner this Christmas? Want to try a new sex toy but don't know where to start because there are just so many options? We've got you covered this holiday season (or any time you want something sexy and special).
Check out some of our top-sellers to find your new favorite toy and give the gift of orgasms this year!
Femme Funn Booster Bullet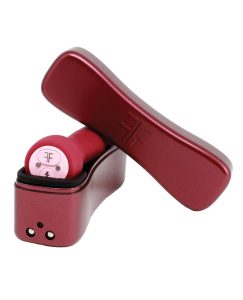 Before you write off all bullet vibrators as unable to offer real power, check out the Femme Funn Booster Bullet. It's small and discreet, just as you'd expect with any bullet, but this little vibe packs a real punch. Choose from 20 different vibration modes and enjoy the memory feature that remembers the last setting you're on when you turn it on later. And when you need a little more oomph in your orgasm, push the boost button for even more power.
Sensuelle Point Plus
Want a bullet vibrator that offers something a little extra? The Sensuelle Point Plus takes everything you love about the original Sensuelle and gives you even more pleasure. You get 30 percent more power and stimulation, plus changeable silicone tips so you can customize your experience. The twice-dipped silicone is luxuriously soft against your skin, and when you're done, charge it up so it's ready to go when you are.
Corked 2
Love a good butt plug but want something beyond the standard non-powered options? The Corked 2 gives you that full feeling you crave at the back but with the added pleasure of strong stimulating vibrations. The silky smooth silicone glides right in (once you add lube, of course), and the vibe helps you relax so you feel good inside and out. Take your butt fun to a new level with this powered up anal plug.
Helix Syn Trident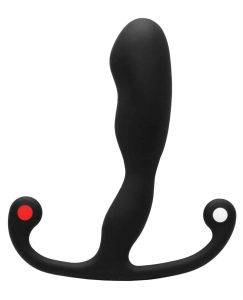 If you've taken your love of butt stuff to prostate massage, you're going to love the Helix Syn Trident by Aneros. No batteries. No charging cables. Just you and the perfect shape to tap your p-spot — inside and out. This prostate massager is designed for comfort and pleasure. Lube up and slide it in. As you move it back and forth (or as it moves during penetrative sex), you'll experience orgasmic stimulation on your prostate and perineum for a genuine double-header of pleasure.
Womanizer Premium
Is your clitoris your number-one-hot-spot for pleasure? Are you bored with the same old vibrators? It's time to change your vibration game with the Womanizer Premium. One of the top clitoral toys in the world, this new version is quieter, more powerful, and sleeker than ever before. If you've never experienced pulsing air on your clit, you're about to be amazed. Consider this an investment in your sexual pleasure.
We-Vibe Tease and Please
Looking for a holiday gift that makes you look like the real hero? The We-Vibe Tease and Please combines two of the top vibrators into one amazing gift package: a Womanizer AND a We-Vibe Sync. She'll get all the buzzing, pulsing, escalating pleasure she can handle, and you get all the glory for being the one who provided all the orgasms. It's a win-win for everyone this holiday season!
Rocks Off Truly Yours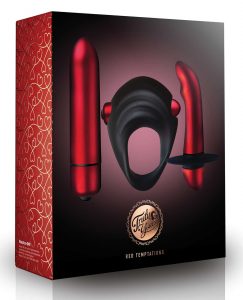 Want to give yourself the gift of pleasure this Christmas? The Rocks Off Truly Yours gift set puts three modes of pleasure into your hands: a penis ring, a butt plug, and one of the infamously strong bullet vibrators from Rocks Off. Play alone or play with your partner. Either way, everything goes from HO, HO, HO to OH, OH, OH with the press of a few buttons.
Fetish Fantasy Swing
Looking to boost your sex position game over the holidays and into next year? Maybe it's time to bring a sex swing into your life and your bedroom. Improve mobility, take some weight off achy joints, and find new ways to get kinky all with a simple piece of sex furniture. It's the gift that will keep on giving every time you and your partner decide to get naked and take it for a…spin.
Conclusion
Finding the perfect gift feels impossible until you finally see it and know it's the one they're going to love. The same is true when you're shopping for yourself. Start with this list, then explore Jack and Jill Adult for even more options! The holiday season is the perfect time to gift someone you love or lust after a few more orgasms and a lot more sexual pleasure.
What sex toys are on your wish list?? Let us know in the comments below!