You've heard of Steak and a Blowjob Day, celebrated in March, but have you heard of the (fairly) new companion celebration: Cake and Cunnilingus Day? Probably not. While some consider these random days of celebration cringeworthy, for others they can be a fun way to focus on sexual pleasure and start important conversations.
Here's what the experts have to say about this definitely made-up holiday. And if you're looking for fun ways to celebrate, beyond the obvious, we've got that, too.
Keep Sex and Intimacy Fun Beyond Valentine's Day
Fiona Gilbert, health and wellness advocate, says, "What a great way to keep sex and intimacy fun!  Valentine's Day has a lot of social pressure associated with it, so new made-up events such as Steak & Blowjob and Cake & Cunnilingus are cheeky fun ways to celebrate and keep things celebratory in a relationship."
"This year, during the lockdown, you may not be able to get as creative but the title of the day gives you a great starting point. Bake together and enjoy cunnilingus. Maybe even in the kitchen or somewhere other than the bedroom," continues Gilbert.
Create Opportunities to Further Sexual Equality
The idea of keeping score with "day" like Cake and Cunnilingus Day as a response to Steak and Blowjob Day isn't necessarily healthy for society. But it can serve a purpose, according to Rachel Lee, a marriage and family therapist. "Often when there is not equality for certain communities and issues in our society, we create opportunities to highlight and promote the minority group in order to seek equality or equity. Cake and Cunnilingus day would best be utilized in this way, in order to promote women unashamedly receiving sexual pleasure from their intimate lovers."
Lee adds, "Throughout history, sexual pleasure has been reserved for men. And women have been shamed for wanting, seeking, or engaging in sexual activities. Thus, in an effort to support women as a minority, "Cake and Cunnilingus Day" could serve as an opportunity for our society to change the conversation about women's pleasure by normalizing and encouraging sexual pleasure for women."
Maybe We Don't Need It
Of course, there's also the view that maybe we don't need it. Like Valentine's Day, a lot of pressure can be added to perform on days like Steak and Blowjob Day or Cake and Cunnilingus Day.
Dr. Jessica Zager (linkedin.com/in/dr-jessica-zager/), sex therapist, states, "Acts of love and gifts of service should not be done out of obligation or with the anticipation of anything in return. That's not what heartfelt giving is about. The idea of any holiday that puts pressure on one person to perform sexual acts on another, regardless of their relationship to one another, is deplorable. Sex is a gift that should be given freely without pressure or expectation."
Ideas to Celebrate Cake and Cunnilingus Day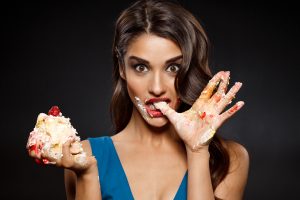 The day is meant to be all in fun. If you're inclined to celebrate, there are a few ways to enjoy the day. Of course, remember that your partner's vulva should get plenty of attention year-round — and not just on one day of the year.
Try something new
"Couples could try cunnilingus in the shower or sideways may be on a floor full of cake and candles. Turn off the lights and use candles to create a sexy atmosphere," advises Alexis Taylor, relationship expert for Tinderoplus.
Get creative with your conversations
"There is some interesting terminology that couples may learn to adapt to for just this day so as to make their conversations appealing and suggestive. For example, "I would like to have a box lunch at the Y." This suggests oral sex because the letter "Y" looks like a vulva," states Taylor.
Figure out what you want to try
"Put a list together of various sexual expressions. Next to it, write yes, no, or maybe.  Each person in the relationship will have their own matching list, and they will respond on paper. "Yes" if they want to try something. "No" if they are not interested. "Maybe" if they feel uncertain. Then, share these lists with one another, showing empathy, validation, and curiosity.  Validating your partner's interest does not mean you agree or consent to the sexual experience," says Lee.
Make or order a cake
Celebrate the cake part just as much as the oral sex part advises Lee. "I love the idea of getting a cake that's inspirational, sexy, and allows a woman to satisfy her pleasure through her sweet tooth. Get a fun cake and allow her to make a wish about how her pleasure will evolve over the year. If you feel especially motivated, get her a gift by shopping for a sex toy together!"
Conclusion
Celebrate or don't. Love it or hate it. But if you use Cake and Cunnilingus Day as an "excuse" to eat more cake and lick or be licked, we definitely don't blame you. And if you want to add a sex toy to make it even more fun for everyone, we can help!
Have you ever celebrated Cake and Cunnilingus Day (or Steak and a Blowjob Day)? What was that like? Share down in the comments!