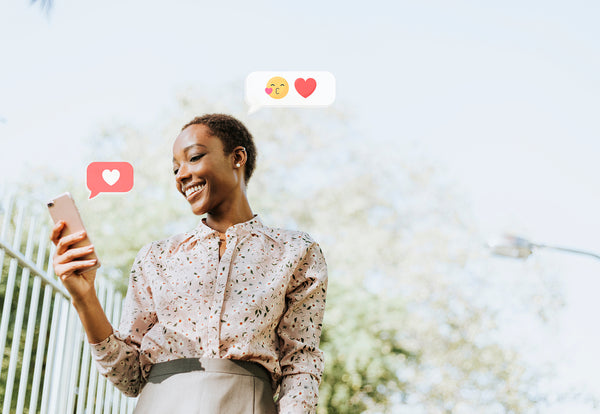 Our entire lives are moving more and more into the digital realm. Digital streaming services are edging out cable, digital downloads are replacing game and movie disks, eBooks are becoming stiff competition for hardcovers and paperbacks, and blogs (like ours) are filling the periodical article fix that magazines once did. It should come as no surprise that our social interactions have become increasingly reliant on digital platforms, as well, and that includes our expressions of sexuality — like sexting.
What Is Sexting?

Sexting is exchanging sexually charged text or picture messages of yourself with someone digitally, usually via cell phone. It is no more and no less than the digital evolution of steamy communiques from other points in the human experience. Risqué telecommunications (the umbrella that covers sexting and other related activities, such as cybersex and phone sex) has become so commonplace that it even has its own set of tropes in media. Still, knowing how to sext the right way is hard, and sexting pics can be intimidating. PinkCherry is here to help!
Emoji and Initialisms
With the advent of instant and text messaging came restrictive character counts that made it necessary to find shorter ways to say what you meant. It didn't take long for this to evolve into a kind of dialect composed of alternative spellings (such as eleet), initialisms like LOL, and emoticons — the precursors to our ever-expanding emoji. The character counts are largely obsolete, but these habits die hard, so people still use codes and pictures to express themselves in an instant- or text-message format, and sexting is no exception.
Emoji and initialisms are particularly common when the sexting occurs in an environment where it might be frowned upon if discovered (like, say, an exceptionally boring family game night). They can also convey emotion and coyness, something that is notoriously difficult to do through text alone. If you're ever stumped on how to sext a good response to a hot message, a quick (but careful) search of Urban Dictionary or a similar slang dictionary site should clear everything up.
Steamy Selfies
The bread-and-butter of sexting is the upgrade from boudoir photoshoots to steamy selfies sent instantly (or not; we don't judge your filter usage) from the comfort of wherever you want to take them. Smartphones make sexting pics easy and fun, and PinkCherry makes those selfies steamy with lingerie and other props, like BDSM gear and vibrators, that can spice up your nudes and make them even more share-worthy.
Picture messaging platforms like Snapchat are ideal for safely sending steamy selfies. With Snapchat sexting, you can set how long the message is viewable and send it to as many or as few people as you want. If you're particularly proud of those snaps, you can even monetize them with a paid channel.
Chat Services
Along with Snapchat sexting, there are literally dozens of options for sexting platforms, from plain old SMS to paid sites like Extra Lunch Money, where you can monetize your dirty chats for pocket money on a secure site that caters to sellers rather than viewers. Let's focus on the most common platforms for sexting between partners and love interests, though.
Facebook Messenger is a popular choice as most smartphones come preloaded with Facebook as a social media app. Chances are, you already use it for other types of social interaction, so adapting to using it for sexting pics and texts should be simple. One word of caution, though. The "send" button is very close to the "add to story" button for pictures, and unless you want Grandma Edith to see your sticker-censored nude, be very careful which button you push.
Kik is another popular messenger app that functions similarly to Facebook Messenger, but without the associated social media platform. It's similar to old school instant messaging (still a viable option, by the way), but it also has the sent, delivered and read receipts to let you know that your audience has viewed the message.
Chat services like ChatRoulette and 123Chat are options for the more adventurous sexters among us. Why adventurous? Because you can sext with random strangers instead of someone you know. We recommend this for singles and swingers, but it's not a great platform for established couples unless you create a private room.
Roleplay Sexting
Another exciting application of sexting is to play out your fantasies in a safe and not-real-life setting. Similar to BDSM dynamics, roleplay sexting involves each participant acting in the part of their "role" — often part of a matched set, like master and slave or teacher and student. In the same vein as cybersex, participants then write out what they would do if the situation were real. Coupled with some steamy selfies, roleplay sexting can get your motor running in the same way that porn or erotica does by adding a little bite to the fantasy you see in your head.
Safety and Security
Finally, safe sexting is crucial. This may seem like it goes without saying, but the internet is forever, and it isn't always a friendly place. Take your safety and security seriously, both when it comes to choosing who to sext and storing private photographs. Don't overlook red flags in favor of keeping a conversation going or flout security measures out of convenience. Take precautions and safeguard your data — safe sexting will lead to a more fun and positive experience.
Keep Sexting Exciting with PinkCherry

Sexting can seem like a daunting task. But PinkCherry believes that learning how to sext is really an adventure of discovery. You learn about your partner, the world and, most importantly, yourself. It's a way to explore your fantasies, engage your mind and keep things steamy — no matter how far you are from your partner or pen pal. Visit us today to find new and popular sex toys to take your sexting to the next level!