Do you love your masturbator? Do you have a favorite stroker or sleeve that never fails to get you off? There's nothing wrong with having a go-to sex toy, especially if it gives you pleasure you can count on.
What if you could take your orgasm and sensations to a new level? With a vibrating stroker, you can get all the stimulation you love from your standard stroker but with plenty of buzzing and humming from a vibrator. Once you find the right spot, you may never want to stop.
Check out these eight vibrating masturbators and take your next orgasm to a whole new level.
Sultry Vibro
The Sultry Vibro is everything you love about a stroker — a realistic feel and look, tight squeeze, and plenty of texture — but with a little something added. Take your typical wank to a new place with the added vibrations. You'll get a good hum around your shaft and might get to the good part even faster.
Mega Grip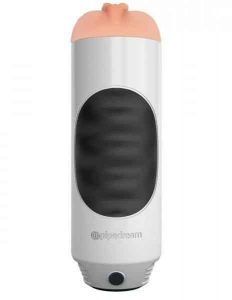 The Mega Grip puts the control over your orgasm directly into your hands. The Fanta Flesh feels like you've got a sexy someone squeezing your shaft. But when you want something tighter, use the squeeze textured sleeve to control the pressure. You also get 10 patterns of vibrations while you're thrusting in and out to make the entire experience even more amazing.
Curve Mistress
Love to slam hard into your partner, so hard you feel their pubic bone against your pelvis? You're going to love the Curve Mistress. Your shaft will be surrounded by the double-textured sleeve for a lifelike experience. The 10 functions vibrating egg will wrap you in sensations you didn't know were possible.
PDX Elite C*ck Compressor
Don't let the name scare you. The PDX Elite C*ck Compressor is all about pleasure. Using innovative airbag technology, this masturbation stroker inflates and deflates around your shaft giving you the stimulating squeeze you're craving. Between that and the 10 vibration patterns, you get to enjoy multi-action sucking and milking in a way no other stroker can do.
Cyberskin Vulcan
Want to get back to basics while still getting an out-of-this-world treat? The Cyberskin Vulcan is an open-ended sleeve that includes a vibrating bullet. You get the tight, textured sleeve you love with extra thrums and buzzes of a vibrator. Whether you give into a Star Trek fantasy or not is completely up to you.
Zolo Girlfriend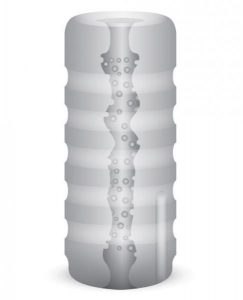 Want a masturbator that doesn't look or feel like your standard sleeve? Try the Zolo Girlfriend. It includes a seven function bullet vibrator to add something spicy and stimulating to the textured sleeve. Close your eyes, picture your fantasy or latest crush, and get yourself off as hard or as slow as you like. With a stroker, your pleasure is completely in your own hands.
Hot Chocolate Erin the Enchantress
Looking for something hotter than your typical wank? Try Hot Chocolate Erin the Enchantress! You get the tight squeeze and ribbed sleeve you demand, and the multi-speed vibrations you didn't know you need. Lube up, and hit the front door or, if you're needing something a little more, go in tight and right through the backdoor. Either way, get you some!
Apollo Alpha
Looking for a masturbator that isn't like all the others? Check out the Apollo Alpha. It's a completely self-contained, USB, vibrating power stroker. Get even more control over your orgasm with the ABS comfort-handle. You can customize the tightness and enjoy 30 stimulating vibrations, pulsations, and escalations. This is a stroker that will blow your mind.
Conclusion
Once you find the first masturbator you'll love, you have a choice. Stick with what you know and never try anything new. Or branch out and find out what other kinds of pleasure are waiting for you. We vote for the second option.
Don't be scared of vibrators. They're not all big and powerful, and they don't have to rub you raw. Look for a vibrating stroker that lets you control the speed, sensation, and squeeze so you get exactly what you want from your next adult toy. Which is the whole point of playing with a toy — getting the sensation, stimulation, and pleasure that you want most.
Have you ever used a vibrating stroker? If not, would you use one? Let us know in the comments!