Read a few books, watch a movie or two (you know the ones), and you might think that kinky sex involves lots of leather, plenty of whips, and a few scary contraptions out of the medieval world. Those things exist, and some people really enjoy them. But there's much more to the world of kink than the dark stuff.
Like so much of sexuality, kink and BDSM exist on a spectrum from silk scarves and feathers all the way to the whips and chains in red rooms. With a little experimentation and a bit of playful fun, you can find what turns you and your partner on the most.
Talk to Your Partner First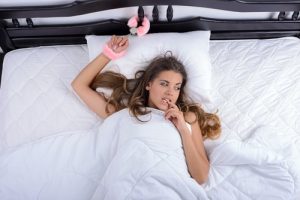 It's easy to get excited and buy a lot of kinky sex toys to try. You'll have a lot of fun searching through all your options and picking out the items that excite you the most. You want to know what isn't fun? A partner who recoils at the idea of being tied up or spanked.
Before you go on a shopping spree, sit down with your partner and talk about your fantasies. This can be a fun exercise, especially if you're already naked and horizontal at the time. Whisper your dirtiest secrets in their ear. Confess your deepest desires. Or while basking in the afterglow, shop for kinky toys together.
Bottomline: Don't spring your desire to try kink on an unsuspecting partner. With their help, you may find even better or more interesting fetish gear to try.
Start Slow When Exploring Kink
You're dreaming of tying your partner to the bed and making them crazy. Maybe you're hoping to be the one tied up, blindfolded, and helpless while waves of pleasure wash over you. Remember, that's the end goal, but everyone starts somewhere in the world of kinky sex.
You've talked to your partner, and they've consented to trying out this kink thing with you. Good! Now, it's time to crawl before you walk and walk before you run. Here are a few ideas:
You might not like something when you first try it. That's okay, too. Try a different technique, pace, or level of impact. Remember, you don't have to do anything you don't enjoy and neither does your partner.
Keep Experimenting with Kinky Fun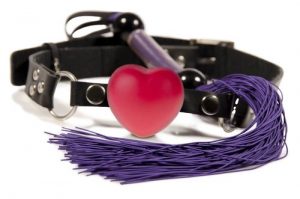 The more you play around with kink, whether it's sexual roleplay or spankings in bed, the easier it is to find what you enjoy the most. When it comes to BDSM and kink, you can do anything that tickles your fancy as long as it's safe and consensual.
Spankings
Take your spankings to new levels with the addition of new toys. Floggers, riding crops, whips, and paddles are just a few options. Play with the force used with each toy. You may find you love deep thudding hits or the stinging burn of other impact.
Bondage
Tying your partner with rope takes practice and skill. If you're not ready yet, try handcuffs or restraint systems. Change the positions of their legs. Maybe you want them spread apart so you can tease and torture them in the most pleasurable way. Maybe you both get off on some discomfort. Have fun with it and find what works for both of you.
Control
In kinky sex, control plays a big role. Ball gags, blindfolds, and collars are just the beginning. Start with smaller gags until you or your partner are comfortable. Try different types of blindfolds to find what works. Collars and cuffs aren't for everyone, but if they turn you on, go for it. Make sure they fit well so nothing distracts you from your kinky sex.
Conclusion
The erotica is fun to read and kinky movies are great for fantasy. Black leather, whips, and chains are fun for some people. If that's not your thing, though, there are plenty of ways to have kinky sex with your partner. Start slow, try different things, and remember to talk to your partner to find out what you both enjoy. With so many kinky sex toys to help you make your fantasies come true, you'll find what gets you both off in no time.
Interested in kink? Want to try it with your partner? Share this infographic with them!