You might consider emojis the 21st-century version of hieroglyphics. There's a good chance that in thousands of years, no one will know what they mean without a translation. Emojis are used to communicate feelings and emotions. We use them as shorthand when we're talking and chatting. New emojis being added to text makes national news. They're a way to express ourselves when words fail. And yes, they can help you express yourself when you use a butt plug, too.
No, really, emoji butt plugs exist. Here are a few to check out if you want to express yourself in yet another way.
About Mojis Butt Plugs
Emojis are everywhere, including your favorite anal toys, specifically butt plugs. Mojis plugs come in two colors: black and pink. They're 100 percent silicone for a soft, comfortable entry while also being body-safe and a toy you can easily clean and sterilize. Use any water-based lube you love, just make sure you apply plenty of it so your butt plug feels good going in and staying there.
Eggplant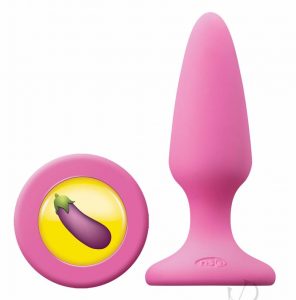 We all know what the eggplant stands for, right? That's right, the D. If you're playing with a butt plug and have no partner around, consider the Mojis Dck Anal Plug your "replacement." And if you can manage it, take a picture and send it to the one you wish was pounding you from behind. It's better than using the typical plugs, and you'll have a better time and more fun in the process.
Peach
Like the eggplant, most of us know what a peach emoji means. It's the booty, of course. Maybe the Mojis Bty Anal Plug is a little too direct, but it definitely gets the point across. Wiggle your peach while you wear your peach! Your partner gets to enjoy the view twice! And if you follow up the plug with a penis or dildo, even better.
OMG Face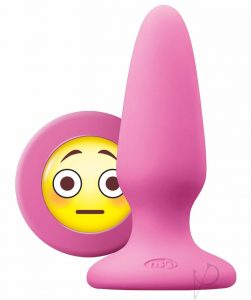 What face did you make the first time you imagined using a butt plug? If you thought, "OMG!" you definitely weren't alone. For those who have a sense of humor and don't take themselves too seriously, show off your OMG face in a whole new way with the Mojis OMG Plug. Even when, and especially if, you're really thinking, "Oh hell yes!" instead of "OMG!" And if you're still a little nervous about using butt plugs, let your emoji plug do the talking for you.
WTF Face
Call it the WTF face or the "OMG, I'm dead" face. Either way, for some people, that's their first thought when they try a butt plug — or even imagine trying one — for the first time. Of course, anal doesn't have to make you say WTF, but you're not alone if you're thinking it. Avoid a real-life WTF moment with plenty of lube, and keep your sense of humor with the Mojis WTF butt plug all at the same time.
I Love You Face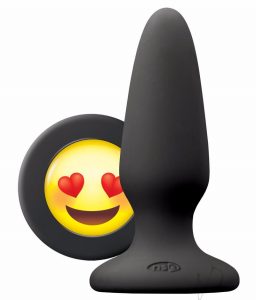 For anyone who loves butt plugs — wearing them, showing them off, wiggling your butt at your partner — the Mojis Ily plug is perfect for you. Show your absolute love and joy for all the anal fun you're about to have by using this fun and happy plug. Everyone has a better time when we're smiling and loving what we're doing!
Poop
Let's be real — poop happens, especially when you're doing butt stuff. The Mojis Sht plug shows that you're not hiding from the inevitable. In fact, you're embracing it! If you love sending the poop emoji for any reason, you're probably going to love this plug. It's funny, on point, and shows you don't take yourself or your butt plug too seriously. Sex, of all kinds, tends to be very silly at times, and there's no reason not to embrace the silliness.
Conclusion
Who says butt stuff can't be fun and funny? Of course, it can! Let your sarcastic humor, your snark, and your silliness shine through. Pick a butt plug to fit any and every mood. But if you prefer your sex toys without emojis, you can always find that, too. Here at Jack and Jill Adult Superstore, we can help you find whatever you need to get off and have a good time.
How do you feel about emoji butt plugs? Fun or nah? Let us know in the comments!