[vc_row][vc_column][vc_column_text]What's better than being wet? When you're getting down with the one you love or just the one you lust after, nothing. Add some slippery fun to your life with the Jack and Jill Adult Wet lubricant giveaway!
It's free to enter, and the winner gets all the lubed up, oiled up, wet fun you can handle. One lucky winner gets to try different scents, different sensations, and, oh yeah, different flavors from Wet.
How do you enter?
Scroll down and enter your name and email address to join our newsletter email list! That's it and you're entered to win.
What do you win?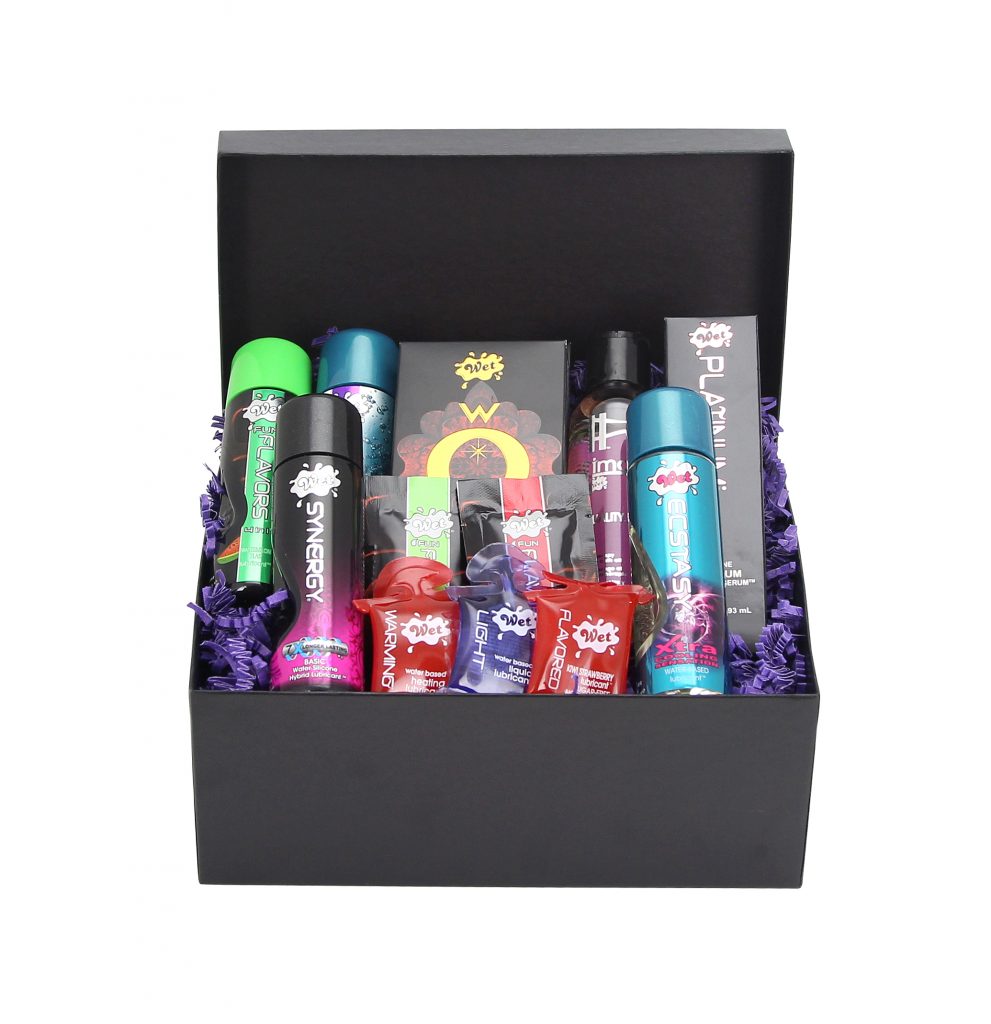 1 Wet Synergy Basic Hybrid 3.3oz
1 Wet Original Water Based 3.6oz
1 Wet Fun Flavors 4-In-1 Watermelon 10.7oz
3 Wet Pillow packs 10ml Watermelon Blast, Wet Light, Wet Kiwi Strawberry
2 Wet Pillow Packs Watermelon, Cherry .33oz
1 Wet Ecstasy Xtra Cooling Sensation 3.6 oz
1 Wet Platinum Silicone Lubricant 3.1oz
1 Inttimo By Wet Sensuality Aromatherapy Massage Oil 4oz
1 Wow Max O Clitoral Stimulating Gel .5oz
$130 Prize Value
Giveaway open for U.S. entries only. Employees of Jack and Jill Adult Superstore are ineligible to enter. The giveaway is open between July 16 and July 29, 2018.[/vc_column_text][/vc_column][/vc_row][vc_row][vc_column width="1/2″][vc_column_text]
Why do you need more lube in your life?
Lube works hard to make you and your partner feel good.
Go slow and add lots of lube to anal play — butt plugs, pegging, and prostate massage.
Add extra lube when the mind is willing but the body won't cooperate.
Reduce friction and discomfort during penetration.
Add fun flavors to oral sex.
Make masturbation — with or without sex toys — even better.
Ready to win your big box of Wet lube? Fill out the form to enter now![/vc_column_text][/vc_column][vc_column width="1/2″][vc_raw_html]JTNDY2VudGVyJTNFJTNDaWZyYW1lJTIwc3JjJTNEJTIyaHR0cHMlM0ElMkYlMkZtYWRtaW1pLmNvbSUyRnNpZ251cHMlMkZiOTgwOTFiZjY4ZDQ0NTgwOTVjOTllZTRhOTdjODllNyUyRmlmcmFtZSUyMiUyMHNjcm9sbGluZyUzRCUyMm5vJTIyJTIwZnJhbWVib3JkZXIlM0QlMjIwJTIyJTIwaGVpZ2h0JTNEJTIyODQwJTIyJTIwc3R5bGUlM0QlMjJtYXgtd2lkdGglM0ElMjA2MDBweCUzQiUyMHdpZHRoJTNBJTIwMTAwJTI1JTNCJTIyJTNFJTNDJTJGaWZyYW1lJTNFJTNDJTJGY2VudGVyJTNF[/vc_raw_html][/vc_column][/vc_row]