Certain sex toys get all the attention. Yes even for guys. You already know about masturbators and Fleshlights, but a toy that might just blow your mind (among other things) is the humble but powerful penis ring. At its most basic, it doesn't look like much — it's just a silicone or rubber ring. But when it fits, feels good, and sits in the perfect spot, it can make you feel things you didn't believe were possible.
Still not convinced? Check out all the reasons why more guys should embrace, try, and use penis rings more often.
Get Hard, Stay Hard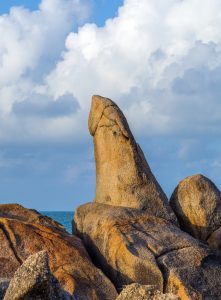 The core function of a c-ring is to restrict the blood flow to your penis. Once you're rock solid and engorged, the ring around the base of your shaft (or testicles) keeps you that way. It's not something that lasts forever, and you shouldn't wear a penis ring for too long. But if erectile dysfunction (ED) is something you have to deal with, c-rings can be a great solution. Plus, once you're ultra hard, you're also hypersensitive and you feel everything. And no, you don't have to have ED to benefit from an ultra hard shaft.
Last Longer
A nice side effect of staying hard is that you also last longer. While penis rings are often used between couples during sex, they're also fun for masturbation. If you love the build-up and the way your body feels as you slowly get to the point of no return, a penis ring may be exactly what you need. You're going to get off eventually, but until then you'll have plenty of time to stroke yourself until you can't stand it anymore and think you might just explode.
Explosive Orgasms
Want bigger orgasms that seem to come out of nowhere? Get a penis ring. Thanks to the restricted blood flow keeping you hard, by the time you're ready to climax, it's like shaking a soda bottle and then opening it up. WHOOSH! All that heat and sexual tension build up while you're jacking off or having sex, and once you blow your load, it's a whole new experience. Your orgasm with a good c-ring is unlike any other orgasm you'll have.
Give Your Partner Something Extra
Vibrating c-rings are a great option for penetrative sex. You get the restricted blood flow, rock hard shaft, and a massive explosion at the end. Your partner deserves something special, too, and this can deliver. Usually, these couples rings have a bullet vibe on the end but others like the Optimale have a flat disk shape. The whole point is that it touches your partner's clitoris with each thrust. You give it to her good on the inside, and your c-ring gives her good vibrations on the outside. Together you can both get off in a big way.
Stimulate Your Own Body
Your penis ring already stimulates you, right? When you're that hard, you're more sensitive and even your hand is enough to make your skin sizzle. Now add in something more…just for you. Prostate stimulation, vibrations around your penis ring, perineum (aka taint) stimulation, you name it, a c-ring can probably do it. Try the Screaming O SwingO for a bit of gentle backdoor fun.
Sex Toys are Fun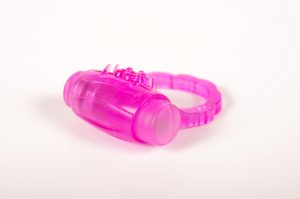 Sex toys have a reputation for being a toy only women use. You've seen the memes about hiding a vibrator under the bed or about how she loves her battery-operated boyfriend more than her man. Actually, plenty of guys use all kinds of sex toys, not just penis rings. Why? Because they're freaking fun!
Sure, you can use your hand or have sex with your partner, and that's great. But c-rings and other sex toys do what no hand or body part can do. They add another level to sex, masturbation, and orgasms that are meant to make you feel amazing. What's not to like about that?
Conclusion
Buy a basic stretchy penis ring or go all in on a vibrating luxury c-ring. The choice is yours, but the result is the same. You're going to feel amazing. Wear it while you masturbate or when you're getting naked with your partner. If you've never tried one, you may be shocked at what you've been missing. Try out a new penis ring and find out for yourself why it's such a great sex toy for guys!
Think more guys should use a c-ring too? Share our infographic below!