Vibrators are slowly but surely becoming a staple item in bedside drawers across the US. Vibrator use is more common than you might think. It seems like everyone has a couple of clitoral vibrators or even a rechargeable battery-operated G-spot vibrator.
Well, not everyone, but quite a few women do. Research shows that 53% of women in America have used a vibrator. 
So, half of the women you know have probably taken a vibrator for a spin at least once. More likely, they have and use one frequently. With those vibration modes that can make legs shake with pleasure, who can blame them?
If you ask any sexual health educator, they'll tell you that vibrators are a great tool. Sex toys in general, especially those that offer internal and external stimulation and have various vibration settings provide plenty of benefits. They can keep you sexually satisfied. Some of them even come with an intelligent mode that will allow you to enjoy their sonic waves hands-free. Their only downside is that you can't have a relationship with them!
But if that's not enough, let's see the eight reasons every woman should have a vibrator.
Vibrators Provide Powerful Orgasms
There are plenty of benefits to owning vibrators. Pleasure, of course, is the main benefit. But, perhaps unexpectedly for some, vibrators also have some vital fringe benefits for female health. For example, women who use vibrators are significantly more likely to do self-examinations every month. They are also more likely to attend gynecologic exams. 
But, women mostly buy vibrators for pleasure. Although, curiously, pleasure wasn't the main objective of a vibrator in the past. 
Once Upon A Time, a Vibrator Was Born
In the 18th century, male doctors came up with a condition for all unladylike ladies behaving oddly. The condition included various symptoms. For example, tiredness, anxiousness, and depression were all "unladylike."
Today, we now know these mental health issues require extensive treatment that includes therapy and meds. But things were different in the past. Then, women with mental health issues (and those without them) were "hysterical."
Male doctors searched high and low for a solution which is how the vibrator was born. Back then, it had a different name — the Tremoussoir — and it was a massive, wardrobe-sized aid that required at least two people to operate it. Its primary purpose was to "alleviate" the symptoms of hysteria. 
Now, that aid and the made-up illness of hysteria that was used to keep women in the arbitrary, patriarchal line were misguided tools of control. Still, the doctors pulled a solution out of nothing. Sexual stimulation and orgasms are great stress-relievers. Many women carry clitoral vibrators in their purses (for some quick stress relief).
So, they were onto something there. It's just that their delivery and the overall oppression kind of make it hard to give them credit.
Today, vibrators come in many different shapes and sizes. From small bullet vibrators like Jill's Lil' Bullet to G-spot vibrators with a curved tip like the Lelo Gigi 2, vibrators are specifically designed to take your solo play from ordinary to extraordinary. That's true both for clitoral vibrators and those with more than one feature. Each one will provide you with what you need — an orgasm. 
Easier, Stronger Orgasms (Oh, My!)
To reach an orgasm, we have to trigger the sexual response mechanism of our bodies in the right way. There are two main parts to this mechanism. The first part is the "SES" mechanism — the sexual accelerator. The scientific name is the Sexual Excitation System, but "SES" sounds much better, so we'll go with that. 
So, the SES is in charge of turning us on. It responds to all stimuli that we think are sexual or arousing. So, everything we see, touch, smell, hear, or taste, and everything that we imagine that might arouse us, will trigger the SES.
The other, equally important, part of the sexual response mechanism is the SIS. The Sexual Inhibition System does the exact opposite of the SES. It reacts to all stimuli that might turn us off. Everything our bodies and minds perceive as unwanted or unsexy (or even threatening) will trigger the SIS and kill all sexual desire. Potential SIS triggers are self-image issues, overthinking about what's happening, unwanted pregnancies, possible STDs, relationship issues, etc.
So, the SIS and the SES work in tandem. Our bodies have to trigger the things that turn us on and prevent us from triggering those that turn us off. All of us overthinkers know precisely how hard that last part is.
Vibrators to the Rescue!
But how do vibrators factor into that? A vibrator won't help you with not triggering the SIS triggers. But the mechanical stimulation will significantly trigger the SES ones. As mentioned, manual stimulation can't offer such high levels of accurate stimulation. The intensity of both internal stimulation (that every vibrator offers) and external stimulation (that some vibrators offer) is unparalleled.
So, it's much easier to reach an orgasm with a vibrator. It's also more likely that you'll have a stronger orgasm than you would with any other form of stimulation.
It's the Right Tool for the Job
If you're one of the ladies opposed to using vibrators because you feel like you should be able to satisfy your body's needs with your own two hands, we have some news for you. When it comes to sexual pleasure, you must forget about "coulda, woulda, shoulda." 
Instead, focus on doing whatever it takes to reach that pinnacle of pleasure. Don't think about vibrators as supposed to "take over" for you. Instead, think of them as something that will help you get where you're going. 
It's much easier to complete a task if you have the right tools. For example, if you're trying to plant a daffodil in your garden, you'll do a much better job if you have a shovel and a spade than you could with just your bare hands. The same goes for orgasms (but don't try reaching one with a shovel. Use a vibrator instead!).
Vibrator Use Of Men And Women During Intimacy [Infographic]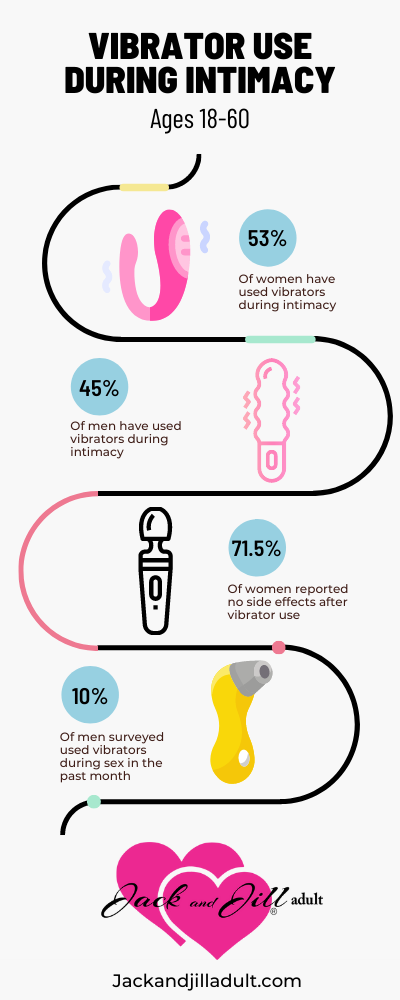 And Blended Orgasms
Reason number two, every woman should have a vibrator goes hand in hand with reason number one. A vibrator (especially one that's a double whammy — a clitoral vibrator that also offers internal stimulation) is more likely to give you a blended orgasm.
Blended orgasms are kind of like multiple orgasms. All women have the capabilities of reaching them, but not many do. So they are like the Holy Grail of sex for women, considering that we're constantly searching for ways to reach them.
Unlike all other forms of stimuli (especially penises), vibrators offer reliable orgasms. Of course, you can always trust your handy bullet vibrator to get you to the finish line. You can also trust your G-spot vibrator, which also happens to be a rabbit-style device (like the Love to Love Bunny & Clyde Tapping Rabbit Vibrator, for example) to help you chase that blended orgasm.
…Will Come Along Easier
As some of you may know, there are different types of orgasms. The two main ones are:
clitoral orgasms, which are a result of direct clitoral stimulation
vaginal orgasms, which are a result of stimulating the G-spot 
And, in case you didn't know, the G-spot is the internal part of the clitoris. Clitoris is quite large, and most of its body is hidden from view. That's why stimulating it from two different sides (preferably with different stimuli and vibration modes) provides a different sensation. 
Vibrators and penetrative sex (when done right and in the correct positions) can offer the exact stimulation you need for a blended orgasm. But unlike penetrative sex, it's much easier to experiment with vibrators when it comes to angles and depth of penetration. After all, you only have to move, tilt, and rotate one small toy rather than your partner's entire body (that the penis is attached to).
Learning What You Like With the Help of a Vibrator
So, reaching orgasm isn't as easy as pop culture would have us believe. As mentioned, it's hard work because your body and your mind have to work in sync to prep the field and take you on the orgasmic journey until its very end. 
Around 10 to 15% of women report that they have never experienced an orgasm in their lives. Furthermore, every sixth woman under the age of 28 reported that they either don't know whether they orgasmed or have never orgasmed in their life. That's a massive number of orgasm-less women!
And Learning How to Reach an Orgasm
Now, various factors could potentially contribute to the inability to orgasm. For example, some prescription meds make it hard for women to get aroused and climax. 
Furthermore, some conditions, such as depression, endometriosis, chronic illnesses, and chronic pain, can contribute to a woman's inability to orgasm. But there's also one huge contributing factor that stops many women from having the Big O, and that's not knowing how to make themselves orgasm.
Not being in tune with our bodies and our needs and not knowing how to satisfy them is a massive problem when it comes to reaching an orgasm. 
And Experimenting
Owning vibrators and sex toys, in general, can help us solve that issue. Sex toys give us a chance to experiment with our bodies. They are a great way to explore our likes and dislikes, gain confidence in bed, and generally see what exactly works.
Some women have never had an orgasm simply because they don't know how to. Manual masturbation perhaps hasn't worked for them. Furthermore, partnered sex that only includes penetrative sex with little or no clitoral stimulation probably hasn't gotten them where they need to go. 
Vibrators offer a specific type of stimulation that we can't replicate in real life. 
Being in Control of Your Own Pleasure
While we're on the subject of making things easier to control (and experiment with), we can't help but mention the third reason every woman should have a vibrator. These toys (and any sex toy, really) allow you to take full control of your pleasure. 
The times of talking about our own pleasure in whisper-quiet voices when we think no one else but our closest confidants can hear us is over. Today, women are free to talk about sexual pleasure, sexual experiences, and their wants and needs. It's time to take the shackles of patriarchy off our wrists and take our pleasure into our own hands.
How a Vibrator Can Help You With That
You can easily do that with a vibrator. It allows you complete control of the situation. In other words, it will enable you to take the pressure off of yourself in a sexual situation. When you use a vibrator (be it for internal or external stimulation), you're exploring your body and finding out your likes and dislikes without relying on anyone. 
Vibrators and Feminism
Using vibrators is a huge benefit for women who might still have some misguided shame-related feelings about sex. It's pretty difficult to relax in a sexual situation that includes a partner. That makes reaching orgasm much more difficult. When we rely on our partners to make us orgasm, we're essentially trusting that they know what they are doing (and can follow instructions). Although people are good at that (some are better than others), it's still much more efficient to do it yourself.
But more importantly, it's empowering. Using a vibrator might not seem like a radical feminist move to some, but in reality, it is. Sex toys allow women to get to know their bodies without being shamed for seeking out their pleasure and get some satisfaction. With the orgasm gap as wide as it is (only 39% of women orgasm during sex, as opposed to 91% of men), taking pleasure into your own hands is a huge deal.
Plus, guys use sex toys all the time. Every other man has a sex toy in his bedside drawer, be it a simple cock ring or something more advanced like a blowjob machine. So why shouldn't women have sex toys as well?
The feminist movement was responsible for taking the vibrator out of the closet. For decades, women have used vibrators or vibrating massage aids such as the Hitachi Magic Wand to make themselves orgasm. Still, it wasn't until the 70s that the feminist movement brought light to that. 
The sexual liberation of women started a massive sexual revolution that changed the way sex toys were talked about (and used). It also changed the entire sex toy industry. Today, we have so many options to choose from, and we're not limited to one Magic Wand to get us to orgasm.
Orgasm Statistics For Men And Women [Infographic]
Exploring New Sensations
If you're just now on the brink of your very own sexual liberation, then getting a vibrator is the right move. 
There was a taboo that surrounded all sex toys (including vibrators) for a long time. Sure, women used them, but they didn't talk about it, compare notes, or recommend products to one another. Now, things are different, and, if you haven't already, now's the time to jump on that sexual liberation bandwagon. 
Owning a vibrator (or a few) can help you get to know your body on a deeper, more intimate level. You are the only person that can understand you on that level, so why miss out on that opportunity?
Because vibrators come in many shapes and sizes and have various features, they can offer different forms of stimulation. Some will wow you with their internal stimulation features (and various vibration patterns). In contrast, others will amaze you with gentle suction and G-spot stimulation. Those sensations might be new to you, and the vibrator is the only way to experience all of them (maybe even simultaneously). Siple masturbation or sexual intercourse can't compare (in technical terms).
The vibrator is a versatile toy, so it should be in every woman's sex toy arsenal. They allow you to enjoy pleasure for pleasure's sake, without owing anyone anything.
Relieve Some Stress (And Pain)
Orgasms are powerful. There's no other way to say that. Our bodies do amazing things during and after orgasm, and we should all take advantage of that as many times as we can. 
Be it with a clitoral vibrator that will allow you to sneak a quick orgasm in or with an oral sex simulator that will blow your mind; all vibrators can help you harvest the power of orgasms. But why exactly would you want to?
Suppose we set aside the fact that orgasms feel amazing (especially for women). In that case, we can consider the health benefits they offer. 
For example, have you noticed that you don't feel any pain immediately after an orgasm? That's because they are excellent painkillers. They relax your body and increase your blood flow which helps ease the pain. 
Goodbye Logic, Hello Pleasure
First of all, during an orgasm, our brains shut down their orbitofrontal parts that are in charge of logic, reasoning, and decision making. So that's why we find it hard to think logically after we orgasm. 
However, a fringe benefit of that is that we also find it hard to be anxious or to feel fear. This is because the orbitofrontal cortex plays a significant role in anxiety, which is why anxiety and stress are low right after reaching the Big O.
But that's not all. When we orgasm, our brains release a surge of chemicals. Those chemicals are various hormones and neurotransmitters that have the name "bliss chemicals" or the "feel-good hormones" (with good reason).
A Chemical Attack of the Best Kind
The two most important chemicals are dopamine and oxytocin. 
Dopamine is the chemical responsible for feelings of happiness, joy, pleasure, and motivation. That's why we feel elated after an orgasm. These feelings can help us combat stress and anxiety, and fear. Dopamine is also directly responsible for all feelings of pleasure, which means it's a powerful motivator. It has a great role in learning — when our brains reward us for something by giving us a surge of dopamine (in the form of an orgasm, for example), they are conditioning us to learn what made us feel that good and do the exact thing again and again.
Oxytocin is the love hormone. During sex, it's responsible for bonding with your partner. When we masturbate, it gives us a specific sense of satisfaction.
Sleep Like a Baby
Both oxytocin and dopamine are powerful hormones that can ease our stress and anxiety. But the chemical flood that comes after an orgasm can also help us sleep better. 
Because the feel-good chemicals make us more relaxed, less anxious, and less stressed, we won't have as much trouble falling asleep (thus promoting a healthy sleep schedule). Oxytocin and prolactin will make us feel satisfied and happy. Still, they will also trigger a decrease in the production of cortisol. 
That particular hormone is responsible for feelings of alertness and excitement. Conversely, when our bodies are preparing for sleep, the production of cortisol decreases.
And Develop a Healthy Sleep Schedule With the Help of a Vibrator
That's why it's so easy for many of us to fall asleep after an orgasm. The chemical combo makes us feel sated, tired, and sleepy. So, if you have mild insomnia or just have trouble shutting off your mind at night, try masturbating before bed. It will do wonders for your sleep schedule!
Of course, this is only possible if you orgasm, so using a vibrator is a good idea. It will give you a chance to stimulate yourself both externally and internally while also stimulating other body parts (such as your nipples or vaginal opening) to get as aroused as possible and reach the climax.
A vibrator can provide different sensations and offer strong vibration modes of varying intensity levels that will lull you into sleep in no time (after a mighty, leg-shaking orgasm, of course).
It's Easier Than Ever to Own One
Our final reason every woman should own a vibrator is that it's super easy to get one. What's more, it's also easy to get one that will be right for you. The type of vibrator you buy and use is your personal preference. 
But the good news is that there are plenty of options to choose from. Like a bonafide vibrator Goldilocks, you'll find a vibrator that's "just right" for you.
Vibrators Have Leveled Up
Over time, vibrators have evolved in a great way. They used to be these devices meant for internal use that sounded like concrete drills and rarely had more than three speeds. Sure, they did a great job even back then, but they weren't as sophisticated or discreet as they are today. 
You can get whisper-quiet bullet vibrators that look as inconspicuous as lipsticks. You can also get a wand vibrator that's a vast improvement compared to its predecessor. A wand vibrator is a best seller in many shops because women are used to the sensations it provides. 
However, as mentioned, the best vibrator is the one that works for you. So, suppose you're feeling more daring. You can get one with a wireless remote control for a hands-free experience or any other kind of medical-grade silicone vibrator that will have you leveling up in the sexual pleasure game.
It's So Easy to Shop for One
Getting a vibrator is easier than ever. You're one click away from having not only the best vibrators but also the information about all of them. Online shops such as Jack and Jill have thrived even before the lockdowns. Still, we've all been cooped up in our homes, desperate for a distraction (that can also provide orgasms); the online ordering and delivery process for sex toys has been perfected. 
There's Something For Everybody
Of course, one of the major benefits of vibrators is that there's something for everybody. The market has it all from small bullet vibrators that offer superb clitoral stimulation to suction toys and other small vibrators like the We-Vibe ones that can fit in your pocket.
Which type of vibrator you pick comes down to your preference. Some women want a great toy that will make them orgasm. In contrast, others want a remote control battery-operated clitoral stimulator that can double as a prostate massager (so they can share it with a partner) but is also a G-spot vibrator that packs a powerful punch in the form of vibration modes that are off the charts. 
We're trying to say that different women have different preferences, and the sex toy market can cater to them all. 
So Find One That's Perfect for You
Whether you go for a clitoral stimulator that comes with a remote control function and an autopilot mode, a bullet vibrator that has a battery life that will last for days, or a smooth silicone G-spot vibrator that you can also use for anal play, the vibrator you pick will definitely allow you to reach new heights of pleasure. 
All you have to do is get one and let it. 
But which one should you pick? Well, that's up to you. But, remember, the best vibrators are the ones with multiple features. So, we suggest a rabbit vibrator, like the Adam & Eve Eve's Clit Loving Thumper Vibe, or a clitoral stimulator like the We-Vibe Melt.