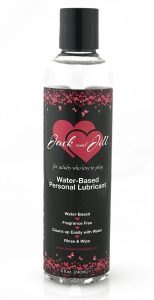 Lubricant is a normal, healthy product to use during sex. There are many different types of lubricants you can shop from to find something that is most ideal for your unique needs. If you're curious about when to use a water-based lubricant, keep reading for more information.
Water-based lubricant is the most popular lubricant. It comes either with or without glycerin. Products with glycerin have a slightly sweet taste.
Water-based lubricant is also sometimes called "versatile lube" because it can be used during almost any type of sexual activity. Water-based lubricant can even be used with silicone toys. Water-based lubricant is also safe to use with both latex and non-latex condoms. Water-based lubricant can even decrease the risk of condom breakage.
There are several pros to using water-based lubricants. For one, this lubricant doesn't typically stain sheets. Additionally, a water-based lubricant made without glycerin isn't likely to cause vaginal irritation. Finally, this type of lubrication has a longer shelf-life than other types of lube.
At Jack & Jill Adult, our water-based personal lubricant is an affordable and safe product to use in the bedroom. Our formula is made from plant-based glycerin and provides a silky smooth and comforting glide without stickiness or tackiness. Find this lubricant in 2, 4, and 8-ounce sizes. We also carry a premium water-based lubricant that does it all. This lube selection has a superior slickness and is made from a super smooth gel that mimics the body's natural lubricant. This lubricant comes in 2 and 4-ounce bottle sizes.
You can shop our selection of lubricants either online or at one of our Florida stores. Be sure to shop with Jack & Jill Adult to discover high-quality, safe lubricants made to improve your sex life!