Of course you can buy sex toys at an adult store. But good sex toy shops offer far more than that! Sexual pleasure goes beyond the products we use on or in our bodies. When you shop at a store like Jack and Jill Adult, you'll find so much more than what you expect to see.
DVDs, Books, and Magazines
The digital world hasn't killed 20th century media yet. For those who still prefer to read, look at, or watch their porn outside of the internet, adult stores continue to offer a wide selection. Pick up an erotic book you won't find in any mainstream bookstore. Get your porn cheaper than you realize with the right DVD. And if you still love a nude centerfold and the articles, magazines might not be as common anymore, but they're still an option.
Sexy Games
Want to try a different kind of game night? Looking for a way to spice up your relationship? Naked Twister, card games, and sexy fun that encourage you to try something new help you do exactly that. You can try it as part of your next date night or use it as a way to actively work on improving your sex life and relationship. Either way, you'll have a good time and learn something new.
Sex Furniture
Vibrators, penis rings, and even bondage gear might all immediately come to mind when you imagine shopping at an adult store, but what about sex furniture? Wedges help you get into comfortable positions or try sex in new positions. Slings and swings take your sexy fun out of the bed. You can get kinky or keep things sweet and vanilla, but it'll definitely take sex to a new level for both of you.
Sex Education
Not all of the books and DVDs at a sex toy shop are porn. Some are designed to teach us what we didn't get in school — a healthy sex education. Sex is so much more than what we've been told. It encompasses plenty of fun and a lot of communication. If you know you could be doing sex and pleasure better than you are — for yourself or with a partner — look for the information you need at a local shop.
Party Decorations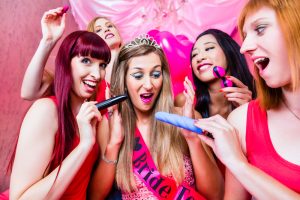 Throwing a bridal shower? Want to make a statement at your next party? Sexy party decorations and even the silly ones are sold at adult shops. You're not going to find these in a big box store, and even if you do, those will be sad and generic. So look for sexy gag decorations at the place where it makes the most sense to get them — a sex toy store.
Bath and Body Products
You already know you can get the good lube at a sex shop. Did you know you can get body wash, perfume, and other grooming products there, too? The shower you take to get ready for a date is different than the one you take to go to work. You want to smell amazing, look good, and be so irresistible they can't wait to get you home and naked. From shimmery lotions to fragrances designed to turn your partner on, adult stores are the place to go.
Private Booths
While everything else can be purchased inside a local sex toy store or online, private booths are only available at a local shop in town. Follow the rules and don't leave a gross mess, but this is one way to enhance your pleasure and excitement — alone or with a partner. Watch a private show or porn. Enjoy yourself or your partner. End the night by buying something new and take it home to continue the fun.
Gift Cards
Good adult shops are fully in the 21st century including making it easier than ever to give the gift of sexual pleasure. If you want to gift your partner or friend a sex toy but don't want to choose the wrong thing, gift cards are always a good idea. Not only are you encouraging the person who receives it to explore pleasure, you're adding a bit of sex positivity into the world and normalizing the use of sex toys.
Conclusion
When you go to a good, clean, well-run adult store (ahem, like Jack and Jill Adult), you'll want to go back for more. One visit is never enough time to see it all, and you'll discover something new with each visit. But don't be surprised when you find products beyond vibrators and sexy lingerie. A good sex toy shop imagines all the ways you can experience sexual pleasure and provides what you need to have a good time.
Have you ever bought any of these things at an adult shop? Share with us in the comment section below!
Know someone who isn't sure what to expect at an adult store? Share this infographic and spread the knowledge!