Do you have a bondage fantasy that involves kinky sex with handcuffs or restraints and being tied up by your partner? For the person who wants to be tied up, it's often about giving up control and being at the mercy of someone else. For a moment in time, they want someone else to take charge, have their way with them, and make them feel good in ways they might not be able to describe.
If this is what you're picturing when you think about trying bondage with your partner, it's important to know how to play so that everyone has fun and stays safe.
Talk About It First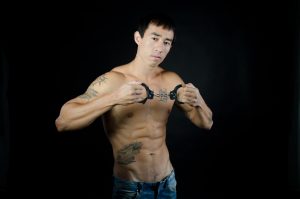 Anytime you decide to try something new, kinky or not, always talk about it with your partner. Not only does everyone need to consent before you do anything, but you also want to make sure you both want the same thing. A great way to do this is to share your fantasies with each other. Maybe it's a sexy picture they saw online or something one of you saw in porn. You might not be able to do that exact thing but it gives you both an idea of what the other wants.
It's not enough to talk about what you want sexually. You should also discuss what you'll use in your bondage play. Some people love the idea of handcuffs. Other people want a rope experience. Go over the details of what you want to do and how you'll do it before you play. The moment won't lose any heat or spontaneity because of it. The easiest way to kill the moment, though, is to do something your partner doesn't like and doesn't consent to.
Start Simple
A lot of people who decide to play with bondage think they're supposed to jump into the deep end of the pool with rope, Shibari skills, and even suspension. In reality, this is the quickest way to get hurt or hurt your partner. It's also better to start slow and simple when trying any new sexy thing, including tying up your partner.
Handcuffs are an easy way to immobilize your partner. Make sure you know where the key is or how to work the quick-release mechanism on the cuffs. Don't use handcuffs that you can't easily get out of. Police handcuffs might be stronger, but if you don't have the key, you'll be calling 9-1-1 or going to the police station to get them off.

You can also try bondage tape which doesn't hurt the skin like other tapes do. It comes in a variety of colors and lets you bind your partner in fun and interesting ways. Play with different positions or just "decorate" their body with tape.

Try an under-the-bed restraint to keep your partner right where you want them. You can restrain them by their wrists, their ankles, or both. This is a lot of fun when paired with other fun like oral or penetrative sex or sex toys that get your partner off.
Play Safe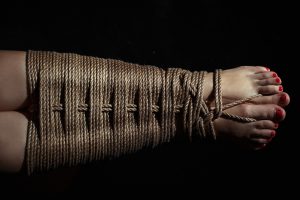 When you try something new and kinky, it's supposed to be fun and exciting. But some kinky fun, like bondage, has an element of danger to it. Cutting off your partner's circulation or accidentally cutting into their skin with a restraint is a very real possibility. Before you tie each other up, make sure you know how to keep each other safe.
Set up a safeword or signal.

A safeword

needs to be something that doesn't fit in the context of the moment. And if you're is unable to speak for any reason, a signal will work instead. Your partner can snap or drop something they're holding, but they should do something that lets you know there's a problem.

Keep the handcuff keys or safety scissors close by.

If your partner begins to go numb or feel pain, you need to get them out of their bonds immediately. Handcuffs usually have a quick-release option and they should come with a key. Safety scissors will cut through other types of restraints.

Check in with each other.

If your partner's feet or hands turn blue or feel ice cold, get them out of their restraints. They might be losing circulation which can lead to long-term problems. Ask if your partner feels good and adjust their position if they feel pain or their hands or feet tingle. When in doubt, get them free of their restraints as soon as possible.
Conclusion
Tying up your partner, or being tied up, can be sexy, fun, and make a boring bedroom routine exciting again. With the right sex toys and plenty of communication, you and your partner can get kinky in all kinds of new ways. Make sure both of you consent and that you play safe. No amount of wild sex and fetish fun is worth serious injury.
Are you ready to get kinky with bondage? Did you learn something new here? Share with us in the comments below!