Buying your first sex toy can be a momentous occasion, especially if you've been wanting it for a long time and holding off on exploring your sexual desires until you got it. Now that you've ordered it — or bought it at a store and have brought it home — what happens next?
The short answer is that you'll use your new sex toy in whatever way feels amazing to you. But there's a little more to do before you get naked and start playing. Here's what you need to know.
Clean It Off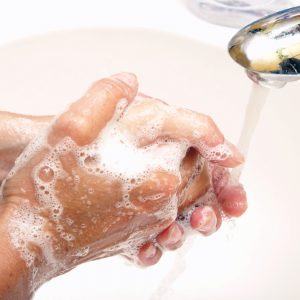 From the manufacturer to the store, your sex toy has had a lot of opportunities to come into contact with different locations and people. While sex toy companies and adult stores take hygiene and cleanliness seriously, you still don't know what your toy came in contact with before you bought it.
Clean it before you use it. Most of the time, soap and warm water is more than enough. You can also use an antibacterial sex toy cleaner if there's a chance your toy was handled before you received it. Let it dry completely before putting in batteries or charging it up. If your toy doesn't require a power source, let it dry and then have fun!
Charge It Up or Get the Batteries
Every sex toy is different, and not every toy requires a power source. But if you've purchased a vibrator, prostate massager, or any other toy that has an on/off button, you need to give it power. When you buy a sex toy that needs batteries, it's a good idea to buy them at the same time so you know you have them. Some will come with batteries but not all of them.
For a rechargeable toy, read the instructions, plug it in, and put it on the charger before playing with it. Most vibrators will have a little bit of a charge so you can turn it on, but it won't be enough to really have fun with it. This is one time when you're going to need patience. Give it an hour or so, and then you'll get to use it knowing it should last long enough for at least one good orgasm.
Hold It, Feel It, Push the Buttons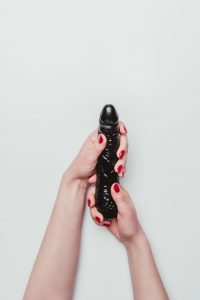 Assuming you didn't buy your new toy in a local sex toy store, now is the time to get a feel for your toy (pun absolutely intended). Touch it and squeeze it to decide if you like the material or you think it will feel good against more sensitive parts of your body.
For toys that vibrate, pulsate, and do other fun, battery-powered things, turn it on. It's never fun to be in the middle of mind-blowing pleasure and realize you don't know which buttons do what. Try out the buttons now so your play isn't interrupted while you fumble around trying to figure out how to turn it up later.
Start Slowly
Once you've played with a few sex toys and learned what your body enjoys and can handle, you can usually dive right in with a new toy. But for your first one, start slowly. Toys that penetrate will likely need lube. Toys that vibrate may need to start on the lowest setting or somewhere other than your most sensitive bits.
Remember, this isn't a race. You've got time to explore and enjoy your new sex toy. Take your time, breath, and have fun. The more you learn about your toy and yourself, the more you'll be able to explore later.
Conclusion
For some people, buying their first sex toy can be overwhelming. Whenever possible, go into an adult store like Jack and Jill Adult and look around. This will be a great time to ask questions and maybe hold a toy before you buy it. We know a lot of people will buy their first sex toy online, though, so take your time once you receive it to make sure it's a good fit for you.
And always remember one thing: If a sex toy doesn't do it for you, even if a lot of people like, it's not your fault. Not every sex toy works for everyone. Keep looking and trying new things, and eventually, you'll find your perfect match.
[w153_th_products title="Best Selling Items" orderby="bestsellers" categories="dildos,vibrators,sexy-wear" count="12″]