If a threesome is on your sexy bucket list, you might not yet be thinking past the moment when you've got the consent of two other people to get naked as a group. That makes perfect sense because there's a lot to do leading up to a threesome, let alone thinking about what happens next. You've got to find willing partners, negotiate how it will work, and find out what each person will or won't do. Your top priority with a threesome is in making it happen in a safe, consensual way.
But once you're ready for one, or if threesomes are becoming a more regular sexy thing you do, it's time to think beyond logistics. It's time to think about all the fun you can have with your partners. One of those ways is how to add sex toys to the fun. First, let's dispel a few myths. Yes, sex toys have a place in any sexual interaction. No, it doesn't mean you or one of your other partners are lacking in anyway. In reality, some people need the stimulation a sex toy provides to feel their preferred type of pleasure.
What sex toys should you use? The easiest answer is "all of them!" But if you need it narrowed down, here are just a few ways to incorporate a sex toy into your threesome.
Pick a Dildo
Depending on who, if anyone, among you has a penis, you might need or want extra penetrative power in your threesome. You've got more options than you realize. Double-sided dildos allow two people to penetrate themselves at the same time. Strap ons and strapless dildos give one person the ability to penetrate a single partner from multiple angles. Glass dildos can add a variety of sensations, especially if you want to add a little temperature play to your fun. Penetrative sex toys of any kind add a new dimension to your threesome. It might even feel like a foursome if you get creative enough.
Get a Penis Ring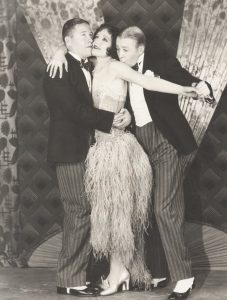 Assuming at least one person in the threesome has a penis, a penis ring is a great sex toy for multitasking. Not only does the person wearing it experience more intense orgasms and sensations, they're able to last longer. The blood flow to their penis is restricted to make them harder, longer, thicker, and able to enjoy the pleasure of their other partners even longer than usual. If the idea of a threesome makes you or a partner worry they'll come too soon, sex toys like a penis ring can be the answer. Make it a vibrating ring, and the person being penetrated can have their own feel good moments with each thrust.
Try a Vibrator
Vibrations, buzzes, pulsations, and other motorized sensations aren't for everyone. You can't and shouldn't assume either of your partners will enjoy a vibrator. That being said, for those who love them, this may be the sex toy of choice for at least one of you. Gentle teasing pulsations from a bullet vibe offer something different from the roaring vibrations of an Original Magic Wand. You can also find vibrating dildos that let you penetrate your partner in multiple ways. Talk to each other and find out what you already enjoy. Once you know that, adding a vibrator could add something special to your threesome.
Add Kinky Sex Toys
Playing with kink in the bedroom can be complicated enough with two partners. Adding a third person takes it to a new level. Everyone will need to clearly communicate their consent and their limits before you decide to add any bondage sex toys. But if you do, a whole new level of sexy fun can open up. Paddles, floggers, under the bed restraint systems, and blindfolds are just a few of your options if you add an element of kink to your threesome. Play with power and decide who's in charge. If you're going to make one fantasy come true as a threesome, as long as everyone consents, there's nothing wrong with making a kinky fantasy come true at the same time.
Conclusion
Anything you do with one partner can be done with two. Focusing on everyone's pleasure and managing expectations are extremely important. Just like you should discuss what you want to happen (or don't want) before you begin, you need to talk about where and how sex toys fit in, as well. No one should feel ashamed for wanting them or rejecting them. The most important part to your threesome is the pleasure, fun, and connection you create with each other.
High-quality sex toys add an extra element to any sexual experience. They allow people to feel sensations that hands, mouths, and other parts simply can't provide. For others, they may need that additional stimulation to help get them off. How you add sex toys to your threesome depends on what everyone involved wants and needs, but don't count them out completely. Sex toys can take everyone's pleasure to new heights.
Have you ever used a sex toy during a threesome? How did that go? Share in the comments below!