As much fun as sex toys are and as much pleasure as they provide, most people consider toys a "female" thing. Women buy them and use them, and guys either think they can't or shouldn't. Some men wonder what, if any, options are out there for them to enjoy. The reality is that there are plenty of sex toys for men just waiting to be tried, enjoyed, and used over and over again — alone or with a partner.
Note: Gender isn't just male or female; it's a spectrum. In this specific instance, we're discussing sex toys for people who identify as male and have a penis. Regardless of your gender or your physical body, sex toys can enhance your pleasure. It's all about finding what makes you feel good.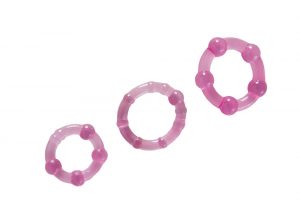 Penis Rings
Probably one of the first sex toys for guys that might come to mind, a penis ring can be as simple or as advanced as you'd like. At the minimum, it's a stretchy ring that fits around the base of your penis or testicles and restricts blood flow once you're hard. That means once you get hard, you stay that way longer. When you orgasm, it's more intense and explosive, too.
You can stick with the basics or you can choose penis rings that vibrate or pulsate — often a good option for your partner. Take it to another level and try something high-tech like the We-Vibe Pivot and not only do you get vibrations, but you can control it from your smartphone.
Strokers and Sleeves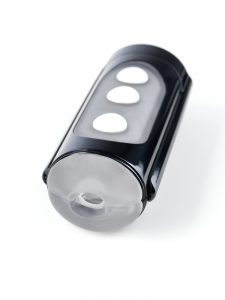 Everyone knows the "jokes" about hairy palms and calluses.  But sometimes your hand really does get boring. Strokers and sleeves give you a break and provide new types of stimulation. Whether you choose self-lubricating one-time use toys or you get something you can use over and over again, there's no shame in wanking one out with some help.
Contrary to popular belief, you don't have to be lonely and desperate for a partner to enjoy a masturbation sleeve or stroker, either. Masturbation in a relationship is okay, but your partner might even want to watch you play or use their own toy while you get yourself off. Talk to your partner and find a way to play in a way you both enjoy.
Anal Toys
Let's say this right up front. You can like "butt stuff" aka anal and not be gay or bisexual. Enjoying the sensation doesn't change who you're sexually attracted to. Anal sex and play won't "emasculate" you or say anything about who you are as a man. At the same time, it's okay to try anal play and really not like it, either. But if you kind of like it when your partner puts their finger on your butt, it's time to try anal sex toys.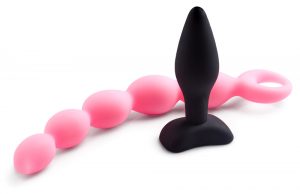 Always start small with anal if you're trying it for the first time. A slender anal probe is a good choice, but so are anal beads which start small and work their way up in size. Butt plugs can be as small or as big as you want. If you decide to go for full penetration, you can use a dildo but start small there, too. No matter what, use plenty of lube so you don't hurt yourself when you play.
Prostate Massagers
Some guys don't like the idea of "anal" but are willing to try prostate massage. Try it for yourself with just a finger and you may be surprised at how good it feels. Most men report much stronger and even multiple orgasms. If you're still unsure, you can start with an external prostate massage (on your perineum) before going internal. The orgasms will feel good on your perineum, but they should be even stronger once you take things inside.
Prostate massagers can help enhance your pleasure and let you have fun without sticking a finger up your butt. Non-powered options simply "tap" your p-spot — that's your prostate — without adding vibrations or extra sensations. Vibrating prostate massagers like the Dr. Joel Kaplan 5 Function Prostate Stimulator rev things up to a new level and bring you to orgasm faster and with more intensity.
Conclusion
Sex toys for men are no different than those for women. You just have to find what feels good to you. Some men like the simplicity of a penis ring and staying harder for longer. Other guys would rather try something buzzy and internal. Think about what feels good when you're having sex or masturbating and look for sex toys that can give you a similar feeling. It's a good way to experiment with sex toys and pleasure and find what gets you off in the way you like best.
Know someone who could use more sex toys in their life? Share this infographic with them!