If you think of BDSM and the 50 Shades books or movies come to mind, you're not alone. But BDSM is so much more (and better) than what fiction depicts. That being said, it's also risky and not for everyone.
Before you get your kink on, there are a few things you need to know about BDSM.
What BDSM Means
BDSM encompasses all the kinks and fetishes people are into. The acronym stands for a different part of the kinky life. They're typically paired off like this: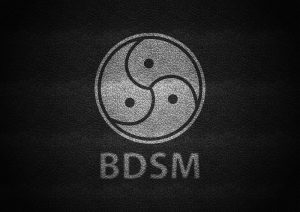 Bondage and Discipline (B and D)
Dominance and Submission (D and S)
Sadism and Masochism (S and M)
You don't have to be into all of them to consider yourself into BDSM. You can enjoy one aspect of it, and it "counts". In all of these activities, one person is the top, or the one doing the activities to the other partner, and one person is the bottom, the person on the receiving end. You can enjoy being just a top or just a bottom or you can switch between the two, based on the activity, your mood, your desires, your partner, or your personal preferences.
For those who worry that the activities done as part of BDSM are "abuse," one thing separates kink from abuse — consent. More on that later. First, what do all these things mean?
Bondage and Discipline
Bondage and discipline don't automatically go together, but like anything in BDSM, they can. Let's look at them separately, though.
Bondage takes many forms but most people know it as tying a partner to the bed or wrapping them in an intricate rope tie. In general, bondage limits a partner's movements. This can be with items like rope, bondage tape, restraint kits, etc. It can also happen by holding a partner down, sitting on them, or simply telling them not to move. In bondage, the partner doing the typing up or immobilizing is the top. The partner being tied up is the bottom.
Discipline can be part of bondage — if you're told not to move, and you don't move, you're showing self-discipline and doing what you're told. But that's only one way to play with discipline. Another way is for one partner to follow rules or do tasks set by the other. In some cases, if a rule gets broken or a task doesn't get done, there's punishment to go with it. This can be funishment aka breaking a rule so you get the kinky activity. Punishment can also be a means to "remind" a submissive or bottom not to break rules in the future. 
Dominance and Submission
While all BDSM is about control — one partner is in control, one partner gives up control — it's most evident in dominance and submission (D/s). To play with D/s is to play specifically with power dynamics between people. While there can be an element of discipline, as mentioned above, it's not required. D/s can also be interwoven into every other facet of BDSM, but it doesn't have to be.
In D/s, you have two partners — the dominant who is in control and has power, and the submissive who gives up control and power in some way. Some people are switches, and they take on either role, depending on the situation and a lot of other factors. For some D/s couples, they only play with power and control in the bedroom during sex. For others, their dominance and submission comes out of the bedroom and impacts other non-kinky parts of their life. 
All D/s must be discussed and consented to by both partners. There should never be an expectation from one partner to the other about what they think will happen. What kind of control a dominant has/a submissive gives up must be explicitly stated and agreed to. Either partner can withdraw their consent at any time and for any reason. Submissive partners do not have to be submissive forever or in all things. Dominants do not have to be in charge of everything. Each partner can have their own limits.
Examples of D/s include telling one partner what to wear, being called Sir or Ma'am, controlling whether one partner orgasms and much, more more.
Sadism and Masochism
Sadism and masochism may be both the most well-known and the most misunderstood parts of BDSM. Sometimes called sadomasochism, this is the part of BDSM most commonly associated with pain. Sadisms want to cause pain in their partner; they're the top. Masochists enjoy feeling pain with a partner; they're the bottom. Consent is absolutely required.
Pain occurs in a variety of ways and at different intensity levels. A masochist can like one kind of pain (like a spanking on the butt) and not like other forms of pain, and they're still a masochist. A sadist may like using nipple clamps or a paddle but not other kinky toys and still be a sadist. Most people think of pain in terms of physical pain — pulling hair, spanking, pinching. But emotional pain like erotic humiliation is another way to play with sadism and masochism. This can include name-calling or embarrassing a partner in public.
All forms of BDSM must be negotiated very carefully, but sadism and masochism are most clearly risky forms of play. (Pro tip: every part of BDSM carries risk, not just sadism and masochism.) It's important that both partners communicate clearly about what kinds of pain you want to play with, what your body and mind can handle, and what you can't handle. Not all pain is good pain, and a masochist has the freedom to withdraw consent or stop play at any point. Sadists, too, have their own limits and certain types of pain play they won't engage in, and that's okay.
Safety in BDSM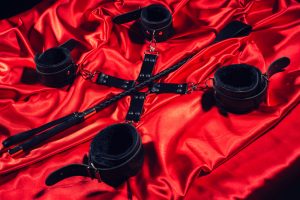 As mentioned above, all BDSM carries certain risks. There's the risk of physical harm and the risk of emotional or mental harm. Knowing these risks is important before you play so make sure you do your research before you get kinky. Two key ways to keep both partners safe in BDSM are through communication and risk-awareness.
Communication and Consent
Ask any long-time kinkster and they'll probably tell you they talk more about BDSM than they actually play. Why? Because communication is absolutely essential for a safe BDSM experience.
First, you communicate with each other to figure out what you want to do.
Then you communicate to get consent to make sure you're both on the same page about what you want to do.
Next, you communicate while you play to make sure everyone is having a good time.
Finally, you communicate when you're done to check-in with each other's physical and mental well-being, as well as to figure out if that's what you want to do again in the future. This is known as aftercare.
When you want to get kinky again, you start the process all over. If you're not a good communicator when you start BDSM, you'll need to learn those skills along the way. 
Understanding Risk
Risk assessment in BDSM is extremely important. It's not enough to just talk about what you want to do. You need to know what the potential risks are for each of you.
In bondage, a nerve can get pinched or circulation can be cut off which can cause serious injury to the body.
With D/s, one person can be asked to give up more control than they can handle which can impact either their physical or mental health.
During pain play, physical (and emotional) injury is a very real concern due to the implements used to inflict pain — paddles, hot wax, things that pinch, etc.
And those are just the top-level risks you can encounter. Each activity has its own set of very specific risks to be concerned about. As you learn more about BDSM, you'll hear about three distinct risk assessment guides:
Safe, sane, and consensual (SSC)
Risk-aware, consensual kink (RACK)
Personal responsibility informed consensual kink (PRICK)
SSC is an old-school way to think of safety. It's not used as much anymore because it's too vague. One person's safe and sane can easily be another person's dangerous and crazy which can lead to miscommunication and misunderstanding. RACK has become popular in the last few years because it focuses on being risk-aware — knowing that the risk exists. PRICK takes that a step further and indicates that we each have a personal responsibility for being informed about our kinks. No matter which you use, pick the one that speaks to you and keep it in mind as you explore BDSM.
How to Get Started in BDSM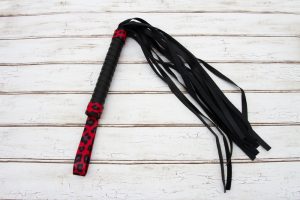 Now you know what BDSM is, but how do you get started? It's not as complicated as you might think, but it's not as easy as reading erotica or watching porn, either.
Figure Out What You Like
Use your porn or erotica habits to help you figure out what you like. You can also use online BDSM tests or BDSM checklists to help you narrow down what you're interested in. This will help you figure out what to begin exploring.
Talk with Your Partner
You can get into BDSM as a single person, but if you have a partner, you need to talk about this with them before you bring a paddle or restraints into the bedroom. You don't want to spring a kinky plan on someone out of nowhere. It's important to talk about what you want to do and get their consent. If they don't want to do something, your partner has the right to say no.
Learn as Much as You Can
People who get into BDSM figure out very quickly that there's always something new to learn. As a beginner, start with the basics about whatever kinks you think you might be into. Listen to podcasts. Read books. Watch YouTube videos. Practice with a kink toy before you try it on a partner.
Start Slow
Slow and steady is the best way to try BDSM. Go too quickly and, at best, you don't have a good time. At worst, someone gets hurt. Try one kinky thing at a time. Communicate constantly with your partner before, while, and after you play. If you're trying pain, start lightly before moving into heavier stuff. If you're trying bondage, use an easy toy like restraints before trying rope. You don't (and shouldn't) try to do everyone all at once — it's not a safe way to play.
Conclusion
BDSM is whatever you make of it. You don't have to be into everything, and you don't have to be "hardcore" (whatever that means) to be kinky. What is required is a willingness to learn, communicate, and respect consent. If you can do those things, you can have an amazing time playing with kink.