If you are a fan of tv-shows like "The L Word," "Broad City," "Sense8", and "Orange Is the New Black," you've probably noticed some of the steamy scenes featuring its royal highness — a strap-on. But if you rely solely on Hollywood for knowledge, you might get the wrong picture that strap-ons only go hand-in-hand with queer sex or the Dom/sub play. 
The truth is, anyone can use a strap-on. It can be a fun addition to your sex life, allowing you to experiment and increase intimacy with your partner. But if you've never owned a strap-on before, you probably have many questions like how to use this sex toy and what kinds of strap-ons are there. 
Keep reading to learn all there is to know about strap-ons!
What Is a Strap-On?
A strap-on is a sex toy typically made up of two parts: a dildo and a harness (used to secure the dildo to a person). In most cases, the harness has an O-ring you put a flared-based dildo through to hold it in place. As you've probably already assumed, it is meant to mimic the experience of having a penis. 
The person who "straps on" the dildo usually wears it low on the body, with the flat surface of the dildo resting over the pubic area. Aside from the two main parts, some strap-ons can also have an internal or external bullet vibrator, which allows the person wearing it to feel the stimulation.
These strap-on sex toys come in various styles to cater to different needs, including strap-free, hollow, curved, and detachable options. Anyone can use them, regardless of genitalia, for masturbation or penetrative sex with a partner of any gender or sexual orientation. That means strap-ons are suitable for vaginal, anal, and oral penetration. 
Most strap-ons you see in sex toy stores are designed for women. However, there are also models with hollow dildos for people with erectile dysfunction or smaller penises. 
[Strap On Sex Survey Infographic]
Types of Strap-Ons
Generally speaking, there are two main types of strap-ons: the ones with straps and the ones without them. But you will notice that strap-ons come in different sizes and styles, and each one is meant to suit a certain technique or create specific sensations. That's why you can find various harnesses and strap-on dildos to mix and match. Here are the three most common strap-on harness styles.
Underwear
Underwear-style harnesses resemble briefs or boxers and are designed with comfort in mind. You can wear them all day or during sex and avoid chafing — something most people face with traditional strap-ons. Underwear-style strap-ons are a great choice if you are a beginner in pegging and strap-on penetration since there's no need to adjust them. 
Thong
As you can guess by its name, this version looks like a thong. It features one strap between the legs and butt cheeks and one around the waist.
Jockstrap
This harness option looks like a regular jockstrap. It goes around the waist and over both butt cheeks. 
Removable
Some models center around plastic or metal O-rings, allowing you to switch dildos during sex easily. You can put on any strap-on dildo or a sex toy that features a flat base, and the ring will keep it in place.
Unisex
Unisex harnesses have a crotchless design that fits around the waist and legs and adjustable straps. That leaves enough space for the user's clitoris or shaft to be accessible. 
Strap-on dildos come in every shape, size, color, and material imaginable. You can pick the ones that look and feel like a real penis or the more playful ones. Take a look at some fun strap-on dildos you can combine with a harness for successful strap-on sex.
Curved 
Curved tip dildos are designed to hit the G-spot in vulva-owners or the P-spot in people with prostates. They are usually not too long and are slightly curved upward.
Hollow
As previously mentioned, originally intended for men with erectile dysfunction, hollow strap-on dildos allow penis owners to insert their shaft into a toy to add more girth or prolong the sex sessions.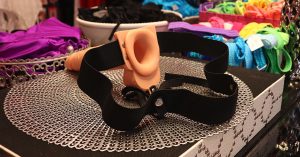 Double
Double dildos require a particular type of strap-on harness. You can use this strap-on for simultaneous vulva-to-vulva or vulva-to-anal penetration of the wearing and the receiving partner.
Pegging
Strap-on dildos suitable for pegging are usually thinner and curved. Moreover, they come with a slimmer, more practical harness that makes anal sex more comfortable. 
Strapless
Strapless strap-ons don't have a harness but instead comprise a dildo with a vaginal plug on the other end. They stay in place because they are inserted in the wearer's vagina or anus, stimulating their P-spot or G-spot. Strapless dildos are meant for simultaneous anal and vaginal insertion. Use them for pegging or penetration between two women.
Vibrating 
You can use different standalone vibrators and dildos with a removable harness, like bunny-style vibrators or prostate massagers. Or you can buy vibrating strap-ons that come with a dildo and cord-attached remote that controls it and enjoy extra stimulation.
Why People Like Strap-Ons
These sex toys allow users to experience penetrating their partner in a unique way. For instance, women might enjoy the role reversal if they have a partner with a penis. In addition, men may want to experience anal play because the P-spot stimulation can lead to a powerful anal orgasm. 
People with vulvas might also like the different experience of being penetrated anally or vaginally via strap-on, helping them reach the G-spot. Some people also prefer having oral sex while sporting a strap-on. Such sex toys are used in power plays. One person, generally the one wearing the strap-on, dominates the other. 
How to Use a Strap-On
Although it looks simple enough, using a strap-on is not quite an intuitive process. So, if you are new to the whole experience, here are some pointers.
Find a Model That Fits You
As we discussed before, the two main components that make a strap-on are the harness and the dildo. For everything to go smoothly, you need both of them to fit you like a glove. 
Wash Before Each Use
The general rule of thumb with sex toys is to keep them clean to avoid getting harmful bacteria into your body. So, wash your strap-ons before and after each use. 
Use Plenty of Lube
Lubricants are a must. They will enhance your strap-on play, no matter what kind of penetration you are into. However, be careful to opt for a lube that pairs well with your strap-on's materials. For instance, silicone-based lube can damage silicone dildos and put your health at risk, so you should avoid mixing them. 
Talk to Your Partner Before You Begin
If you want to introduce strap-ons into your sex life, always check if your partner is up for it as well. If you are on the same page, open communication is one of the keys to making it work. Wearers can find it difficult to judge the penetration intensity accurately, so they should listen to the partner's feedback.
Make Sure Everything Is Adjusted Properly
Take time to check if the harness and dildo are adjusted so you can have more control. If the dildo or harness is too loose, you won't be able to make smooth, stroking motions. You will probably have to stop and adjust several times, ruining the mood. 
Choose the Right Position
You might want to start with a cowgirl position if you are a novice. The wearer should lie on their back, allowing the partner to control the insertable length. Once you gain some experience and feel more comfortable, you can try other sex positions. 
Take It Slowly
Using these sex toys requires a bit of technique which you learn through practice. That is especially true for vulva owners who are learning to wield a new body part. 
The Best Sex Positions for a Strap-On Play
Technically nothing prevents you from using a strap-on in every possible sex position, except for your and your partner's boundaries. Still, the easiest positions to get started are rider positions, doggy style, and missionary. They offer maximum stability and slow insertion, making it less likely the strap-on will fall out. 
Those who prefer the back entrance can also try penetrating from behind while the partner kneels or lies on the bed. Depending on the partners' height, penetration while standing up might also be an option. 
Shopping for a Strap-On
Since there are so many options to choose from, buying a strap-on requires time and money. It can take a while to figure out what you like, and you might not be as lucky as to find the perfect harness-dildo combo on your first try. But if you think the strap-on play will become a big part of your sex life, it is worth the investment. 
Strap-On Harnesses
Harnesses usually consist of thick cotton, soft plastics, nylon, or leather. Of course, all those materials are body-safe, but more expensive ones, like leather, typically don't cause as much chafing. 
The harness is supposed to fit tightly but not irritate or cut too deeply into your skin. At the same time, it shouldn't be wobbly or stretchy because the dildo will pull away from it. So, aim for adjustable harnesses that you get to fit snugly around your body.
If you can, try a couple of harnesses on in the store before deciding. That way, you will get a sense of dimensions and size. 
Strap-On Dildos
When choosing strap-on dildos, consider materials you and your partner prefer. For instance, you might like silicone because it's soft, flexible, and the most lifelike. Or perhaps a glass because it's hard, smooth, and allows for temperature play. 
That being said, the most reliable materials are glass, stainless steel, and 100% silicone. Materials to avoid are phthalates, rubber, and jelly. Phthalates are often put in sex toys because they are cheap and increase flexibility. However, they are also linked to a number of health risks like asthma, low IQ in fetuses, etc.)
Cheap materials like rubber and jelly expose you to toxic chemicals like phthalates and are also highly porous. That means you can never completely sterilize them. 
In any case, eager newbies should choose a smaller dildo at first, especially if they are planning to do anal penetration. Then, as you gain more experience and skills, slowly expand the range of dildos you put inside your harness. It's important to note that you should never use butt plugs with strap-ons because they are not meant for an in-and-out motion.
How to Care for and Clean Strap-Ons
Not being careful about hygiene can transfer STIs between you and your partners and cause urinary tract infections and yeast infections. So, take time to clean and sterilize your toys.
Nylon and thick cotton harnesses and most dildos are machine washable. However, latex and leather harnesses and vibrating dildos usually require hand-washing with warm water and antibacterial soap. Another option is to purchase special sex toy cleaners. As for non-vibrating dildos made of silicone, stainless steel, or glass, you can put them in boiling water for ten minutes to sanitize them.
The specific instructions will depend on the strap-on material and model you choose. So, make sure to read the instructions that come with sex toys. If you are still unsure how to clean the dildo or harness after consulting the user's manual, reach out to the manufacturer. Proper cleaning is crucial! 
Store your strap-on in the original packaging, a satin bag, or a plastic storage box. By doing so, you will prevent the dust and dirt buildup. 
Common Myths About Strap-Ons
Although sex toys are no longer a taboo topic, there are still many misconceptions about them, aided by poor portrayals in movies and TV shows. So, let's look at a few common myths about strap-ons.
Only Lesbian Couples Use Strap-Ons
Anyone can use this sex toy, no matter their partners' genders or sexual orientations. As mentioned above, there are strap-ons for women, men, and even those suitable for self-pleasure.
Only Gay Men Enjoy Penetration/Pegging
Again, anyone can like anal penetration, regardless of gender or sexual orientation. The anus is just another body part that can receive pleasure, like the vagina or penis.
You Can't Use It Solo
You can use a strap-on during a solo play. Tie a strap-on to a chair, bed, or other pieces of furniture and add it to your masturbation routine. Or you can purchase a special harness that ties a dildo to your foot and pleasure yourself in a kneeling position. 
The Best Strap-Ons for Every Kind of Play
We've rounded up a list of user favorites to help you decide where to start your strap-on hunt. Check them out!
Fetish Fantasy Series First Timers Strap-On Set — Purple
This 5.5-inch dildo is practically invented for beginners and pegging. It's of the perfect size, easy to put on, for smooth insertion and maximum pleasure. 
Fetish Fantasy Elite Universal Heavy-Duty Harness — Compatible w/Any Silicone Dildo
This harness is very comfortable for more prolonged use since it doesn't limit your movements. It is also practical since you can combine it with any silicone dildo. But don't let the higher price get you down. Once you try this adjustable harness, you will wish you never wasted money on cheap ones.
Sportsheets Lace Strap On Corsette — Red
This harness is as pretty as it is practical. It offers excellent resilience and control and comes with three interchangeable O-rings to mix and match different dildos.
Sportsheets New Comers Strap-on and Dildo Set
This harness kit includes an adjustable harness and a tiny dildo with only four inches of insertable length. It is great for pegging and those who don't want to spend a fortune until they know if the strap-on sex is something they enjoy.
Perfect Fit Zoro 5.5″ Strap On Kit — Purple
Zoro is a cross between a jockstrap and an underwear strap-on. It features an elastic waistband and straps for a stable fit, no matter the user's body shape. This silicone dildo is hollow and lightweight, making it a good option for both men and women. 
Strap U Vibrating Strapless Silicone Strap-On Dildo
Many people feel strapless strap-ons are intimidating because you need to hold them in place using your vaginal muscles. However, wearers report that keeping the toy in place in such a manner is the only way to enjoy the strap-on play. Up to you to decide!
Sportsheets Thigh Harness
Strap this harness around your thigh to provide your partner with another penetration tool, or wrap it around a pillow during solo play. Of course, thigh harnesses are not for everyone. But they can be a good alternative when you want to get physically closer to your partner while letting them enjoy penetration. 
Strap U Unity Double Penetration Strap On Harness Black
If you wish to experiment with double penetration, this strap-on is a good choice. It contains two O-rings to hold two dildos — the upper one for vaginal and the lower one for anal penetration. 
Final Thoughts
Strap-ons can be a great addition to your sex life. They let you experiment with switching roles, create fantasy scenarios, and try things like power play or double penetration. However, finding the best strap-on for you is like Goldilocks's porridge: it takes a few tries to discover the one that is just right. 
So, give yourself time to learn to wield this toy and discover all the fun ways to reach more pleasure and the best orgasms ever. You might even open the door to a whole new niche you didn't even know existed.