Let's discuss masturbators. For a long time, the sex toy market favored women, providing an array of products to enhance their masturbation and pleasure. But, on the other hand, men had to rely on their hands and a box of kleenex.
Thankfully, the situation has changed. Now, penis owners can also have their bedside drawers filled with male sex toys. That means you can finally give your right (and left) hand a break after the long and lonely pandemic year — the time has come to check out a few sex toys. 
One of the best ways you can upgrade your solo sessions from good to apologizing-to-your-neighbors is with the help of male masturbators. Tempting, right? But before you click add to cart button, here are ten facts you need to know about this popular sex toy.
Masturbators Come in Different Shapes and Sizes
Male masturbators are essentially sleeves you put your penis into to mimic the sensation of penetration during masturbation. They come in many different forms. For example, you can find discreet-looking eggs with nodules designed to tease your nerve endings or fleshlights that look like vulvas. There are also rechargeable vibrating masturbation toys that give feedback and provide stamina training. 
So, no matter how deep, rough, or tight you want to go, you can always find a suitable masturbator. In conclusion, warm apple pie, they aren't. 
Do masturbators provide a significant improvement compared to your handy work? Yes, they do. Just like a perfect sauce can make your steak taste much better, a good masturbator can take your solo play to another level. 
Another thing to consider is that masturbators don't have to be used only for solo play. Some companies like We-Vibe create adult toys for couples to enjoy together. For example, We Vibe Wand comes with an attachment so both partners can enjoy stimulation simultaneously.
Masturbators Are Not the Same as the Real Thing, But They Come Pretty Close
Let's be honest. No toy can feel exactly like having intercourse with a partner. However, that doesn't mean you can't spice up your solo sessions while going through a dry spell. 
The best male masturbators are designed to create a feeling similar to having penetrative sex. They consist of high-grade silicone and, when used together with a lube, can provide you with hours of fun. Some models can even warm up to the body temperature, enhancing the intimate experience further. 
There Are Hundreds (Yes, Hundreds) of Different Types of Masturbators 
According to the Tenga 2020 Global Self-Pleasure Report, 84% of Americans consider their solo playtime a form of self-care, resorting to them as a coping mechanism during the COVID-19 pandemic. Likewise, 68% of the US citizens said they had used sex toys, more often during social isolation and will continue to use them more frequently. 
As the demand for sex toys grows, the masturbator companies are more than happy to meet it. Nowadays, guys can choose between hundreds of male masturbators, and the options are getting more creative each day. But if you are a newbie, picking the right one can be overwhelming. So, here are nine common types of masturbators.
Masturbation Sleeves 
While you can avoid it with more advanced masturbators, manual labor is still required with most masturbation sleeves. Sleeves can come in various shapes and sizes. Their prices can range from as little as $10 to around $300 depending on the materials, size, additional functions, etc. Check out a few sleeves you can find in the sex toy stores.
Fleshlight
Even if you are a complete novice in the masturbator world, you've probably already heard about fleshlights. Fleshlights are one of the most popular male sex toys. These masturbational sleeves were originally designed to look discreet and resemble a flashlight — hence the name. You can also find them in the shape of 'Tall Boy' style beer cans. 
Fleshlights are a vagina or anus contained within a cylinder. It is hidden inside the packaging that looks inconspicuous. You can keep them next to your bed (and pray no one in your home comes asking for a real flashlight). Depending on the model, you can either finish inside it or spill the juice through it if the other end is open.
The original fleshlights have a super-soft skin-like feel and are the closest thing to a real deal you get when practicing solo. There are other models in the adult toy stores, and the real-life feel will depend on the quality of your fleshlight.
Eggs
Yes, we agree that an egg isn't exactly the most erotic of items. And if you have trouble picturing how your favorite body part would fit into something that could've come out of a chicken's butt, you are not alone. But don't shy away from this masturbation toy just yet because there's a reason behind its popularity — and don't worry, it isn't anything kinky. 
Although these eggs look odd and hard, the egg part is just the package. Inside them, there's a sleeve. The toy has a small opening, where you put the lube and swiftly follow with your penis. The interior is usually textured, with different eggs sporting bumps and ridges.
Eggs are meant to be disposable. So it would be best to get rid of them after you are done. But technically, you can use them three or four times, making sure to wash and dry them between uses and then throw them away. 
Strokers
If you are a guy who thinks evolution has already gifted you with a perfect masturbation tool — your hand — wait until you try strokers. Strokers are a men's masturbation toy with a rigid or flexible casing covering the entire penis and stimulating you as you move them up and down your shaft. Great for solo or with a partner.
Strokers can be as simple as a plain silicone tube and as high-end as a remote-controlled, app-connected vibrating masturbator. Modern, high-end strokers are very powerful, have sensors, provide feedback, and you can use apps to customize the whole experience. Some even use pressure-wave technology that stimulates the sensitive frenulum and provides mind-blowing orgasms.
Blowjob Masturbators
Is your partner not really into oral sex? No problem — use your oral sex simulator instead. Not only are these masturbation toys often shaped like a mouth, but they also provide suction sensations to make it feel like a real blowjob. 
They are usually made of rubber, silicone, elastomer, or other similar materials. Aside from the manual blowjob masturbators, you can also buy an automatic version for a more powerful experience.
Pocket Pussies
A pocket pussy is another sex toy created for penis owners that simulates penetrative sex with a partner. Those toys resemble a vagina and often feature lips and clitoris. 
They can be small enough to fit in your hand or big enough to pass as a real-life vagina. While a palm-size pocket pussy is more discreet and easier to stash away, the life-size pussies are often modeled after an actual woman and provide an irreplaceable experience.
Many pocket pussies have an open end because it's easier to clean them, but some models are closed. Those toys that don't have an exit hole usually provide a light suction feel. Furthermore, you can find pocket pussies in various materials. Still, most manufacturers use silicone because it's the softest and provides the most realistic sensation. 
Anal Masturbators
As you probably guessed, anal masturbators are an a-hole equivalent of pocket pussies. So, if you find the back entrance more appealing than the vajayjay, this toy might be the perfect fit. Depending on your preferences, you can find a hand-held version or a life-size ass. 
Most anal masturbators feature a simple hole you can use as you please, but they require your effort to work. The more expensive ones are battery-powered and can simulate anal sex and do the heavy lifting for you. 
Porn Star Masturbators
Yes, we all have the one actress that can make our king rise no matter how tired or stressed we are. Also, sadly, the odds of meeting her in person or talking her into doing something dirty are slim to nonexistent. But that doesn't mean she is entirely out of reach. A stroker molded after her pussy, mouth, or asshole might be the next best thing. 
Porn Star masturbators are created after real-life actresses from adult movies. So, for your next solo playtime, you might want to pick the one that sports your all-time favorite actress' orifice and give it a go. Imagine how great it would be to watch her perform and feel her around your shaft simultaneously! 
There's also a company called 3Fap that organized a beautiful vagina contest. After picking the three most beautiful vaginas in the world, the company created stroker versions of them. So, now you can tap them if you buy one of the three available versions.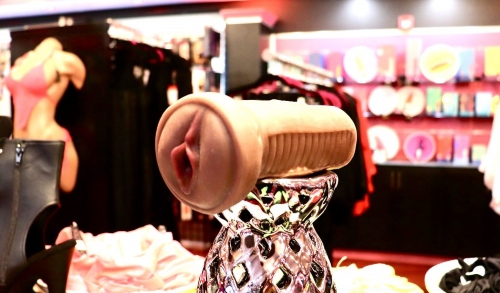 Life-Size Masturbators
It's a brave new world out there in the male sex toys department with the life-size masturbators in the shape of your favorite body part. Vaginas, butts, breasts, penises, and every possible combination of the four are now available to enjoy without the rest of the body attached. 
The plus side is that you enjoy the penetration, having something to hump against, and the added weight this male sex toy provides. On the other hand, life-size masturbators tend to be bulkier than others and probably won't fit inside your bedside drawer. Also, since they are not quite discreet, you might want to steer clear of them if you have nosy roommates. 
How to Use Male Masturbation Toys
Preparation
Before you rush to buy your first masturbator, keep in mind that these toys are not one-size-fits-all, no matter what advertisements say. Just like there are no two penises alike, different people also have different preferences during their play sessions. For instance, some like their masturbators to provide a tight fit, while others enjoy a loose sleeve. 
So, the key is to pay attention if a masturbator's size, length, and girth match yours. Once you have the perfect toy ready, it's time to add lubricant. Depending on how your masturbator works, you might need to insert the lube inside the orifice and sometimes into the outer sleeve or case as well.
Since the best male masturbators are silicone, it's important to remember to use water-based lubes. Otherwise, you risk damaging your masturbator. Hybrid, silicone, and oil-based lubes are not okay to use. They will destroy your masturbator.
Action Time
The mechanics behind male masturbators are pretty simple. There's no right or wrong way to do it. First, you put enough lube inside your sex toy and commence thrusting. Or, if you opt for a vibrating toy, sit back and relax while the toy does its magic. 
Still, bear in mind that easing into your toy should never hurt. It might be tighter than you are used to, but not uncomfortable. Masturbators with a flexible body allow you to adjust the pressure with your grip. In contrast, those with a hard body don't offer the same luxury. If it hurts, pull out and try something else. 
Switch Positions
No one says you have to stick to the same routine every time you play solo. A simple change of positions can do wonders and produce different sensations. For instance, if you tend to stand during masturbation, try leaning against a wall. Or, if you are always lying down, try sitting up. 
Take Your Time
Using a masturbator after a lifetime of hanging out with your hand will probably send you off the rails all too soon. But once you get used to the fantastic new stimulation, you can learn to slow down and experiment with strokes and speeds and even add another toy, like a prostate massager, into the mix.
Move Your Hips
Unless you own a life-size masturbator, it's easy to forget to move your hips during solo playtime. But mixing gyrating and thrusting motions with the hand movements can help increase the intensity and bring you more pleasure.
Clean Up Afterwards
You should clean masturbators before and after each use to prevent infections. As with any other sex toy, sharing your masturbator with other people is not advisable. But if you can't avoid it, use a condom or clean them properly before swapping. 
Manual and Vibrating Masturbators Offer Significantly Different Experience
If you are looking for an experience that resembles penetrative sex as much as possible, you should opt for manual masturbators. They often come with various attachments. You can experiment until you find the one that feels the most realistic to you. On the other hand, vibrating masturbators offer entirely new sensations that you could never achieve with your hand, manual masturbators, or even sex.
You Can Use Masturbators as Often as You Wish
You can never have too much fun, right? In this case, it's true. You can use your masturbator many times a week or day (hello, lockdowns), as long as it fits into your life in a healthy way. 
If you masturbate multiple times a day and still lead a healthy, fulfilled life, everything is okay. The key is to take proper care of your sexual health and stop at the first signs of discomfort or pain.
But suppose it makes you miss work, sex with your partner and otherwise negatively affects your life. In that case, you should consider talking to a sex therapist. Moreover, if you notice changes on your skin, like redness, sensitivity, or chafing, try reducing the masturbator use to a minimum and better care of your penis. 
Male Masturbators Are Easy to Maintain
Many hesitate to give masturbators a shot because the process seems too messy, and cleaning the toy after each use sounds like too much work. But male masturbation toys are pretty easy to clean, just like any other sex toy. 
Aside from the disposable kinds, like eggs, that offer quick and easy cleanup, masturbators with open ends are the easiest to clean. You ejaculate into a tissue or somewhere else, so there's not much to clean. 
Many close-ended toys also allow you to disassemble some parts to better clean hard-to-reach places. However, suppose that's not the case with your close-ended masturbator. In that case, you have to pay special attention to cleaning and to disinfect the inner part.
In any case, following a proper cleaning procedure is very important. You can wash all masturbators with warm water and antibacterial soap. You can also purchase a special sex toy cleaner. Once you are done cleaning your toy, leave it out to dry because putting away a damp toy can cause stains and nasty smells.
You should always clean your sex toys thoroughly to avoid bacteria build-ups. Inspect your toy after use for any scratches or breakage because that's where bacteria will accumulate. Using dirty masturbators can lead to infections and damage your health. If you notice that the damage is too severe, purchase a new toy.
The Experience Is Not Risk-Free
Sure, using masturbators is a low-risk activity. No one ever caught an STD while playing with themselves. If you listen to your body and take care of your sensitive skin, you will likely be fine. Also, if you take proper care of your masturbator and don't share it with other people, there's almost no risk of infection. 
That being said, frequent and rough masturbation can cause skin irritations. Also, forcefully bending an erect penis can burst the blood-filled chambers, resulting in penile fracture, a rare but painful condition.
The Best Male Masturbators
If all that sounds good and you are ready to get fresh with your self-play, here are the best masturbators to try.
Sue Johanson Head Honcho
For those who want to hit it and quit it, Sue Johanson Head Honcho is a masturbation sleeve that works fast. This shaft has caressing nodules at its base and houses three delectable suction cavities for mind-blowing orgasms. 
Head Honcho is tight and stretchy, ready to give you the instant pleasure you seek. In addition, such simple masturbators are often waterproof, which means you can take them to the shower or tub with you.
Kiiroo Onyx+ Interactive Masturbator
If you have trouble in the up-and-down department, vibrating masturbators can lend you a helping hand. Vibrant, light, and quiet, Kiiroo Onyx+ can reach up to 140 strokes per minute for a truly powerful, hands-free experience. 
You can connect this masturbator to an app or interactive content like video, virtual reality, 3D partner games, or webcam sites. Or you can synchronize it with your partner's phone or another sex toy and then use them simultaneously. 
Tenga Flip Hole — Black
On the outside, Tenga Flip Hole looks high-tech and sleek. But when you flip it open, you will notice that every centimeter is densely packed with every stimulant imaginable, from pumps, flaps, and gates to nubs and rubs. Thanks to the practical flip-style technology, this toy is straightforward to clean and dry, making it a pleasure to use.
Satisfyer Men Classic — Black
Satisfyer Men Classic is a classic fleshlight-style masturbator. While many penis owners opt for this toy simply because it has a hole (pure pleasure, no fuss), this brand has thrown in a couple more features. There's an inner pressure regulator you can adjust and grooved texture. And it's also pretty affordable!
Hot Octopuss Pulse Solo
You don't need Cirque du Soleil skills to masturbate hands-free. Hot Octopuss Pulse Solo can do the trick. All you need to do is keep your hands to yourself and let this innovative toy take over. Hot Octopuss Pulse is the world's first interactive Guybrator. You can connect it with over 4000 interactive videos (2D or VR), your partner's phone from anywhere globally, your favorite cam model, or sites!
Fun Factory Cobra Libre II Male Masturbator — Black
Cobra Libre II is an ideal male masturbator for all those needing a discreet sex toy. It is quiet enough not to interrupt your imagination (or prompt someone else to do it). Also, it looks so weird that if you have an unsolicited home visitor, you can tell them it's a high-tech smart mouse, and no one will question you. Finally, cobra Libre features eleven vibration settings and is waterproof so that you can use it in the shower. 
Fun Factory Manta Man Tool — Deep Sea Blue
Fun Factory's Manta is rechargeable, submersible, and made in Germany, so you know it will last. The unique thing about the Manta masturbator is that it will hit the right spot — wherever that is for you — thanks to its ergonomic shape. Moreover, it is designed to bring pleasure for both solo times and couple play.
You Can Combine Them With Other Sex Toys
There's more to your genitals than just your penis, and, thankfully, there are many toys to show the rest some love. So, why not combine your masturbator session with anal beads, a prostate massager (male G-spot), or a butt plug? 
What If You Don't Like It?
Masturbators sound amazing and can be a great addition to your masturbation routine. That being said, some people have tried them and decided against them. The most common detriment guys list for masturbators is the struggle of finding the right fit. Since you can't exactly try a masturbator on the spot to see if it suits you, there's a big chance it will be too short, too long, too tight, or too loose. 
Moreover, some guys report that a plastic vagina doesn't do it for them. If that is the case with you, it's completely fine. Kudos for getting out of your comfort zone and trying something different. Now that you know what you don't like, you can look for something that does get you up and high, like a prostate massager that hits your male G-spot. 
Final Thoughts 
Finding a perfect solo session gadget is not easy, but male masturbators feel like a natural starting point. From simple silicone tubes to high-tech app-controlled strokers, there certainly are many sex toys to try and sort through until you find the one that fits your penis like a glass slipper. 
But don't forget to add some water-based lube into the cart as well. After you dive into the world of male masturbators, you might not feel like coming out for days.