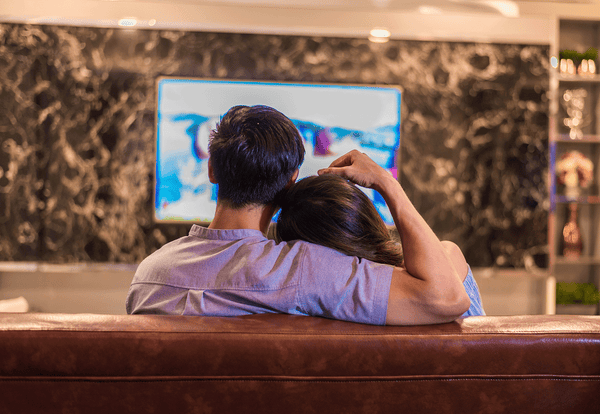 Ready, set, sex! Though that's sometimes how we'd like things to go, we know the majority of the time, it's not that easy. Sometimes, you just want to set the mood at night, but you simply can't find the right way to do it. Or, you've tried it a few times and your partner doesn't seem to be responding. Ugh! But not to worry because you're in luck. We have plenty of ways to help – including innocently watching a sexy TV show to get your partner in the mood without them even knowing you're trying. Did someone order a side of seduction?
In the age of streaming, there are more sexy TV shows to watch than ever, and of course, there are some old standards that we all love. If you are searching for a way to set the mood, check out one of these saucy and sexy TV series for your next seductive rendezvous.
Sex and the City
Come on, it's in the name! Any list of sexy TV shows would be remiss not to mention one of the true originals: Sex and the City. It is a show that often gets deemed "for women only" because it mainly shows women having and enjoying sex. However, there are tons of unforgettable steamy Samantha scenes on this show that will give anyone plenty of seductive material to work with in the bedroom. 
And, don't forget, Sex and the City is also the show that made the Rabbit Vibrator one of the most popular sex toys on the market. Hopping to pleasure, one partner at a time!
Girls
In many ways the successor to Sex and the City, Girls from Lena Dunham has some of the sexiest, most provocative scenes ever shown on television. It portrays sex in different lights, both the sweet and good and the naughty and the bad…and we love it all. It was one of the first shows to bring dirty talk in the public consciousness.
Sexiness wasn't always the show's goal, but it was still a sexy TV series, offering a more realistic look at sex than we often see in media.
The L Word
The L Word is one of those iconically sexy TV shows that has changed the world of sex, helping many lesbians find understanding and representation. There are nearly 100 sex scenes in The L Word, and everyone can tell you which ones they prefer. It runs the full gamut of lesbian sexuality for women of all stripes – and if we're being honest, it's always super HOT.
If you're looking for the best episode to get your fire started, may we suggest beginning with "Liquid Heat"? Wowsers!
True Blood
Shhhhhh! True Blood is the type of sexy TV show (and book series) that you don't want to watch with your mom around – but your partner, heck yes! It is an excellent combination of fantasy and sexiness mixed with real-life issues. There are so many hot and sexy scenes that mark these seven seasons, you're sure to get aroused within minutes.
Evan Rachel Wood as Sophie-Anne, in particular, is one of the lustiest characters to ever be on television – and her introduction is one of the best. If you are interested in gag toys, this is certainly the show for you. Or just vampires. Pick your poison!
Scandal
Hold the vibrator! Scandal is one of those TV shows that is so sexy, you sometimes simply can't believe it's on network television – but Shonda Rhimes gets it done. This show sets the mood like no other. Fitz and Olivia are extremely hot, and there is so much sexual chemistry going on between them.
Every time you hear certain music, you know it's going to be one hell of a ride. This is a show that gets hot and heavy pretty quickly – and certain sex scenes will be forever etched in your mind. That scene with the boots? It's going to blow your mind…but that's all we'll say!
Skins
Don't be fooled with this one – while this show leans a little to the younger side, these teenagers enjoy quite the active and steamy sex lives. They are getting busy just about anywhere they can, including in classrooms and on rooftops. While it's a very sexy TV show, it also showcases some deep relationships between the characters and is very much a "coming of age" story. Still, the characters change often, and the storylines are varied, so you won't get bored for a second. It's the perfect show to watch for just a few minutes before you get busy yourself.
Game of Thrones
What can we say? Game of Thrones is definitely one of the most beloved shows of all time, at least until that last season. While it's rooted in the fantasy genre, this is an incredibly sexy TV series. The earlier seasons were popular for many reasons, including the extremely hot sex scenes…and boy, did they bring the heat! There are some problematic scenes on this show, but the sex can also be wildly hot and has led to quite a bit of role play in the bedroom for couples who watch together.
It might even make you want to play some games of your own. Winter won't be the only thing that's coming!
Masters of Sex
Again, with the word in the title, how can it be anything but sexy? This TV show actually talks about the birth of sex and how sexuality plays into our everyday lives. It covers everything from sexual dysfunction to masturbation to sadism. The trials are quite interesting, and some will have you questioning everything you thought you knew in the bedroom.
Of course, there are some unforgettable scenes that are just very, very hot – like when Virginia helps William overcome some of his dysfunctions by taking control in the bedroom. It's a must-see. But make sure you have time for your own romp in Pleasureville when you're done watching – you'll need it.
Orange Is the New Black
Now, hear us out! We know what you're thinking. A show about a women's prison probably doesn't hit the top of your "sexy TV shows" list, but there are certain scenes that will blow your mind – and give you some ideas if you ever find yourself in prison (haha!). There are some really hard scenes and funny scenes, but there are plenty of sensual scenes as well.
Of course, the hottest moments always seem to involve Piper and Alex, but Nikki also gives them a run for their money. And this is certainly a sexy show if you want to set up your own cop fantasy, complete with wrist restraints.
Make Sexy TV Shows Even Hotter with PinkCherry

Are you reaching for the remote right now? Remember, the best way to get in the mood is to read your partner and make sure they are up for a little steamy, sexy fun. Sometimes, it's been a long day, and you just want to go to bed – we get it. But when the mood strikes, you can queue up a sexy TV series, slip into something revealing and hit the sheets for some highly anticipated pleasure! And when the opening credits of your newfound favorite sexy TV show start, you can always kick things into gear with some sex toys from PinkCherry.