When you imagine using a vibrator, do you think of something that sounds like a jackhammer against your body? Do you squirm and cringe thinking about the noise or the overwhelming sensations? It's okay to prefer something quieter, more discreet, and not quite as obvious in a sex toy.
If you want to use a vibrator but don't want the noise or the size of what you typically think of, it may be time to try a finger vibrator. Here's what you need to know about buying and using them.
Discreet Pleasure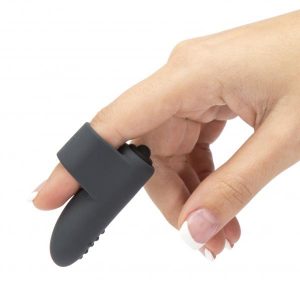 Masturbating with your hand is as easy and discreet as you can get. You don't need special equipment or have to hide your adult toys. But vibrators offer sensations and stimulation that your fingers can't provide. Thankfully, finger vibrators allow you to have the same discretion as using your hand but with the added pleasure of the buzzing, whirring, and the thrumming of a vibrator.
Multiple Styles
Like other, larger vibrators, finger vibes come in a variety of styles so you can find what suits you best. Most are made for external (clitoral) pleasure, but some can be used internally, too. Choose between toys that slip over your finger or those that are made to be worn like a ring. You can even find small vibrators that you hold but only with one or two fingers instead of your entire hand.
Add Lube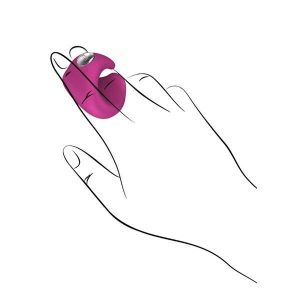 Even if you're not using your finger vibrator internally, lube is always a good idea. It reduces the friction between your body and the toy and enhances your pleasure and stimulation. You don't need a lot, unless you're using your toy for anal play. For clitoral pleasure, a small amount should be enough to help your vibrator move easily across your skin and make sure all you feel is a sexy pleasure.
Materials and Cleaning
When choosing a finger vibrator, pay attention to the material it's made of. Body-safe silicone is the best option because you can easily clean it and don't have to worry about odors or bacteria occurring over time. Anything made of TPR/TPE, rubber, jelly, or "realistic" materials can break down over time and can never be completely sterilized if you decide to share with a partner or use it for anal play.
Soap and water is the easiest way to clean any sex toy. If possible remove the battery, bullet vibrator, or any other motorized part before you clean your finger vibrator. If that's not an option, be very careful during cleaning so you don't get the motor wet. You can also use sex toy cleaners or wipes if you're in a hurry.
Who Should Use Finger Vibrators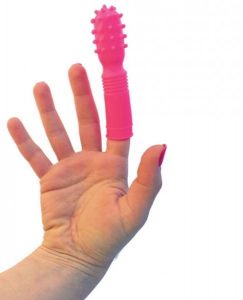 The easy answer to this one is anyone who wants fingertip stimulation! Finger vibrators are great for anyone new to sex toys who may be afraid of big vibrations. They're also perfect for anyone who wants to keep their orgasms — and how they achieve them — private. Of course, like any sex toy, it can also be a part of your partnered pleasure, too. If you can imagine it, your finger vibrator can probably do it.
Tips for using your finger vibrator:
Start by using your dominant hand. In the future, you might want to change this up, but for now, keep it simple.

Slip your finger vibrator over or on top of the finger you use most during masturbation. The weight may feel awkward, but muscle memory of previous wanks should help overcome the weird feeling.

Warm yourself up in whatever way you usually do. Touch your nipples, thighs, labia, or wherever before you focus on any specific spots.

Be gentle with yourself until you find the setting or stimulation that works best for you.

Don't forget your lube!

Masturbate as

you usually would

, letting the vibrations and buzzing provide additional stimulation.

Once you get used to using it, try it on different fingers or your other hand for different sensations.

Most of the vibrations will likely be concentrated in the tip of your finger vibe so keep that in mind as you use it.

Let your partner wear your finger vibrator while they touch or finger you.

Ask your partner if you can use your finger vibrator on them to increase their pleasure.
[w153_th_products title="Best Selling Items" orderby="bestsellers" categories="finger-vibrators" count="12″]
Conclusion
Finger vibrators are the perfect blend of discretion, sensation, and usefulness. Instead of bulky toys that get in the way and can make a lot of noise, you only need an available finger. You can keep your usual masturbation habit but with a bit of enhancement or you can experiment with new types of pleasure in other areas of your body. No matter what you choose, there's a finger vibrator that can give you what you want most.
Want to help someone else learn the power of finger vibrators? Share this infographic with them!