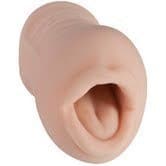 If you've never considered introducing sex toys and other pleasure products during masturbation, you may really be missing out as these tantalizing items can bring about unbelievable sensations. Fascinating products such as vibrators, strokers, oral sex simulators, and weighted metal toys used on the outside or inside your body work wonders to enhance your private sensual experiences. You may want to introduce your newfound exploration encounters with your mate and make them part of your sexual practices together. 
Dabbling in new sexual techniques by yourself is a terrific way of experimentation without feeling any kind of pressure or expectations from your partner. When you discover sexual acts that you can't get enough of with your special toys, you can then share the how-to details of your intimate pleasures with your companion. Exploring unfamiliar but exciting sexual acts with one another is a fantastic way to bring your relationship to a heightened level of intimacy.
Masturbation is encouraged as a regular practice as it is very beneficial for our overall health. The act itself helps to maintain a robust heart and improves our spirits by decreasing anxiety and depression. By testing out different types of alluring gadgets you will discover which erotic methods your body responds to the best. When you incorporate sex toys and pleasure products that drive you sexually crazy during masturbation, you can elevate your already pleasurable experiences to levels that are beyond your wildest dreams. 
Jack & Jill Adult offers a wide selection of sex toys and pleasure products that will enable you to explore new experiences alone or with a partner. We have various stores situated throughout the state of Florida that we invite you to visit at your convenience. Customers can shop in the privacy of their homes as well by utilizing our website to order merchandise. We can be contacted via phone at 1-800-307-9531.