Are you planning a vacation and want to ensure your sex life is still sizzling while on the go? You should try bringing along some of your dildos! Traveling with dildos can be intimidating at first, but don't worry – it's worth noting that we have all the tips you need for packing, storing, and enjoying them. So, let's prepare for an exciting trip full of pleasure in a bag you can carry through the airport – traveling with dildos has never been so easy.
Table of Contents:
Packing Your Dildos
Cleaning and Sanitizing Your Dildos
Choosing the Right Dildo for Traveling
Storing Your Dildos While Traveling
Enjoying Your Dildos on Vacation
Conclusion
Packing Your Dildos
When it comes to packing your dildos for travel, you should keep a few things in mind. What to pack is the first step and can be determined by what kind of activities you plan on doing while away from home. If you're looking for something discreet and easy to carry, consider bringing a small vibrator or bullet-style toy that won't take up too much space in your luggage. If you want something more versatile, then larger toys such as strap-ons or double-ended dildos may be better suited for your needs. Perhaps you want the perfect fit penis from a dildo; it doesn't matter the shape, if it has three speeds, four speeds, start buzzing, or has a flared base, so long as it does not lodge a formal complaint and hits the g-spot.
Solo Play Toys at Security Scanner
How to pack is also important when traveling with sex toys. Wrapping them in clothing or other items will help protect them from damage during transit and ensure they don't draw attention at airport security checkpoints. You can also purchase special pouches designed specifically for storing sex toys, providing extra protection against breakage and leakage of things like water-based lube or coconut oil during air travel for checked luggage.
What's In Your Carry-On Bags?
Finally, if discretion is key, some tips can help ensure no one, including the TSA agent, knows what's inside your bag. Consider using opaque bags instead of clear ones, so people cannot see the contents inside. This way, they won't know if it's a homemade dildo, cock ring, rechargeable toy, grandma's cookies, pleasure products, a little vibe, or anything else you can easily slip into a checked bag, especially if you have a travel lock, which is the most important thing.
Additionally, opt for smaller packaging whenever possible since larger boxes could raise suspicion among TSA agents, who might think twice about opening them up due to their size alone. Finally, avoid labeling any packages containing sex toys with words like "dildo" or "vibrator"; use generic terms like "personal massager" instead for solo sessions, just in case someone happens to glance at the label while handling your luggage – unless you're into getting a raised eyebrow at the buzz of vibration patterns as you saunter through the security line.
DIY Dildo Tip
Packing your dildos correctly is essential for a successful and discreet trip. Be sure to clean and sanitize them before, during, and after your travels to ensure they stay in top condition. You don't want to have someone sniffing at your carry-on luggage when passing fellow travelers. Be sure to double-check for the essential accessories, such as the remote control, alkaline batteries, satin travel pouch, or that suction cup to back into g-spot stimulation.
Key Takeaway: When traveling with dildos, consider packing small toys for discreetness, wrap them in clothing or purchase special pouches to protect them, and use opaque bags and generic labels to avoid suspicion.
[Travelling With Dildos Poll Infographic]
Jack And Jill Adult Instagram Poll Asking Readers If They Travel With Their Dildos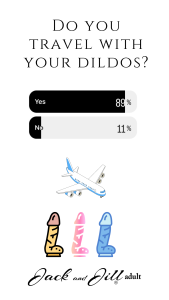 Cleaning and Sanitizing Your Dildos
When it comes to traveling with sex toys, cleaning and sanitizing them are a must, and you may want to put toy cleaner in a plastic bag to avoid unwanted spillage. Before leaving home with your favorite toys, ensure your dildos are adequately cleaned and sanitized. This can be done by washing them in warm water with mild soap or using an antibacterial toy cleaner. If you have multiple dildos, use separate cloths for each one to prevent spreading bacteria from one toy to other adult toys. Once they're clean and dry, store them in a sealed container until you're ready to go.
For Silky Smooth Silicone
On the road, if possible, try to keep your dildos out of direct sunlight or extreme temperatures, as these can damage the material over time. If there isn't access to running water while on vacation, bring along some wipes specifically designed for cleaning sex toys, which will help keep your toys free of dirt and bacteria while away from home.
Once you return home after your trip, it is important that all of your dildos get a thorough wash before being used again. This includes any lube or other substances that may have been used during playtime. Use hot water and mild soap or an antibacterial toy cleaner. Once more, when leaving home with your dildos, don't forget to dry them off completely before storing them away again.
Cleaning and sanitizing your dildos before, during, and after travel is essential to ensure a safe and enjoyable experience. Now that you know how to keep your toys clean while traveling, let's look at the best types of dildos for traveling.
Traveling with dildos? Make sure to clean and sanitize them before you go, keep them out of direct sunlight or extreme temperatures while on the road, and give them a thorough wash when you get home. #SexToys #DildosClick to Tweet
Choosing the Right Dildo for Traveling
When it comes to choosing the right dildo for traveling, size matters. A dildo that is too large can be difficult to pack and store while on the go. Consider a smaller size that won't take up much space in your luggage or carry-on bag; opt for packing BDSM toys to save more space when packing, as blindfolds, whips, and other BDSM items are small. Additionally, look for lightweight materials that are easy to clean while away from home. Silicone is an excellent choice as it is nonporous and easy to sanitize with soap, water, or sex toy cleaner.
Favorite Rechargeable Toy
Another important factor when selecting a travel-friendly dildo is whether you want one powered by batteries or rechargeable via a USB port. Battery-operated toys tend to be more affordable but require frequent battery changes, which can be inconvenient if you don't have access to them while on vacation. Rechargeable toys are often more expensive, but they offer more extended playtime between charges, so you don't have to worry about running out of power during your self-pleasure travels.
Hide the Vibrators
Finally, consider how you will store your dildo while traveling – especially if discretion is important for you. If possible, find a discreet case or pouch specifically designed for storing sex toys such as vibrators and dildos; these cases usually come with locks, so no one else has access to your personal items without permission or a private screening. Otherwise, wrap your toy in clothing items like socks or underwear before packing it away in a suitcase – make sure not to forget where it's hidden.
A Pleasure to Carry
No matter what type of material or design you choose, make sure the toy fits comfortably in your hand before purchasing so that using it feels natural even when far from home. Fully waterproof vibrators offer even more fun in tropical destinations and pool settings, a must-have for checked baggage.
When it comes to choosing the right dildo for traveling, size and material are important factors to consider. Now, let's look at how you can store your dildos safely while on the go.
Key Takeaway: When traveling with dildos, size, and material are key. Look for small, lightweight silicone toys that can be battery-operated or rechargeable. Store discreetly in a lockable pouch or wrap it in clothing items like socks before packing it away.
Storing Your Dildos While Traveling
When traveling with dildos, it's vital to ensure they are stored securely and discreetly. A few different storage solutions can help you keep your toys safe while on the go.
Where to Store Them?
The best place to store your dildos is in a hard-sided container like a suitcase for checked luggage or a carry-on backpack. This will protect them from potential damage during transit and provide some privacy if needed. If you don't have access to one of these containers, look for something small enough that won't draw attention but is still large enough to fit all of your toys inside, such as a checked bag. A toiletry bag or even an old sock for masking homemade dildos can work in a pinch.
Keeping Them Securely Stored
Once you have found the right container for storing your dildos, ensure it is locked up tight when unused. This will prevent anyone from accidentally discovering what's inside and keep curious ones away from them. You may also want to consider wrapping each toy individually before placing them into the container so there is no chance of anything coming loose during transport, making noise, or drawing attention. Sex toys with a travel lock function are great as you can activate the travel lock so they won't turn on should the power button be bumped from travel vibrations. You would be surprised at how many adult toys have a travel lock function.
A Hot Time
Finally, be mindful of where you store your dildo collection when at home, too. Ensure they are kept out of sight and reach of others who their bright colors and shapes might tempt – this could lead to an embarrassing situation if discovered, such as one recent trip. Also, remember that many materials used in sex toys (such as silicone) can melt if exposed to high temperatures, so avoid leaving them near heat sources such as radiators or direct sunlight for extended periods of time. That's not what they mean by temperature play.
Peek-A-Boo Toy
By following these simple tips, you should find it easy to safely travel with your favorite sex toys in your checked bags without worrying about unwanted discoveries. With a secure container and careful storage, you can enjoy all of the pleasure that comes with having your dildos on vacation without any of the stress.
Storing your dildos while traveling can be tricky, but with the proper precautions and storage solutions, you can enjoy your travels without worry. Now, let's look at how to make the most of using your dildos on vacation, such as booking a swim-out room with a private pool where waterproof vibrators can be cherished like family members.
Key Takeaway: When traveling with dildos, make sure to store them in a secure and discreet container. Wrap each toy individually for extra protection and keep them away from heat sources. Lastly, always ensure that they are kept out of reach of others.
Enjoying Your Dildos on Vacation
Traveling with your dildo can be a great way to enhance your vacation by adding some extra fun and a suction cup to the experience. Before you take off, however, it's important to consider safety first. Ensure all your toys are clean and sanitized before packing them in a discreet container or bag. This will help prevent any unwanted bacteria from spreading during travel.
Vibrator Size Matters
When choosing the right dildo for traveling, size matters. Choose one that is small enough to fit comfortably in a suitcase or carry-on without taking up too much space. Consider the materials of toys as well; silicone is usually best since it won't break down over time like other materials might if exposed to extreme temperatures while on the road. If you're looking for something more discreet, battery-operated models are typically quieter than rechargeable ones and don't require cords or plugs when used on the go, such as vibrating panties.
Sticky When Wet
Storing your dildos while traveling can also be tricky, but there are several options available depending on where you're going and how long you'll be gone. Store them in an airtight container, such as a zip-lock bag or plastic box, so they stay clean and dry during transit. You may also want to keep them securely stored in luggage compartments when not in use so they remain out of sight from prying eyes at all times.
Enjoy Pleasuring Yourself
Finally, once you arrive at your destination, make sure to enjoy yourself. Take advantage of exploring new possibilities with different types of toys if available – remember safety first. Be mindful of public spaces when using them; avoid loud noises that could draw attention from passersby who may not understand what is happening (or, worse yet, call law enforcement). And most importantly, have fun – after all, this is why we travel, right?
Key Takeaway: When traveling with a dildo, make sure to choose one that is the right size and material (silicone is best), store it securely in an airtight container, and be mindful of public spaces when using them.
Conclusion
Traveling with dildos can be a great way to spice up your vacation and add some extra fun to your sex life. With the proper preparation, you can ensure your dildo is ready in your checked baggage for any adventure you take it on. Just remember to pack it safely, clean and sanitize it before and after use on your body, choose the right size for travel, store it properly while away from home, and enjoy yourself.
Traveling with dildos and your favorite silicone vibrator in your checked bags is an excellent way to ensure that pleasure will always follow you anywhere you go. It keeps it interesting for the TSA agent, especially when traveling with metal toys, such as BDSM toys or DIY dildos, as they might not question if it's body-safe silicone and give you a knowing wink, as even a TSA agent can get kinky, especially when patting down at the security scanner with a bag of DIY dildos.
Maybe forget the travel lock, and leave it visible in the carry-on luggage to get the attention of the TSA agent, as homemade dildos work for a quick hookup at airport security.
Traveling with sex toys can be intimidating and awkward. With Jack and Jill Adult, you don't have to worry about being embarrassed or judged for your preferences. We offer a wide selection of dildos in all shapes, sizes, colors, materials, and textures, so everyone can find a vibrator or something that fits their needs perfectly!
Our discreet packaging ensures complete privacy when traveling with your new toy! Don't wait any longer – let us help ensure you never miss out on enjoying yourself wherever life takes you!