Of all the amazing sex toys on the market today, the ones that don't get enough attention are bullet vibrators. They're small so people assume they don't offer enough stimulation or pleasure. Ask anyone who loves their bullet vibe, and they'll tell you that something this small really can pack an orgasmic punch.
But first, you have to find what works for you. Check out these top-rated bullet vibrators that people love to use over and over again.
Climax Silk Touch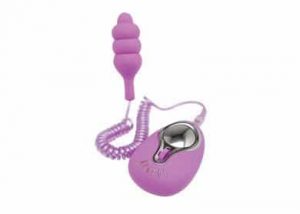 The Climax Silk Touch is a small egg vibrator that can reach all your best spots thanks to its rounded and curved design. It doesn't look like the typical bullet vibrator, but it doesn't need to. It's connected to the controller by a stretchy wire so you can adjust the settings as needed. Yes, that's right, this bullet vibe has more than one vibration setting — six to be exact. The vibrator may be small, but the pleasure you feel will be overwhelming.
Whisper Micro Heated Bullet
A bullet vibe has a few jobs. It needs to be small and discreet. The noise should be minimal, and it should be easy to use with a controller. When it comes to the basics the Whisper Micro Heated Bullet definitely works. What makes it stand out from the rest are the multiple speeds and the heating element. That's right, it heats up to give you additional stimulation and pleasure.
Ahhh 10 Function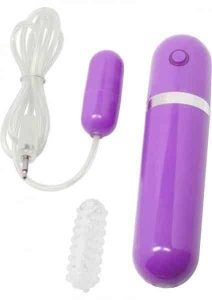 The Ahhh bullet vibrator looks like a typical bullet vibrator because it has the standard long, cylindrical bullet shape we all know and love. But it doesn't perform like the standard vibe. It offers 10 separate functions of pure pleasure. Choose the vibe in one of multiple colors. Find a quiet corner and have a good time. Unlike many other bullets, you've got 10 chances of finding the perfect vibrations to get you off.
Rocks Off Bullet Vibes
How can you tell you're using a Rocks Off bullet vibrator? It's not just the sleek, beautiful bullet look. And it's not just in the way it feels in your hand or against your body, due to its slightly larger size. No, you know you have a Rocks Off bullet because of the power. If you choose the RO-80mm, you get one basic setting, but if you go with the RO-120mm, you get five settings to try. Take this waterproof vibe to bed or to the tub and find out what it can do to you.
Sensuelle Point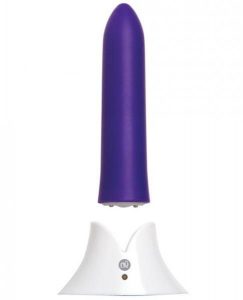 One of the few luxury bullet vibrators on the market, the Sensuelle Point offers features the typical bullet doesn't. It's fully rechargeable so you never have to worry about running out of batteries. It's made of silicone for a super soft, sleek feel against your body. The pointed tip offers focused stimulation wherever you want it most. Even better, it has 20 different functions! It's a quiet but powerful vibrator, and it's available in a wide selection of colors.
Turbo 8 Accelerator
Bullet vibrators are great for very concentrated, focused stimulation. But what if you enjoy vibrations in more than one spot? You need to try the Turbo 8 Accelerator — double bullet vibrators that offer twice the pleasure! Between the two, you get eight levels of stimulation to play with, and you can mix them up for whatever feels best. Use it internally and externally. This is a powerful vibrator that aims to double your pleasure. The one thing to note is that it's not very quiet, when compared to other bullet vibes.
Neon Luv Touch

Are you new to the idea of using a bullet vibrator? Looking for something easy and basic so you can figure out what you enjoy? The Neon Luv Touch, available in several colors, may be exactly what you need. It's both waterproof and quiet, meaning you can take it anywhere you go. The smooth and soft texture feels good against your skin. It's a single speed vibe which means you don't have to worry about buttons or settings while you get used to it. Once you figure out what works for you, you'll be ready to move up to vibes like the Rocks Off or Sensuelle Point. Or you may love this one and stick with it forever — it really is that good.
Conclusion
No single sex toy works for everyone, and no style of sex toy works for all bodies. The people who love bullet vibrators, really, really love them. If you haven't had much luck or you're curious and want to try something new, start with the best-rated options available. Think about what feels good to you — clitoral stimulation, internal stimulation, having lots of choices, using something else, etc. — and choose the bullet vibe that gives you what you want and need.
Do you use bullet vibrators to get off? Do you have a favorite? Let us know down in the comments!