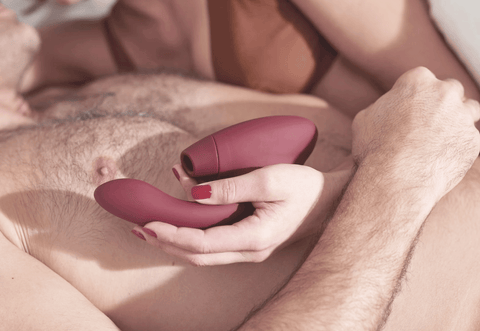 Using different types of sexual toys are an excellent way to take your sex life to the next level. Whether it's learning more about your body, exploring new levels of sexual pleasure, or trying out something new with a partner, sex toys can help with all of it! But with today's truly enormous selection and with so many different ways to learn how to masturbate, how do you know which sex toys you want? It can be overwhelming but don't fret we have got you covered!
Today we are going to break down four different popular types of toys. We'll talk about the different options each type has to offer and even look at how you can incorporate some of those options into both solo play and partnered sex! By the time you're done reading, you'll have a deeper understanding of what everything does, some fun ideas of stuff to try, and a whole slew of recommendations for our absolute favorite products. Read on to learn all about the top four types of sex toys for masturbation and couples!
Dildos
When it comes to the best sex toys, dildos are some of the originals. No, seriously, there is evidence that dildos have been around for thousand and thousands of years. There's a reason they have such incredible staying power. Dildos are one of the most versatile types of sex toys available. 
Lifelike or abstract? Hard or soft? Curved or straight? Dildos give you so many options!
Want to play with sensation? Try a ridged dildo like the Kendall Silicone Dildo. Want to add vibration without committing to a full on motored vibrator? A vibrating dildo like the Leisure Vibrating Dildo might do the trick! It even offers different vibration pattern options. Want to play with sex positions with toys and penetrate yourself and your partner at the same time, or maybe your vagina and anus simultaneously? A double ended dildo like the Silicone AC/DC Double Dildo could help with either of those things!
For masturbation: Dildos can be great for exploring what you enjoy in terms of penetration at your own pace. Try a dildo with a curved shape like the Mr. Swirly Glass Dildo to explore G-spot or prostate stimulation. NOTE: if you're exploring prostate stimulation, please be sure that any dildo you use anally has a booty-safe flared base because– say it with me — "without a base, without a trace!". 
With a partner: You have so many options when it comes to using a dildo with a partner. Glass dildos like the 6 Inch Curved G-Spot Glass Dildo can be dipped in warm and cool water to tease your partner with some fun temperature play. A dildo with a handle like The Man Handler is a great way to stay comfortable while penetrating your partner with a dildo. Alternatively, you can explore strap-on play with something like the Fetish Fantasy First Timers Strap On Set.
Vibrators
Arguably the most popular toy category, vibrators come in all shapes and sizes, with all sorts of bells and whistles. If you're curious about a vibrator sex toy, you've got a whole bunch of options. From the classic compact and discreet bullet like the PinkCherry Bullet Vibe to the full-sized powerhouse like the Pinky's Premium Power Wand wand massager, from focused clitoral stimulation with a clitoral suction vibrator like the PinkCherry Rose Vibrator to double penetration (and more!) with something like the PinkCherry Triple Stimulator Rabbit Vibe, from classic smoothies like Pinky's First Vibe to high tech wonders like We-Vibe Nova 2 Rabbit Vibe, no matter what you're looking for, there's most likely a vibrator for it! They come in different sizes, shapes, and levels of power. Some buzz while others rumble. Many come with multiple speeds and patterns, and some even come with bonus features the ability to thrust or swirl.  
For masturbation: This one's pretty easy: Pick your favorite body part and apply some vibration! My favorite solo play recommendations are the power wand vibrator, like the Original Magic Wand for folks with vulvas, and prostate stimulating vibes, like the Jackpot Vibrating Pleasure Probe for folks with prostates. 
With a partner: There are so many ways to incorporate a vibrator into partner play. Partners can explore using a vibrator on one another (blindfold your partner so they can't see what's coming… until it's them!), use vibrators separately as part of mutual masturbation, or using a couples toy designed to be worn during intercourse like the We-Vibe Chorus Couples Vibrator. 
Honestly, though, this is just the tip of the vibrating iceberg. From vibrating butt plugs to remote-controlled panty vibes, there is a whole world of vibrators out there and so very many ways to use them! 
BDSM
So you want to get a little kinky, awesome! What you choose will depend on what interests you and when it comes to BDSM, there might be a whole bunch of different things that interest you! that's why it might make the most sense to start off with something like the Strict Deluxe 10 Piece Bondage Set that comes with many of the things you might want to start of your BDMS exploration —  blindfold, breathable ball gag, collar, leash, wrist cuffs, ankle cuffs, nipple clamps, rope, paddle, flogger, tickler– and gives you the chance to explore multiple aspects of BDSM all in one set!
For masturbation: You might think that BDSM is something you totally need a partner for but that's not at all true. There are plenty of ways you can scratch that kinky itch all by yourself. You can grab a flogger or paddle — I personally recommend the Plunge Premium Silicone Paddle as it has some serious bite, even when used solo– and try out some self flagellation, add some sensation with nipple clamps like The Pinch Nipple Clamps, or break out a high powered wand like the Kink Rechargeable Power Wand for some edging!
With a partner: Well, if you are already BDSM-curious, you're probably already thinking of some things, so want to explore during partnered sex. One of my top recommendations for couples in an under bed restraint system like the PinkCherry Under the Bed Restraints. If roleplay if on the agenda, you might want to check out some masks and accessories. Really, there is a lot for you to explore together! 
Make sure you communicate very clearly so that everyone is on the same page and feels safe. Employ a safe word and don't forget the aftercare as some BDSM activities can be very intense. 
Male Masturbator
They go by many names– pocket pussies, strokers, milkers, and more– but what we are talking about here are toys designed to stimulate a penis and these days there are more options than ever! If you are in the market for a male masturbator you can take your pick with everything from nonrepresentational pocket strokers like the Mini Double Bubble Stroker to realistic toys molded from the body of your favorite adult film stars like the Main Squeeze Remy Lacroix ULTRASKYN Stroker. There are automatic strokers that do the work for you like the Sasha Grey's Girlfriend Experience Auto Stroker and lifesize masturbators that offer everything from body parts like the Stroke It Life-Size Pussy Masturbator to sex doll masturbators like the LuvDollz Remote Blonde Blow Up Blow Job Doll. And even though the word "masturbator" is right there in the name, these adult toys are far from solo-use-only items. Incorporating penis stimulation toys into partner play can take it to a whole new level!
For masturbation: Well, that's what this type of toy is made for so really it's just about identifying what different type of experience you are after. Do you want a toy that does the work for you? Something super realistic? Something with tons of bells and whistles like the options we mentioned above? Or are you looking for something low commitment that's convenient, portable, and packed with sensation, like the Satisfyer Naughty Masturbator Egg? It's up to you!
With a partner: There are lots of fun ways to use masturbators with a partner, from incorporating something like the Dynamo Vibrating Masturbator into a blowjob to adding the Miracle Massager Accessory to a wand massager that your partner controls to using the stroker of your choice during some sexy mutual masturbation. 
In Conclusion 
Sex toys can be amazing tools for sexual pleasure in both our solo and our partnered sex lives and, honestly, when it comes to what you use and how you use it, these days, the sky's the limit! The types of sexual toys we have mentioned today are just the beginning– we didn't even get to butt plugs or cock rings or rabbits!– but this should give some ideas to get you going. Whether you're playing by yourself or with a partner, make sure you are selecting body safe adult toys and cleaning them well after each and every use. 
To get started exploring sex toys for yourself and your partner, head on over to PinkCherry. Their huge selection of adult sex toys, wellness products, lubricants, and more features dildos, vibrators, BDSM toys and accessories, male masturbators, and a whole lot more.