When I was in my twenties, I masturbated so often that one year I strained a muscle in my inner thigh. Too embarrassed to tell anyone, I put up with it for months, occasionally limping.
The nature of my injury hit me when I tried to climb into the cab of my dad's truck. My eyes widened when I realized the limb wouldn't move. When I tried to lift it, it pulsed with a dull ache. Instead, I used both hands to lift it into the vehicle.
After that, I began tucking a pillow under my leg for support and taking longer breaks between masturbation sessions. Finally, the injury began to heal.
Now those overused muscles are in my arms. If I get too vigorous in bed with myself, I'll feel a sharp pain in my elbows and wrists for days. After months of experimenting with different techniques, I want to share what I've learned in the hopes that you can adapt these to your situation if you have an injury, disability, or any other physical limitations.
Don't Count On Casual Sex
At first, I thought it might be easy to find a sex partner to help me get off without my arms aching angrily afterward. But most of the men I dated refused to go down on a woman. The only one who was willing had a tongue that felt like sandpaper even after I asked him to be gentler. I told him to stop and put my fingers to work instead. Afterward, my arms were more aggravated than usual, since they got knocked around in other sex positions too. I learned I couldn't rely on hookups for satisfying clitoral orgasms while my arms were injured.
Give Your Body a Break
Since my injury was due to overuse, my body needed a break. But I couldn't give up masturbating! Instead, I tried to reduce the frequency to once a week or so. I also shortened the sessions to a quick orgasm or two rather than hour-long multi-orgasm extravaganzas. When I did try a fuller session, my arms ached for days afterward. This reminded me to be kinder and more patient with my body.
Use Tools to Help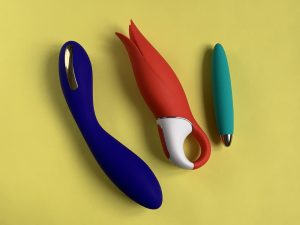 I usually need the electric buzz of a vibrator or some other kind of clitoral stimulation to achieve orgasm. Since my arms have been injured, I've tried leaving the buzzing bullet on my clit humming away rather than flicking my wrists. This way, my arms can rest while my body heats up. Sometimes I close my legs and rub my hips around the vibrator, or whatever feels good, perhaps using one hand to gently hold it in place. To climax, though, I usually need to flick soft flesh. But at least this way I can reduce the repetitive movements to a minute or so.
Consider using the protective equipment you already own. For example, I wear braces to help hold my wrists in place. When I remember to use them while masturbating, it helps a lot!
Try Something New
Experiment with a new position. My friend loves to get off by laying on her belly and rubbing her hips over a bundle of bedsheets. I could do that if I propped myself up on some pillows to avoid putting weight on my arms! Or you could try out a new kind of toy like a hands-free, remote-controlled vibe. Get creative!
Find a More Sensitive Sex Partner
Now I have a little help from a friend: I'm in a committed, long term relationship with a partner who will happily go down on me. Once I'm nice and warmed up, I pull out my vibe and only have to flick for a minute or so before I reach orgasm! In a way, the arm injuries motivated me to give up unsatisfying hookups and open up to the once-scary idea of lifelong commitment.
If you find a giving partner who respects you, a sex partner or otherwise, hang on to them!
Conclusion
It's possible to work around physical limitations while masturbating. Think creatively about your body's needs and experiment with new toys and techniques. I don't recommend relying on hookups (unless you know the people well or are a great communicator). If you do find a more sensitive sex partner, snag them!
Do you have physical disabilities that limit your ability to masturbate? What tips would you share? Comment below to share!