Are you ready to revolutionize your pleasure experience? Enter the world of the Gyro Vibe, a groundbreaking vibrator that combines innovative design and extraordinary features to redefine the way you enjoy intimate moments.
In this exciting journey, we will explore the extraordinary movement created by the Gyro Vibe, with an ingenious accordion-style suction cup base, and the robust spinning ball mechanism with its gently arched textured shaft and mesmerizing ball LED lights.
We will also delve into the latex-free rechargeable design, powerful vibe control options, and helpful tips for maximizing your Gyro Vibe experience. So, are you ready to experience the power of the Gyro Vibe? Let's go!
Short Summary
Experience extraordinary pleasure with the Gyro Vibe's accordion-style suction cup base, robust spinning ball, and arched textured shaft!
Explore different positions & control options to maximize your experience and unlock its full potential.
Enjoy a visually exciting and customizable pleasure experience with latex free rechargeable design & LED lights!
Discover the Extraordinary Movement
Imagine a device that takes your pleasure experience to a whole new level, one that combines all the extraordinary movement of a powerful vibe with unparalleled control and versatility.
The Gyro Vibe does just that, with its accordion-style suction cup base, robust spinning ball, and gently arched textured shaft. These components work harmoniously to create high-intensity gyrations that deliver mind-blowing pleasure.
But what makes this extraordinary movement so special? It all starts with the robust spinning ball at the base of the gently arched textured shaft. As the spinning ball gyrates, it generates an intense movement that travels through the shaft, resulting in powerful vibrations and high-intensity pleasure.
The accordion-style suction cup base ensures stability and ease of use, allowing you to focus on the exhilarating sensations. With the Gyro Vibe, extraordinary movement and high-intensity pleasure are just a touch away.
Accordion Style Suction Cup Base
Its innovative accordion-style suction cup base sets the Gyro apart from other pleasure device suction cups. The true magic of the accordion-style suction cup base lies in its ability to anchor the device securely during use, allowing it to teeter side to side, back and forth, without tearing or breaking the suction and ensuring that it won't slip or move even during the most intense sessions for amazing orgasms.
To make the most of your Gyro experience, cleaning the suction cup base before and after each use is essential. A clean and well-maintained base guarantees a secure anchor for the toy, maximizing pleasure and satisfaction. Additionally, make sure to press the suction cup firmly against the surface to ensure a stable and enjoyable experience.
With the accordion-style suction cup base, the Gyro Vibe is ready to take you on a thrilling adventure anytime, anywhere.
Robust Spinning Ball Mechanism
The robust spinning ball mechanism is at the heart of the Gyro, a powerful component that creates an exhilarating massaging effect. This mechanism is integral to the device's functionality, making it the ultimate pleasure powerhouse.
But what exactly is this spinning ball mechanism, and how does it contribute to the overall Gyro experience? The mechanism allows the spinning ball to generate intense speeds of gyration, resulting in a breathtaking massaging effect that takes the Gyro Vibe experience to new heights. This is a different effect than that of a standard vibrator.
Gently Arched Textured Shaft
The gently arched textured shaft is an essential component of the Gyro, designed to provide powerful vibrations and intense pleasure delivered right into the g spot.
This amazing shaft features a textured, curved-tip design that creates extraordinary movement. The combination of these elements results in a super-powerful massager that can elevate your pleasure experience to unimaginable heights.
To fully enjoy the benefits of the spinning ball and gently arched textured shaft, following the manufacturer's instructions for use and cleaning the toy after each session is crucial.
Additionally, finding the perfect position for the toy is essential to ensure maximum pleasure. Exploring different angles and positions will unlock new sensations, making your Gyro Vibe experience truly unforgettable.
[G-Spot Stimulation Strength Infographic]
Jack And Jill Adult Instagram Poll On The Interest In Ball Stretching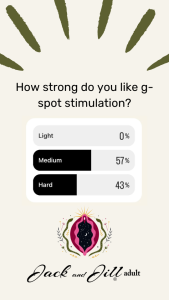 Latex-Free Rechargeable Design
One of the many fantastic features of the Gyro Vibe is its latex-free rechargeable design. While it may not be specifically marketed as such, the fact that the device does not mention the use of latex and is rechargeable makes it a safe and convenient option for those concerned about allergies or sensitivities.
The Gyro is also completely waterproof and super easy to clean, making it a practical and hygienic choice.
Charging the Gyro is a breeze thanks to the included USB cable. This means you can quickly and easily recharge your device, ensuring that it's always ready for your next pleasure session.
With its latex-free rechargeable design, the Gyro is a powerful pleasure device and a responsible and environmentally friendly choice.
USB Cable Charging
USB cable charging is a convenient and efficient way to power your Gyro Vibe. Connecting the USB cable to the device and plugging the other end into a power source allows you to easily charge your device and ensure it's ready for your next pleasure adventure.
Powerful Vibe Control Options
The Gyro Vibe offers a range of powerful control options, allowing you to customize your pleasure experience to your exact liking. With different vibration patterns, and intensity levels, you'll be able to find just the right setting that gets the job done.
The Gyro Vibe boasts three amazing different vibration patterns, providing a diverse and exciting array of pleasure combinations. The wearable and app-controlled options offer even more versatility and convenience, allowing you to control the device from a distance or integrate it into your favorite intimate scenarios.
With such powerful vibe control options at your fingertips, the Gyro becomes an indispensable ally in your quest for ultimate pleasure.
Control Manually
Manual control provides an unparalleled level of control over your Gyro Vibe experience. You can adjust the speed and intensity of the vibrations to your liking by using the buttons on the device. This level of customization allows you to explore various sensations and discover what works best for you with the three speeds of gyration.
The Arched Textured Blunt Tip Shaft
By incorporating the features and benefits of this unique shaft, the Gyro offers a pleasure experience that is both comfortable and precise, allowing users to explore new sensations and indulge in unforgettable intimate moments.
Tips for Maximizing Your Gyro Vibe Experience
To truly enjoy the power of the Gyro, maximizing your experience by following some helpful tips is essential. By exploring different positions, maintaining proper hygiene, and experimenting with various control options, you can elevate your Gyro Vibe sessions to new heights of pleasure.
Cleaning and Storage
Proper cleaning and storage of your Gyro Vibe are essential to maintaining its performance and longevity. To clean the device, use a mild soap and warm water, or sex toy cleaner, ensuring that all surfaces are thoroughly cleaned.
This will help prevent the growth of bacteria and ensure that your Gyro remains hygienic and safe for use.
When it comes to storing your Gyro Vibe, it's important to choose a clean and dry space that is free from moisture and temperature fluctuations. This will help protect the device from damage and ensure that it remains in optimal condition for your next pleasure session.
By taking the time to clean and store your Gyro Vibe properly, you can enjoy its extraordinary features and sensations for years to come.
Finding the Perfect Position
Finding the perfect position for your Gyro is essential to maximize pleasure and satisfaction. By experimenting with different positions and angles, you can discover the one that works best for you and unlock new sensations that take your Gyro experience to new heights.
When searching for the perfect position, remember that the Gyro Vibe can be used in various positions, including lying down, sitting up, and standing. It's important to make sure that the device is securely attached to the surface you're using it on to ensure a stable and enjoyable experience.
Whether using the Gyro for G-spot or anal play, experimenting with different positions and angles is crucial to discovering the perfect sensation. For beginners, it's best to start out on your back. Some people even enjoy bringing it into the shower and sticking it to the tile.
Many feel the Gyro performs best in a squatting and bottoming-out position. By following these simple tips, you can unlock the full potential of your Gyro Vibe and experience pleasure like never before.
With a little creativity and exploration, you can find the perfect position that unlocks the true power of the Gyro.
Summary
The Gyro Vibe is a groundbreaking device that offers extraordinary features, innovative design, and powerful vibrations. The Gyro Vibe promises to redefine your intimate moments from its accordion-style suction cup base and robust spinning ball mechanism to its gently arched textured shaft and mesmerizing ball LED light.
By following the helpful tips on finding the perfect position, maintaining proper hygiene, and experimenting with various control options, you can maximize your Gyro Vibe experience and explore new heights of pleasure.
With its extraordinary movement, unparalleled versatility, and customizable control options, the Gyro Vibe is the ultimate tool for your pleasure journey.
So, are you ready to experience the power of the Gyro Vibe? Embark on this thrilling adventure and discover how this revolutionary device can transform your intimate moments into unforgettable experiences. The Gyro Vibe awaits you, ready to unleash its extraordinary power and take you on a pleasure journey like no other.