Are you ready to experience the ultimate pleasure powerhouse? Enter the world of the Fun Factory VIM Massage Wand, a revolutionary wand vibrator that promises to deliver mind-blowing sensations like never before. With its industry-first weighted motor and customizable vibrations, the Fun Factory VIM is about to change the game of self-indulgence.
Short Summary
Discover the power of the Fun Factory VIM Massage Wand and experience thrilling, customizable vibrations!
Unveil intense pleasure with 50% quieter noise levels & 32% lighter design than leading wand massagers.
Enjoy endless customization options, five speeds & three vibration patterns for an unforgettable solo or partner play session!
Discovering the Fun Factory VIM Massage Wand
The Fun Factory VIM Massage Wand is truly a force to be reckoned with. This powerful Body Massager boasts an innovative weighted motor for incredibly customizable vibrations, unlike anything you've experienced before. As a leading player in wand massagers, the VIM delivers rumbly vibrations that will leave you breathless.
But what sets it apart from other wand toys? Let's unleash the pure power of the Fun Factory VIM and explore its unique design and aesthetics.
Unleashing Pure Power
The VIM's motor is Fun Factory's most powerful, featuring a handle with a slightly flexible neck for easy maneuverability. Its unique weighted motor offers deep, rumbly vibrations, even on the lowest setting, making it a favorite among testers. The sensation of the lower settings is thrilling and exciting, without being irritating or overpowering.
What truly sets the Fun Factory VIM apart is its 50% quieter and 32% lighter design compared to the leading wand on the market. With three unique orgasm programs and customizable intensity for each vibration, the VIM is an absolute game-changer for those who love sex toys.
Design and Aesthetics
The Fun Factory VIM Massage Wand features a tapered length, a brushed aluminum control panel, a textured, easy-grip handle, and a wavy, all-silicone head. The handle is much easier to grip than the Original Magic Wand, especially for those with smaller hands, and the all-over texture ensures it won't slip from your grip due to lube or fluids.
The weight of the VIM is concentrated in its head, not the handle, making it super easy to maneuver during play. The textured silicone head adds an extra layer of pleasure to your experience, making the Fun Factory VIM a true masterpiece in design and aesthetics.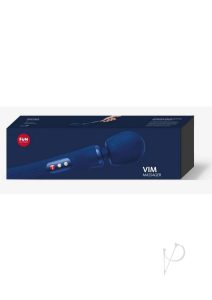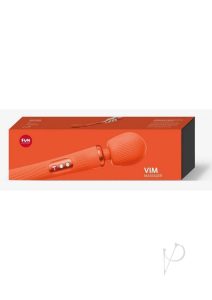 The Versatility of Body Massagers
Wand Toys are known for their versatility, and the Fun Factory VIM is no exception. The VIM truly caters to all your desires by offering a wide range of pleasure possibilities, from clitoral stimulation to indirect P-spot stimulation, stimulating the corona of the penis, caring for the balls during a blowjob, or even warming up the whole body.
With its thrilling thudding vibrations that travel below the surface for deeper pleasure, and ultra-strong settings and programs for hard-and-fast stimulation, the Fun Factory VIM is a must-have for those seeking endless pleasure possibilities.
Solo Play Adventures
The Fun Factory VIM is a perfect companion for solo play adventures. Imagine having an incredible orgasm in just two minutes, with zero foreplay or arousal, using the second-to-highest setting of the VIM. The possibilities for solo play with the VIM are endless, whether you're holding it against your clit to try to squirt, setting it against a pillow and straddling it, or pressing it against your perineum for indirect P-spot stimulation.
With its amazing 1-6 hour battery life and super quick USB charging, the Fun Factory VIM is always ready for action when you need it most.
Partner Play Possibilities
The Fun Factory VIM is not just for solo play; it's also a fantastic addition to partner play.
One tester even mentioned that they couldn't wait excitedly for their partner to caress them with the toy. With the Fun Factory VIM, the possibilities for partner play are limited only by your imagination.
Comparing the Fun Factory VIM to Other Body Massagers
When comparing the Fun Factory VIM to other wand massagers, it's clear that the VIM stands out in terms of power and intensity, noise levels, and battery life. With its industry-first weighted motor that delivers rumbly sensations and an even wider range of vibrations than other toys, the VIM is a force to be reckoned with.
But how does it stack up against other popular wand massagers in terms of power, intensity, and noise levels? Let's explore further.
Power and Intensity
The power and intensity of the Fun Factory VIM are truly impressive. With deep and rumbly vibrations, even on the lowest setting, the VIM does not disappoint.
While the highest settings of the VIM don't quite beat out some of the highest settings of plug-in massagers, they are still incredibly comparable to the Magic Wand Rechargeable. In fact, the highest setting on most plug-in wand massagers is often overkill for the body, making the VIM's range of intensities a more practical and versatile option for users who appreciate a more tailored experience.
Noise Levels
When it comes to noise levels, the Fun Factory VIM is a clear winner. It is 50% quieter than the leading wand massager, making it perfect for discreet play without sacrificing power. The VIM is noticeably quieter than the Magic Wand Plus, allowing you to immerse yourself in pleasure without any distractions fully.
With its impressive noise reduction and powerful vibrations, the Fun Factory VIM proves that you don't have to sacrifice pleasure for discretion.
Customizable Pleasure: Controls and Vibration Settings
The Fun Factory VIM offers a world of customizable pleasure, with adjustable intensity levels and vibrational patterns that cater to your unique desires. Whether you crave gentle caresses or intense pulsations, the VIM has you covered with its wide range of settings and programs.
But what exactly can you expect from the VIM's controls and vibration settings? Let's dive deeper.
Intensity Levels
The Fun Factory VIM boasts an incredible range of intensity levels, with five thrilling speeds to choose from. The intensity of the VIM's vibrations is truly remarkable, offering deep and rumbly sensations even on the lowest setting.
These powerful vibrations ensure that you can find the perfect intensity to suit your mood and preferences, allowing you to explore new heights of pleasure every time you use the VIM.
Vibrational Patterns
In addition to its five steady speeds, the Fun Factory VIM also offers three exciting vibration patterns that can be customized to your liking. The VIM's patterns include Deep Orgasm, Intense Orgasm, and the author's favorite, the Edging Pattern, which combines elements of both the Deep Orgasm and Intense Orgasm patterns for a truly exhilarating experience.
Each of these patterned modes can be personalized in vibration intensity, allowing you to fine-tune your squirting pleasure with a simple button press. With the Fun Factory VIM, the power to create your perfect pleasure experience is quite literally in your hands.
Charging and Battery Life
One of the many perks of the Fun Factory VIM is its impressive battery life and quick charging time. With a battery life of 1-6 hours, depending on the power settings used, the VIM ensures that you never have to worry about running out of juice during your pleasure sessions.
The VIM can be fully charged in just 4-5 hours via USB, making it incredibly convenient for those on the go or in spontaneous moments of passion. With the Fun Factory VIM, you can focus on enjoying your pleasure without any interruptions.
Water-Resistance and Cleaning
Maintaining the Fun Factory VIM is a breeze, thanks to its water-resistant and splashproof design. While it is not waterproof and should not be submerged in water, it is safe to wipe down or carefully rinse parts of it for easy cleaning.
To keep your VIM pristine, clean it with mild unscented soap and warm water after each use. By following these simple cleaning instructions, you can ensure that your Fun Factory VIM remains a hygienic and reliable pleasure companion for years to come.
Summary
In conclusion, the Fun Factory VIM Massage Wand is a game-changing pleasure powerhouse that offers unparalleled power, versatility, and customizable pleasure options. With its industry-first weighted motor, sleek design, and impressive battery life, the VIM is a must-have for anyone seeking a truly exceptional wand massager. So why wait? Treat yourself to the mind-blowing sensations of the Fun Factory VIM and unlock a world of pleasure possibilities today!