You know that silicone vibe with the mobile app, rechargeable batteries, and 12 settings that you love and adore? It's got a long history and in it's original form wasn't meant to be used specifically for sexual pleasure. Although, to be honest, that's exactly what it's predecessor "genital massage" and the early mechanized vibrators succeeded in doing for women Europe and the U.S.
Pre-Vibrator Era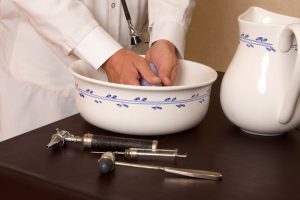 Before there were vibrators, there was fingering, but you already knew that. What two people may or may not have done during sex is one thing, but vibrators weren't invented for sexual pleasure. They were meant to be a motorized medical device. Before the vibrator, doctors treated women with "hysteria" – an all-encompassing illness that included irritability, nervousness, anxiety, sleeplessness, and more – with genital massage until they experienced "hysterical paroxysm." You'd know that as an orgasm.
As far back as 200 AD, Galen of Pergamon wrote about treating hysteria, a "woman's disease" with massage of the vulva and clitoris. Fast forward more than 1000 years, and Petrus Forestus used essential oils with his patients in the 1600s. As of 1750 in France, the precursor to the massaging showerhead was invented in France – the "pelvic douche device." Sounds fun, doesn't it? All of these "advancements" of medical treatment were leading up to one thing.
Early Vibrators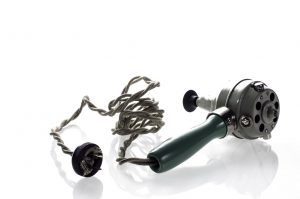 The first vibrators weren't anything like what you know and love today. The earliest known mechanized vibrator was the Manipulator patented by an American physician, George Taylor, in 1869. It was a motorized (powered by coal) table with a hole and a vibrating ball in the center. It wasn't exactly portable, and while doctors appreciated the help, they didn't love shoveling coal in it to keep it going.
From there, vibrators continued to improve as technology did too. Electricity was a lifesaver for doctors who didn't want the Manipulator in their office. In the 1880s the first electromechanical vibrator was patented by Joseph Mortimer Granville – the inspiration for the 2011 movie "Hysteria." By 1899, the Vibratile was being marketed to women to cure everything from wrinkles to headaches to "other" problems. In 1900, a hand-crank option called the VeeDee hit the market.
Vibrators as Sex Toys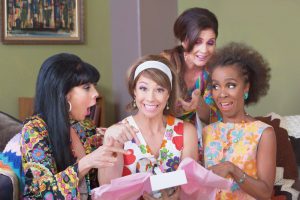 Vibrators were not meant to be sex toys originally. They were medical devices used by doctors in treatment of an illness. Until porn got involved, at least. By the 1920s, vibrators were being openly depicted as sex toys in early porn. After that vibrators went from being a magic cure-all for any ailment to something no one talked about. That doesn't mean women weren't still bringing themselves to orgasm. It means no one admitted it. At around the same time, doctors stopped performing genital massage.
Many vibrators were now marketed as "massagers" (sound familiar?) and were sold for reasons that had nothing to do with sex – beauty products in the 1930s and weight loss products in the 1950s. By 1952, hysteria was finally removed from medical texts, and in the 1960s, you could buy a vibrator in a sex shop. The Mother of All Vibrators, the Original Magic Wand or Hitachi, hit the market in the late 1960s.
Vibrators Today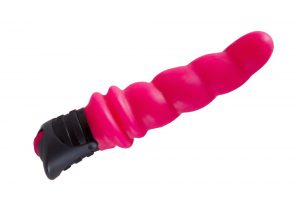 Today, vibrators are in abundance with a few clicks of a keyboard or a quick trip to a sex toy shop. You can choose your favorite color or style. Use your phone or use the buttons. There are vibrators specifically for vulvas and others for penises. Vibrators are more ergonomic than ever, quieter, and capable of producing more than one constant buzz. The technology and mechanics of vibes has advanced far past what the original inventors could ever have imagined.
However, the other change is not an advancement but a decline. In the early 20th century, vibrators were sold in women's magazines and used in doctor's offices. No, they weren't used the way you use them now, but they were mass marketed. As late as 1998, Alabama banned the sale of vibrators in the state. As recently as 2007, the Supreme Court refused to hear a case on the constitutionality of now allowing the use or sale of vibrators in some states.
But not all is lost. In 2008, the U.S. Federal Appeals court ruled in favor of sex toys and said that banning them violated your right to privacy. As of 2013, it was estimated that a third of all women owned vibrators. Even in Alabama, where vibrators are still illegal, they don't enforce the rule anymore – as long as you buy no more than five vibes at a time.
Conclusion
Vibrators have a long strange history from medical device to sexual pleasure, from available to everyone then banned and shamed. Whatever their origins, vibrators have a clear place in your sex life today, whether alone or with a partner.