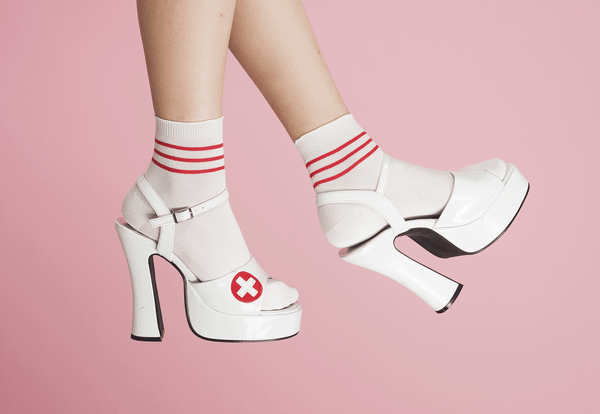 In the United States, 19 percent of the population watch at least one movie per day. Watching television is a fun way of indulging in fantasy to escape the mundane reality of everyday life. Sexual role-playing is a lot like watching television — it's fun, exciting, and spices things up. Role-playing lets you explore each other's fantasies in a safe and enjoyable fashion. The activity is an important way to express yourself with your partner and break out of the bedroom rut that so many couples find themselves falling into. 
Let the Crazy Fantasies Begin! 
As a confident and independent woman, you might feel a little awkward telling your partner that you have a thing for firefighters or that you would really like to be handcuffed to a bed. The conversation isn't something you have over dinner or even drinks. However, if you suggest a role-playing game then the fantasy takes on a whole new twist. Suddenly it becomes a fun game. Next time you are rolling around in the sheets with your lover say, "I had the wildest dream last night. You were a firefighter and you had to save me from a burning building" or  "Wouldn't it be fun for you if you could handcuff me to the bed and touch me from head to toe?"  These fun suggestions are a way of opening the door to a rich fantasy life of role-playing games. 
Drop Your Guard and Let the Fun of Sexual Role Playing Begin 
Role-playing is a way of showing that you truly trust your partner and letting them know you feel safe and secure. Now, remember, when you first make the suggestion of role-playing and trying out your fantasies that it is a two-way street. Your partner will probably immediately drop their guard and say that playing fireman and damsel in distress sounds fun but so does taking things a step further by being a police officer with handcuffs. You'll have to be open to their suggestions and fantasies too. Together, you both can build on things to tailor your own unique script that titillates and teases each one of you in certain ways. 
Free Your Sexy Side
Usually, when you masturbate you rely on a combination of your fantasies and solo stimulation to reach orgasm, However, when you are with a partner you depend on your significant other's performance to climax. In a way, you are shortchanging yourself and your partner by not fantasizing. You've probably noticed that you can climax when masturbating far faster than with your lover even if they are amazing. The reason behind this is usually the fact that you have given over your imagination to a fantasy that enhances your physical sensations and responses. A mind is a powerful tool in fulfilling your sex life. Role-playing lets you actively fantasize (like you do when masturbating) but also includes the exciting performance of your partner in the scenario. It is both mentally and physically liberating. 
Many women also use a vibrator when masturbating so a fun aspect of role-playing is suggesting that you try out a couple's toy. TIANI 3 Couple's Massager is as flexible as your imagination! It bends, angles, and curves in a variety of positions so it will fit both his and her body contours. See how many sex positions you can work into your fantasy while making use of the two posable points on the device. Also, it has a handy squeeze activation. 
Stretch Your Boundaries with Public Role Play 
Role-playing stretches boundaries and lets you feel free to try new things. The added excitement increases your body's natural dopamine production which helps to enhance your physical pleasure. Greater pleasure equals more intense orgasms. Add props, wigs, or try role-playing in an interesting place like a hotel or restaurant. Sex toys are fun too! Try out the Satisfyer Mono Flex Vibe with a dual stimulator and amazing flexibility. Best of all, you can control it using the Satisfyer Connect app. Pass your cell phone to your partner and let them handle the app settings to push your pleasure buttons to amazing new heights as you indulge in your own unique role-playing game. 
If you really want to stretch your sexual boundaries while publicly role-playing then why not wear the very discreet We-Vibe Nova 2 Rabbit Vibe Set. You can target your g-spot with hands-free stimulation with the small internal device that is controlled with a simple phone app. Your partner can tease your erogenous zones without even touching you! Try out the ten built-in modes for various levels of pleasure. Another fun toy to wear in your panties while role-playing is the Satisfyer Sexy Secret Panty Vibe. Only your lover needs to know you have it hidden. 
Another pleasurable wearable device is the We-Vibe Moxie+ Wearable Clitoral Vibe. A couple-perfect toy, no one will ever guess you are wearing it and your partner is controlling your pleasure levels. Talk about taking role-playing to a whole new level of excitement! Try ordering a scrumptious chocolate dessert while dining out during your role-playing adventure but your lover keys up the pleasure sensations by controlling your wearable clitoral vibrator. You'll have a hard time keeping a straight face and not moaning!  
Have Fun and Release Some Stress
Are you pretending to be a high-end hooker at an upscale bar and your husband is a john trying to pick you up? Yes, it sounds fun and sexy, but you also might have a hard time keeping a straight face as you act out your part. Don't hold back! Smile and have fun. Role-playing is a great way to be silly and act like a kid again. It's all about just going with the flow and having a good time with each other. Remember, laughing is sexy. 
Role Play to Remember the Fun of Seduction
Do you remember the anticipation leading up to your first sexual encounter with your lover? Seduction is like foreplay. It builds anticipation and makes the release even more explosive. Maybe you touched each other flirtingly, gave a couple's massage, shared long gazes, fed each other delicacies, or held hands across a table. It was all slow and sweet. You can recapture and recreate those first moments with role-playing. 
The Sky is the Limit
The sky is the limit with role-playing. Whatever your dreams or fantasies, carry them out with your lover to take your relationship to the wild side.  
Try out the

Dual Double Sided Wand

r

 to enjoy a couple's massage while you make believe you are a masseuse and your lover is your client. 

Pretend you are porn stars and make your own private movie. 

Carry out a little house cleaning together because nothing is hotter than a maid with a feather duster cleaning every nook and cranny of your home and body. 

Play doctor and patient or doctor with a naughty nurse. 
Role-playing is a fun adult's only game that is important for any relationship on occasion!