Are you ready to revolutionize your intimate experiences? Meet the Fun Factory Bootie Fem, a groundbreaking anal plug designed exclusively for women! With its unique design, this little wonder enhances pleasure during intercourse and solo play. Keep reading to discover how Bootie Fem can transform your sex life and unlock new levels of sensual delight.
Short Summary
Discover the amazing Fun Factory Bootie Fem for double penetration and enhanced pleasure!
Experience unparalleled craftsmanship, safety & thrilling sensations with its unique design features.
Enjoy discreet comfort and beginner-friendly anal play; explore limitless possibilities!
Discovering the Bootie Fem
Imagine having a beginner-friendly butt plug that not only provides anal pleasure but also enhances your vaginal sex experience. Made in Germany, this amazing anal plug has some eye-popping features that set it apart from other plugs. This butt plug ensures double penetration during vaginal sex, guiding your partner toward your G-spot while giving you an exhilarating squeeze in all the right places.
But there's more to Bootie Fem than just its unique design. This fabulous plug comes with a 2-year warranty, proving that the fun doesn't stop after just a few uses. More details to come on what makes this anal plug a must-have addition to your intimate toy collection.
[Butt Plug Wear During Sex Infographic]
Jack And Jill Adult Instagram Poll On the Possibility of Trying a Butt Plug During Sex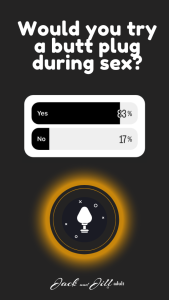 Made in Germany with Love
It's no secret that Germany is renowned for its high quality and safety standards. That's why the Fun Factory Bootie Fem is made in this beautiful country. Crafted with body-safe silicone and an asymmetrical base with a tilting tulip bulb, this anal plug ensures enhanced pleasure for all its users. The attention to detail and commitment to excellence in its manufacturing process make the Fem a product you can trust and enjoy.
Double the Pleasure: Bootie Fem's Unique Design
The Fun Factory Bootie Fem is not your ordinary anal plug. Its unique design makes it comfortable and approachable for women to wear during vaginal sex. The asymmetrical base of this marvelous toy ensures that it won't cover the vaginal opening or surrounding area, guiding your partner toward your G-spot while also providing anal stimulation.
The tulip-shaped tip applies pleasure against the vaginal canal, increasing sensation during penetrative play. Are you ready for some mind-blowing, eye-popping orgasms?
Asymmetrical Base
You might be wondering what makes the asymmetrical base of the Fem so special. This awesome design lets you enjoy comfortable and safe anal play without blocking the vaginal opening. The result is an enhanced vaginal sensation during sex, leaving you craving more.
The asymmetrical base also guides your partner towards your G-spot, providing thrilling anal stimulation that will take your pleasure to new heights. With the Fem, you no longer have to worry about your anal plug getting in the way of your vaginal pleasure. The asymmetrical base works in perfect harmony with your body, allowing you to explore double penetration and experience unparalleled gratification.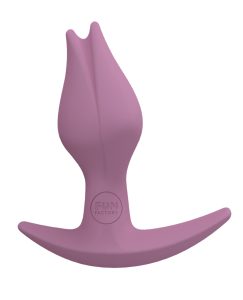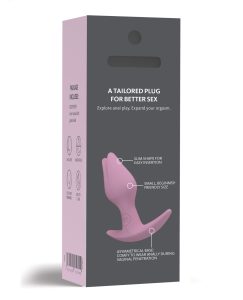 Tulip Bulb Tilts
The tulip bulb tilts of the Fun Factory Bootie Fem are designed to guide your partner towards your G-spot and narrow the vaginal canal. This ingenious feature not only intensifies the sensations during vaginal penetration but also gives your partner a gentle squeeze, making your intimate moments even more exhilarating.
The Bootie Fem is the ultimate pleasure center, providing you with incredible sensations you never imagined possible.
Bootie Fem: The Perfect Addition to Your Sex Life
Small in size but big in impact, the Fem is the perfect addition to your sex life. Whether you're looking to guide vaginal penetration to your hot spots or heighten sensations during intercourse, this anal plug has got you covered. Its discreet and comfortable design makes it a fantastic choice for beginners exploring toys or anal sex.
So why not enhance your solo play or add an extra dimension to your bedroom adventures with this versatile sex toy?
Heightened Sensations during Intercourse
The Fem is designed to provide greater pleasure during vaginal intercourse. Its unique features, such as the asymmetrical base and tulip shape, apply pleasure against the vaginal canal, increasing sensation during penetrative play. The shape of the Bootie Fem also puts pressure on the vaginal walls from the outside, making vaginal penetration feel even more impressive.
Enhanced Solo Play
The unique design of the Bootie Fem, with its curved bulb and velvety silicone material, can provide amazing sensations during solo play. By targeting sensitive nerve endings in the anus and providing a comfortable fit for extended wear, the Fem will quickly become your favorite toy for personal pleasure.
And because it's so discreet and comfy, you can explore new heights of ecstasy without anyone ever knowing your secret.
Discreet and Comfortable
The Bootie Fem is incredibly discreet and comfortable, thanks to its small size and asymmetrical base. This anal plug is so small that it fits comfortably in the palm of your hand, ensuring it won't block the vaginal opening or get in the way during playtime.
The slim silhouette and velvety silicone material make it gentle on the skin and easy to insert, allowing you to enjoy extended wear without any discomfort. Go ahead and indulge in some responsible fun with the Fem!
Beginner-Friendly: Ease into Anal Play with Bootie Fem
If you're new to anal play or looking to add another quality product to your collection, the Bootie Fem is the perfect choice. Its smaller size, tapered shape, and unique features make it super comfortable to insert and versatile for all users.
Plus, we've included a real user review and cleaning and care tips to ensure you get the most out of your Bootie Fem experience. So, what are you waiting for? Dive into the exciting world of anal play with the Fem!
Comfortable Insertion
The Bootie Fem's tapered shape and smooth silicone material make insertion such a breeze! The narrow tip allows for easy insertion, while the soft and flexible silicone material provides a comfortable fit. Plus, the flared base ensures that the plug stays in place during use, making it perfect for beginners and experienced users.
No more worrying about your anal plug slipping out or causing discomfort during intimate moments! So, if you're looking for a beginner-friendly anal plug that is easy to insert and comfortable to wear, look no further than the Fem. With its unique design and top-quality materials, you'll be well on your way to exploring the world of anal play in no time.
Versatility for All
The Fem's unique features make it versatile for various types of play. By inserting the Fem into the anus and then using a penis or another sex toy in the vagina, you can enjoy the thrilling sensation of double penetration.
Its discreet and comfortable design also makes it perfect for solo play, allowing you to explore new sensations and push your boundaries. With Bootie Fem, the possibilities are endless!
Bootie Fem in Action: A Real User Review
Don't just take our word for it – check out this real user review praising the Bootie Fem for its unique features, enhanced sensations during intercourse, and comfortable solo play.
"The Bootie Fem has truly transformed my sex life. It's opened up a whole new world of pleasure for me. I've always wanted to experience double penetration, but never wanted the threesome. The Bootie Fem took care of that issue. It also ensures my husband is hitting the right spot since he doesn't have a curve to his penis. Not only has it heightened sensations during intercourse, but I've also used it alone. I can't recommend it enough!"
Cleaning and Care Tips for Your Bootie Fem
To ensure your Bootie Fem stays in tip-top shape, it's essential to clean and store it properly. Following the proper cleaning techniques and storage methods will not only prolong the life of your Bootie Fem but also ensure that it remains safe and hygienic for use.
Proper Cleaning Techniques
Cleaning your boots is a breeze! Simply wash it with mild soap and warm water, making sure to clean all the grooves and ridges thoroughly. You can also use a sex toy cleaner for added convenience.
To disinfect your Bootie Fem, you can even boil it after washing. Following these proper cleaning techniques ensures that your Bootie Fem remains safe and hygienic for all your intimate adventures.
Storage and Maintenance
When it comes to storing your Bootie Fem, make sure to keep it in a cool, dry place away from direct sunlight. It's also essential to store it separately from other sex toys to avoid contamination.
Regularly inspect your Bootie Fem for any signs of wear and tear, and replace the toy immediately if any damage is found. By following these storage and maintenance tips, you can keep your Bootie Fem in perfect condition for years to come.
Summary
In conclusion, the Fun Factory Bootie Fem is a revolutionary anal plug designed specifically for women, offering unique design features that enhance pleasure during intercourse and solo play. Its discreet, comfortable design and beginner-friendly nature make it the perfect addition to any sex toy collection. So, why wait any longer? Experience the incredible sensations and unforgettable pleasure that the Bootie Fem has to offer – your intimate moments will never be the same!