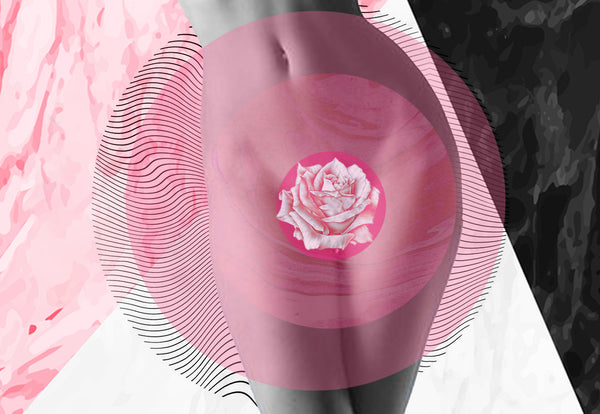 Cervix penetration—it sounds very clinical, like something that might go down at an OBGYN practice, but it's a term that might come up in bedroom talk, too.  Fact is, when people are trying to achieve a certain unique type of orgasm known as the cervical orgasm, the topic of cervix penetration and stimulation tends to come into play. By the way, the term cervical stimulation is much more accurate than cervical penetration (you'll see why below), and wayyyy less intimidating, so let's go with that, shall we?
What Is A Cervical Orgasm?
Also known as a full-body orgasm, a cervical orgasm produces waves of intense, pleasurable tingling and vibrations when the cervix is properly stimulated and the recipient is fully aroused and relaxed. It's known as one of the most powerful orgasms that a woman can have, so it's easy to see why many partners strive to achieve it. But there's a right and a wrong way to go about doing so.
Before you and your partner dive in headfirst, we're going to clear up a few things to help ensure that you're on the right track as you pursue the potential holy grail of orgasms. The cervix can be a very sensitive area, so you'll both want to do your homework and ease into this area of sensual exploration.
Is Cervix Penetration Even Possible?
Short answer—nope. 
Here's why. The cervix starts at the base of the uterus and extends to the vagina. It's kind of like a neck of muscle tissue for the uterus that opens up into the vagina. The cervix is only about an inch long and an inch wide and its opening is really small. And we mean reaaally, really small. The opening of the cervix is usually no bigger than your thumb. The only time that it should expand is during childbirth. When it comes to intercourse, there's no way that a penis or sex toy will fit. So, if you ever hear someone brag about how they penetrated their partner's cervix once and blew her mind, you'll know that didn't really happen and you can also tell them why it didn't. Biology is fun!
Cervix Stimulation: What It Is And How To Get Started
As mentioned above, when the cervix is stimulated the right way, it can lead to a very pleasurable and memorable experience for the receiver. How do you stimulate the cervix? Stimulation can occur when the fingers, penis or a sex toy rubs or pushes up against the cervix or a certain spot just under it.
When a woman is aroused, the vagina elongates and the cervix is pulled up and out of the way. At this point, cervix stimulation can't be achieved with the fingers alone. Much like in "Inception", you need to go deeper. This is when deeper penetration is needed.
If you're the giver, you can try longer strokes or use a large dildo to gently hit the spot. Ease into it so you won't throw your partner off or totally ruin the mood by ramming the cervix. Warm her up with a good foreplay session to make sure she's fully aroused. Once you enter and start stroking, aim for the front of the body since the cervix often moves that way during stimulation. If you can't reach the cervix in missionary position, try cowgirl, side entry or even doggy style. And of course, don't forget the lube as you're experimenting. If it's all done right, you'll either feel an extremely intense, full-body orgasm or you'll witness your partner having one.
Are Cervical Orgasms Safe And Do They Hurt?
Cervical orgasms are very safe when both partners are on the same page. With this type of orgasm, communication is essential. If the receiver is not completely relaxed, things can go wrong fast. Before getting started, make sure she's on board with the idea of deep penetration and that she's calm and comfortable during and after sex.
As for pain, it can vary based on the person. Some people deal with what is known as dyspareunia, or painful sex. In this case, it can be very uncomfortable to have something pressing against the cervix. Cervical cysts can also cause discomfort. If the pain occurs on a regular basis, it's good to talk to an OBGYN about it so they can get to the root of the problem.
Outside of these circumstances, the recipient could feel pressure or pain just because she's never had an object near her cervix before. That's why it's important to be gentle when experimenting with cervix stimulation. If you're the giver, go into it with the mindset that you're trying to sensually caress your partner at a much deeper level. It's not about beating the cervix into submission—you're not boxing. It's more like a waltz. Slow, gentle and steady is the way to go.
Additional Tools For Cervical Orgasms
If you find that your penis, fingers or toys just aren't giving you the length you need to get the job done, you might want to invest in a cock extender. Cock extenders can add length and girth to the penis or fingers and they'll quickly take on body heat to feel more lifelike during sex. Not only are they pleasurable for the receiver, but they're also stimulating for the giver as well. So if you're in the market for a new toy, give a cock extender a try.
Make Every Encounter Pleasurable At PinkCherry
PinkCherry wants you to have a great time every time. That's why we offer the best sex toys, lingerie and accessories around. Shop with us today and find everything you need to make your intimate fantasies a reality.