If you're curious about kink, fantasizing about fetishes, or just wanting to spice up your sex life with your partner, it's time to get experimental! But if you don't know how to get started, looking at the array of kinky toys available can be overwhelming. 
We've put this guide together to help you pick out exactly what you need to bring your fantasies to life.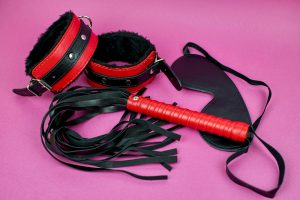 What is Kink?
"Kink" is a pretty broad term and encompasses all kinds of non-conventional sexual practices. It can include fetishism (a sexual fixation on an object, act, or body part,) BDSM, many forms of roleplay, and so on. 
Kink often involves playing with power, and sometimes also includes playing with pain or other intense sensations. Kink relationships run the gamut from "once in a while in the bedroom," to "24/7" relationships where partners are in their Dominant or submissive roles full-time. 
There's no wrong way to be kinky as long as you are being as safe and sensible as possible. Because all activities carry some risk, kinksters like to use the acronym RACK: Risk Aware Consensual Kink. 
What types of kinky sex toys are there?
Because kink is such a broad category and encompasses so many sexual activities, almost anything can be a "kinky sex toy." We've broken it down into a few of the main categories for you, but this is not an exhaustive list. 
Impact Toys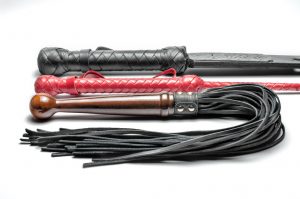 Impact play is a fancy way of saying "hitting someone (or getting hit) for sexual purposes." For some people, this kink is all about hand spanking. Others prefer to use impact play toys. Some of the most common you'll find include:
Spanking paddles: These are often made from leather or faux leather but you can also get suede, plastic, wooden, and even metal paddles. 
Riding crops: Like the ones horse riders carry!
Floggers: These have a handle and many strips of material, known as falls, usually made out of leather, faux leather, or suede. 
Canes: Think "Victorian schoolmaster." Canes can be dangerous and can pack a surprisingly intense punch, so use them very carefully. 
Whips: Single-tail whips are the most dangerous type of impact toy you can get, and are not for use by beginners. People have wound up in the emergency room from whipping gone wrong. The crack you hear from a whip is the tip breaking the sound barrier! Get some education and practice before you even think about using a whip on a person. 
You'll hear impact play enthusiasts describe toys as "thuddy" or "stingy." In general, heavier toys (like large floggers and heavy wooden paddles) are more thuddy, while thinner toys like canes and crops are more stingy. Thuddy means they create a deep sensation usually within the muscles. Stingy often means it's a surface-level pain that burns/stings.
We recommend new players try a soft flogger, riding crop, or gentler leather paddle to start with as a beginner. 
Bondage
Bondage is all about tying someone up or getting tied up. Many kinksters love using rope, both for its aesthetic beauty and versatility. While you can learn basic ties from a book or video, we recommend getting some in-person education from a workshop if you want to get into rope bondage. 
Can't be bothered with all those knots? Some of the other types of bondage restraints you can get include:
Cuffs: These go around the wrists and/or ankles and can be used to hold a person in a certain position or tie them to something (like a bed). We recommend starting with leather or faux leather cuffs, and only moving on to metal ones later if you want to. 
Under-bed restraints: These go under your mattress and have cuffs (or clips for cuffs) at all four corners, allowing you to tie your partner to the bed with ease. 
Spreader bars: These go between the legs and allow you to clip cuffs to each end, keeping your partner's legs apart. 
Collars: Collars go around the neck and can be symbolic (such as in a Dominant/submissive relationship,) functional, or both. Be very careful if you're fastening a collar to anything! 
Bondage tape: Bondage tape sticks only to itself and can be used to fashion makeshift restraints at a moment's notice. 
Gags: Gags go in the mouth to stop a person being able to speak coherently. 
Curious about bondage? Starting with a simple cuff set or bondage tape will give you an inexpensive and relatively safe way to try it out! 
Sensory Deprivation
Sensory deprivation is all about taking one (or more) sense away to heighten the others. Blindfolds are the most common sensory deprivation toys, but earplugs are also popular. A step up from that are hoods, which go over the whole head and block out sight and sound. 
The most extreme form of sensory deprivation uses something called a vacuum bed. If you've seen vacuum-packed food in the store, it's essentially that… but for a person! 
Sensation Play
Kink isn't all about pain! Playing with all kinds of sensations can be fun, and toys can be used to facilitate sensation play. Some of the most popular types of sensation toys include:
Candles: Having hot wax dripped on your skin can be seriously erotic! But always use proper bondage candles, as ordinary household candles can burn much hotter and can cause injuries. 
Wartenberg wheels: Also known as pinwheels, these metal wheels have sharp spikes that create an intense sensation when you run them over the skin. Don't worry, they are not designed to break the skin or make you bleed. 
Feather or fur ticklers: Run them all over your partner's body and make them squeal or sigh!  
Sensation play gives you an opportunity to get creative and is a great way to use pervertables (more on those in a minute!).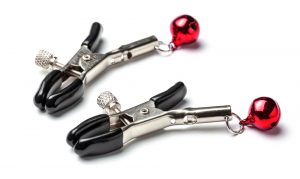 Clips and Clamps 
Clamps attach to sensitive places, most often nipples or genitals, and can deliver sensations from a gentle pinch to an intensely painful squeeze. Clamps can be metal, plastic, or silicone. Some also come with extras, such as chains to attach to a collar or even mini vibrating motors. 
Pro tip: They hurt more coming off, especially if you've left them on for more than a few minutes. Sometimes that's part of the fun if you really enjoy giving or receiving painful sensation.
Chastity Devices 
Chastity devices prevent the wearer from touching their genitals, experiencing sexual pleasure, or reaching orgasm. 
The most popular kind of chastity device is for people with penises, because they are easier to wear for long periods of time. They consist of a cage, made of a material like plastic, metal, or silicone, that encases the penis. Some prevent erection entirely, others allow erection but make it impossible to orgasm. 
Chastity devices for people with vulvas exist, but they tend to be much more expensive and less practical for long-term use. (For one thing, most of them make it impossible to go to the bathroom!) These devices are usually made from leather, faux leather, or metal. 
Chastity devices are often lockable, and the Dominant partner may act as a "keyholder." Remember that the wearer should always have a spare key for emergencies. 
Electroplay
Electroplay involves using electricity for sexual or kinky stimulation. It includes toys like violet wands/neon wands, TENS units, electroshock nipple toys, and even electro insertables like dildos and butt plugs. 
Electroplay sounds scary but doesn't have to be painful! In fact, it is often very sensual. Start slowly and always follow the instructions to ensure you're being safe. 
Important: never do electro-play if you have a heart condition, are pregnant, or use a pacemaker or certain other medical devices. Always get a professional opinion before you start if in doubt. 
Vibrators 
Yes, vibrators can be kinky! Whether you tease your partner to the edge then deny them, torture them with forced orgasms, or ask them to masturbate and put on a show for you, a good vibrator is an important addition to your kinky kit bag. 
Insertables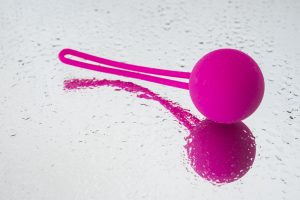 Dildos are the most common type of insertable toys, and they're incredibly versatile. Why not get a glass or stainless steel dildo and experiment with temperature play by warming or cooling it? Realistic dildos can help fulfil a group sex fantasy, extra large dildos can present a fun challenge, and strap-ons can allow a person without a penis to experience being the penetrating partner. 
Other types of insertable toys include:
Ben wa (kegel) balls: These are worn inside the vagina and stimulate you every time you move. Some include weights which add extra stimulation. 
Butt plugs: These sit just inside the anus and can be worn for extended periods of time. 
Prostate massagers: These are anal toys that are curved to hit the prostate (sometimes called the P-spot or "male G-spot"). They may or may not vibrate. 
Pervertables 
A pervertable is anything that isn't designed as a kinky toy but that you use as such. Here are some common examples:
Clothespins as nipple clamps
Paintbrushes or fabric offcuts as sensation play toys
Scarves as blindfolds
Wooden cutting boards as spanking paddles
And so on!
We don't recommend inserting anything that isn't designed as a sex toy, as this can be dangerous. 
Conclusion
As you can see, there are almost endless kinky possibilities and we've barely scratched the surface here! We hope you enjoy your explorations and discover something new and hot in your bedroom tonight. 
What kink toys interest you the most? Do you have a favorite one in your BDSM toy bag? Let us know down in the comments!