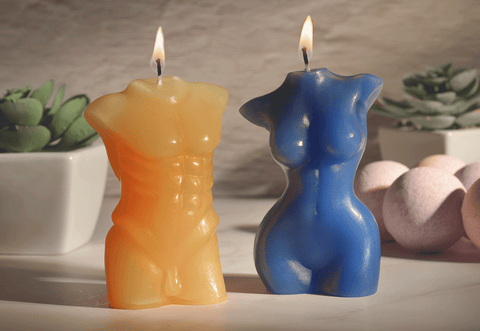 When you are playing by yourself (or even with a partner), a stroker can be an excellent addition that adds texture and realistic sensations in a way your hand just cannot. But what if you want something even more realistic? This is where sex dolls come into play. Now, as fantastic as full sized sex dolls can be, they do tend to come with some downsides. Don't get me wrong, today's sex dolls are more realistic than ever, and they're available in a huge range of styles to please every taste. 
However,  they can also cost thousands of dollars, making them inaccessible to many folks. Also, let's be honest, they take up a lot of room and are heavy. It's basically like having another adult human in your house but you have to carry them everywhere and try to store them discreetly. 
Do not despair! For those of you looking for a more realistic experience without committing to a full size sex doll, a sex doll torso might be just the thing for you!
These more budget-friendly sex doll alternatives feature most of the benefits of a full size sex doll in a lighter, easier-to-store package. Plus, they tend to cost between $50 and $800 as opposed to the thousands of dollars you would have to pay for a full size sex doll, making them far more accessible. So, let's take a look at sex doll torsos; what they are, how they work and which ones give you the most bang for your buck!
What Is A Sex Doll Torso?
I know if you are unfamiliar with the term, "sex doll torso" can sound a bit jarring so let's talk a bit about what exactly that term refers to. Sex doll torsos are basically partial sex dolls. Available in multiple sizes and shapes, some feature full sized breasts as well as genitals and buttocks complete with penetrateable vaginal and anal openings. This style of doll typically looks like a body minus the head, arms, and legs. 
Other styles might just feature the genital region with life sized buttocks and vulva, sometimes configured with the buttocks on top for a realistic "from behind" experience. Others feature a vulva presented like that of a partner lying on their back. This style might still feature an anal opening, though it might not have actually buttocks.
These descriptions make it sound like sex doll torsos are exclusively for folks who want a partner with a vagina and anus and that is not entirely accurate. Sex doll torsos can also feature a penis and tesitcles for those who with to be penetrated by their sex doll torso. Additionally, there are masculine models with penetrable anuses like the Gender X A Handful Life-Like Stroker. 
How To Use Sex Doll Torsos
Using a sex doll torso is a pretty simple proposition. You basically position the sex torso masturbator however you want it (on a stable surface, preferably), and get down on it, as it were. That said, there are some things you want to keep in mind other than sex doll positions. Here are some specifics to help you get the most out of your sex torso masturbator. 
Lube
Don't skip the lube. For your comfort, to keep your torso toy in good shape, and also just because it makes everything feel good. Keep lube on hand and use it generously. In terms of what will keep your sex doll torso in good condition and what will be easy to clean up when you are done, I recommend a nice water based lube like PinkCherry Water Based Lubricant. 
Vaginal Penetration
If you are looking to penetrate your sex doll torso vaginally, it's a pretty straightforward process. It is however, important to remember that, just like with humans, sex doll vaginas can feel different from one another. There's a whole range of textures, sensations, and levels of tightness available. This is more something to think about when you are shopping for your sex doll torso (more on that in a minute) but being aware of it will help you get the absolute most enjoyment from your love doll torso toy. 
Anal Penetration
Whether you already know you love anal or if it's something you've always been curious about but haven't gotten to try, a sex doll torso is the perfect opportunity to indulge in some backdoor fun. Now, as you likely already know, anal sex with a human partner can require taking your time to keep both you and your partner from being injured. It might be tempting to treat anal sex with a sex doll differently and rush the process or skimp on the lube but, seriously, don't do that! 
Why? Well, the anal orifice, even that of a sex doll, is significantly tighter than the vaginal orifice. It can and will stretch but if you don't use enough lube there could still be some very uncomfortable friction. The same goes for moving too fast. Once you penetrate your sex doll torso's anus, take your movements slowly at first in the name of keeping your penis safe and healthy. That's right, moving too fast or pushing back against friction could damage penile tissue and no one wants that! 
Finishing up
A question that always, always, always comes up when we are talking about sex dolls is "can I come inside it?" The simple answer here is yes, you absolutely can come inside your sex doll torso. The more complicated answer is yes, you can absolutely come inside your sex doll torso but be prepared to thoroughly clean it out afterward. The 'how tos' on cleaning your sex doll torso will vary based on its construction and the material it is made of, but each individual model should come with instructions from the manufacturer. Take care to follow those instructions and engage in deep cleaning to prevent the growth of mold growth and bacteria as part of maintaining your sex doll torso. The good news is that when you are dealing with a torso sex doll rather than a full sized sex doll, cleaning can be significantly easier.  
6 Best Sex Doll Torsos
No matter what type of adult sex toys we are talking about, I generally believe there is no universally "best" one. It's always a question of what is best for each individual buyer. To figure that out you want to take a bunch of factors into consideration. There are many different variations of sex doll torso available for purchase online and, as you might expect, features, detailing, and overall quality varies widely! Here are a few things to keep in mind while you shop for your new sex toy.
Price
Knowing your budget is important in any purchase, and a sex doll torso is no exception. There are models at a whole range of price points ranging from under $50 for something like the Pussy Power Real Skin Backdoor Betty Masturbator to over $700 for a deluxe model like the Jesse Jane Life Size Doll Torso. The point is, with so many options available, there are bound to be options that fit your budget, and zeroing in on those will help you get closer to the right sex doll torso for you.
Size
A life size half body love doll that includes breasts is going to be heavier and a little trickier to store than a mini torso sex doll or one that only features anatomy below the waist like the Stroke It Life-Size Pussy Masturbator. However, it will also provide a more realistic experience and that extra weight will keep it in place during use. When shopping for a sex doll torso, you want to think about both how you will use it and store it then pick your size accordingly. 
Breasts 
Do you want your sex doll torso to have them like the PDX Plus Perfect DD's Masturbator? If so, there are a whole lot of items that you can eliminate. With so many "waist down" models available, knowing that you require your ideal torso toy to have breasts narrows the field significantly but don't worry, there is still a ton to choose from!
Materials
Sex doll torsos are made with a number of materials all of which have both benefits and drawbacks. Silicone is non-porous and can be sterilized, additionally, it can provide a reasonably life-like experience but it is also pricer and less realistic than TPE or TPR. TPE sex doll is budget friendly and looks and acts more like a real body– check out the LuvDollz Vibrating F**K Buddy!– but it is porous, cannot be sterilized, requires renewal powder to keep it in good shape and can retain moisture, which can lead to mold. Finally, there's TPR which is very similar to TPE body in terms of porosity and maintenance but it tends to have a slightly harder, shiny look and feel. When you think about what material you want your half body love doll to be made of, remember to take maintenance into account. 
Orifices 
Sex doll torsos that are designed to look like women generally feature a vaginal and an anal opening. Keep in mind though, that some will feature a separate tunnel for each opening while others will not. 
Internal Texture
Speaking of those tunnels, they can be very different torso sex toy to torso sex toy with things like ribs, bumps, nubs, ridges, and more. Investigate the different textures to see what feels most realistic to you. 
Features: For some folks, penetrating a textured tunnel is enough. But there are torso doll models that allow you to warm up the orifices and some like the PDX Elite Milk Me Silly Masturbator that has a whole array of bonus features! 
Ease of Cleaning 
Check out the cleaning instructions for each model. Some feature a separate opening just for cleaning while others require a more elaborate process. 
Ready to shop for sex doll torsos? Head over to Pink Cherry for a huge selection!