Imagine a world where your daily bath & shower routine transforms into a luxurious spa-like experience, combining relaxation and clitoral stimulation. The innovative Womanizer Wave makes this dream a reality! This revolutionary 2-in-1 showerhead and stimulator elevates your shower experience and caters to your deepest desires. Let's explore the realm of the Wave and discover how this game-changing device will redefine self-care.
Short Summary
Experience ultimate pleasure with the Womanizer Wave!
Enjoy personalized water massage stimulation and clitoral stimulation for maximum satisfaction.
Transform your daily showers into a luxurious escape with a sleek design and customizable jets!
Discovering the Womanizer Wave
The Womanizer Wave is a groundbreaking combination of a shower head and water massage clitoral stimulator, offering you both practicality and pleasure in one device. Gone are the days of bringing separate sex toys into the shower, as the Wave integrates pleasure into your daily shower routine. With the majority of women finding solace in the shower for some alone time, this innovative product enhances those private moments, making them even more enjoyable and sensual.
Developed by industry market leaders, Womanizer and Hansgrohe, the Wave boasts three water jet options, saves water, and is easy to install. Its ergonomic shape and intensity slider make it a user-friendly sex toy, ensuring a comfortable one-handed control experience.
It's time to dive deeper into the world of Womanizer Wave and explore its exceptional features.
Pleasure Stimulation Shower Head
The Womanizer Wave pleasure stimulation shower head is designed to provide an exhilarating massage with its effortless water massage stimulation. This bath & shower discreet 2-in-1 showerhead and water massager is the epitome of innovation, as it is specifically designed for clitoral stimulation while appearing like a regular showerhead. The pleasure stimulation shower head features an intensity slider that allows you to adjust the intensity of the water jets to your liking, ensuring a personalized experience every time.
Partnering with leading bathroom manufacturers Hansgrohe, the Wave is the first-ever combined shower head and water massage clitoral stimulator in the market, setting a new standard for self-pleasure. In collaboration with Hansgrohe, the Wave incorporates the expertise of bathroom experts to create a high-quality shower head for optimum performance while retaining the functionality of a conventional shower head.
Effortless Water Massage Stimulation
The Womanizer Wave redefines water stimulation with its effortless water massage stimulation feature, providing a variety of sensations ranging from gentle to intense. It offers a unique and pleasurable experience during your shower, seamlessly integrating self-care and pleasure without the need for additional sex toys.
Designed with convenience in mind, the Womanizer Wave intuitive controls allow for easy and comfortable one-handed control, ensuring a hassle-free and enjoyable experience. With the Wave, you can now indulge in self-pleasure, have better clitoral orgasms, and relax effortlessly, making it the ultimate addition to your shower routine.
[Shower Head Clitoral Stimulation Infographic]
Jack And Jill Adult Instagram Poll Of Who Would Try The Shower Head Stimulator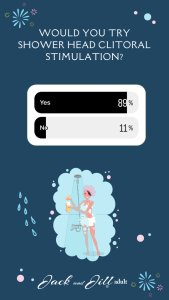 Expertly Engineered for Your Satisfaction
Constructed with high-quality materials such as stainless steel, aluminum, and ABS plastic, the Womanizer Wave is not only durable and lightweight, but also resistant to corrosion and wear.
High-Quality Materials
The Wave is made of excellent materials such as stainless steel, aluminum, and ABS plastic, ensuring a durable and long-lasting product. These materials are of high-quality because they are incredibly durable, lightweight, and resistant to corrosion and wear, which is essential for a product designed for use in a wet environment like the shower.
By using these high-quality materials, the Wave ensures an enjoyable experience and a reliable and dependable product that will stand the test of time.
Comfortable One-Handed Control
The ergonomic shape of the Womanizer Wave fits comfortably in hand, allowing for effortless control and massage stimulation. This design ensures a hassle-free experience, making it easy to adjust the intensity of the water jets and switch between the different massage modes with just one hand, allowing for effortless control and massage stimulation.
This user-friendly design ensures that you can focus on your pleasure and relaxation without worrying about fumbling with complicated controls or buttons.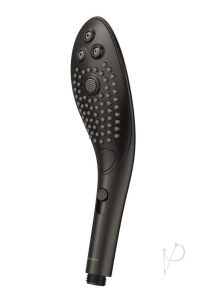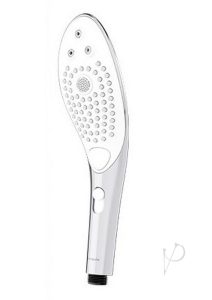 Enhancing Your Relaxing Shower Experience
This revolutionary device provides an incredibly relaxing shower experience and saves water and energy, making it an eco-friendly and exciting choice for those looking to indulge in self-care while being environmentally conscious.
By enhancing your shower experience with the Wave, you'll find yourself looking forward to your daily showers even more as they transform from a mundane task to an indulgent and pleasurable escape from reality. The Wave truly redefines the concept of self-care and relaxation in the shower.
Versatile Water Jets
The Wave offers three incredible water jet options: PleasureJet, PleasureWhirl, and PowderRain. These water jets provide exhilarating stimulation via water, catering to your every desire and preference.
The PleasureWhirl and PowderRain options offer unique sensations, with the PleasureWhirl providing a rotating water jet that mimics a massage-like sensation and the PowderRain offering a gentle mist of water for a soothing effect. With these versatile water jets, the Wave caters to your every desire, ensuring a pleasurable and relaxing shower experience.
Saving Water and Energy
The Wave is designed to be energy efficient, using less water than traditional showerheads, thanks to its EcoSmart technology. By reducing water consumption by a whopping 60% compared to conventional shower heads, the Wave provides an indulgent shower experience and helps conserve water and energy.
In collaboration with Hansgrohe, a company that produces eco-friendly showerheads, the Wave incorporates features like flow rate limiters and aerators to reduce water consumption and energy usage further. This eco-friendly approach means you can enjoy a relaxing and pleasurable shower experience without any guilt, knowing that you're doing your part for the environment.
Unboxing the Womanizer Wave
Unboxing the Womanizer Wave is an experience in itself, as you discover the sleek and modern design of this revolutionary device. Inside the box, you'll find everything you need to transform your shower routine, including the installation essentials, additional accessories, and a detailed guide on the pleasure stimulation capabilities of the Womanizer Wave.
The elegant design and aesthetic appeal of the Womanizer Wave is sure to enhance any bathroom, with its discreet appearance easily passing for a regular showerhead. Get ready to elevate your shower experience and indulge in a world of pleasure and relaxation with the Womanizer Wave.
Installation Essentials
Installing the Wave is a breeze, thanks to its-plated adapter and easy-to-follow instructions that come with the product. Simply unscrew your old shower head, and twist on the Womanizer Wave in its place, effortlessly transforming your shower into a luxurious and pleasurable oasis.
Design and Aesthetic Appeal
The Wave boasts a discreet design that could easily pass for a showerhead, making it an inconspicuous addition to any bathroom. Its sleek and modern design is visually appealing and serves a practical purpose, ensuring that you can indulge in pleasure without drawing unwanted attention to your shower routine.
Apart from its discreet appearance, the Wave is also designed with functionality in mind, ensuring that it looks great and performs exceptionally well. Its ergonomic shape and intuitive controls make it easy to use and control, providing you with the ultimate shower experience that caters to both relaxation and pleasure.
Summary
In conclusion, the Womanizer Wave is a revolutionary 2-in-1 showerhead and stimulator that elevates your shower experience to new heights, combining relaxation and pleasure in one device. Expertly engineered with high-quality materials and unique features like Pleasure Air Technology and versatile water jets, the Womanizer Wave provides an indulgent and enjoyable shower experience while also being eco-friendly. Transform your daily shower routine into a luxurious and sensual escape with the Womanizer Wave and experience the ultimate self-care upgrade.