It's hard to be away from the person you love. Long work days and business trips are expected hurdles in most relationships, but some couples face more lengthy challenges. When you spend months at a time hundreds – or even thousands – of miles away from your special someone, you come to welcome every opportunity to feel a little bit closer to them.
Whether it's a little gift in the mail, a new photo sent to your phone, or even just a text message saying, "Thinking of you," you come to cherish the moments of contact that strengthen your bond while you're apart.
Physical affection
Still, the importance of physical touch and affection in relationships is enormous. Human beings are hard-wired to respond to physical contact as part of emotional connections. Whether it's an understanding hug after a hard day, a cozy cuddle on the sofa with a bowl of popcorn and a favorite film, or an intimate caress in bed, we crave the feeling of touch from those we love. This is especially true of sexual intimacy. Sexual contact stimulates feelings of emotional closeness and reinforces the bond between romantic partners. Obviously, sex is also fun and exciting for its own sake, and desire often increases as the opportunity to satisfy it diminishes.
Resourceful couples in long-distance relationships often use technology to bridge the gulf of physical space that separates them. Phone calls and video chats definitely have their place in a long-distance couple's intimate lives, but there are also sex toys that can help you maintain a more tangible connection to your partner when the two of you are apart.
Couples toys
People commonly associate sex toys with solo play, but some toys are designed with couples in mind – especially couples who don't have the opportunity to spend as much time together as they'd like. These sex toys are designed to inspire feelings of closeness by giving the absent partner a way to "be there" for the fun despite the miles that separate them from their beloved.
We-Vibe 4 Plus
The We-Vibe 4 Plus is an ideal example of a sex toy that allows couples to play at a distance. It comes with a smartphone app that enables one partner to control the vibrations while the other partner uses the toy. Using the app, you can access additional remote features and design custom vibration patterns, giving you greater control over the sensations your partner experiences. The long-lasting USB rechargeable battery allows for as much as three hours of play time. In addition, when you and your partner are able to spend a night in the same place, you both can use the We-Vibe together, sharing the good vibrations.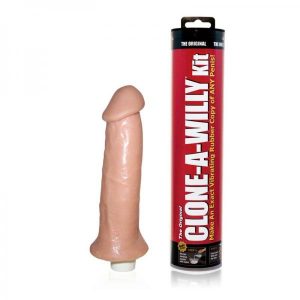 Clone-A-Willy Kit
Sometimes the desire to have your partner there with you in bed can be overwhelming. There are a few sex toys that give you the ability to have "part" of them present, no matter how far apart you are. The Clone-A-Willy Kit enables you to create a silicone copy of a real-live penis, letting one partner experience the sensation of the other's unique size and shape when the original willy and its owner are far away. Unlike the original, the new Clone-A-Willy has a vibrator insert, for extra fun during solo play.
Clone-A-Pussy Kit
Its distaff counterpart, the Clone-A-Pussy, enables a couple to craft a silicone replica of the external part of a woman's vulva for male masturbation. Both these sex toys enable people in long-distance relationships to be "with" their partner even when they can't be with their partner, enhancing the feeling of closeness and connection across the miles that separate them. As a plus, making these two toys together is great fun!
At Jack and Jill Adult Store, we carry all of the above toys and many more that are great for couples – whether together or apart. Visit us online today.