People often associate sex toys with solo sex or masturbation. And while they're amazing for that, we also know that they can be amazing for partnered sex! Whether you are stuck in a sexual rut, you want to achieve something your bodies can't, or you're just keen to explore new sensations together, sex toys for couples have got your back. 
Read on to learn all about couples' sex toys and how to choose the perfect one for you. 
What are the main types of couples' sex toys?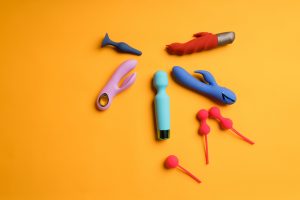 Any toy can work for couples, as we'll see in a minute. But these are a few of the main types of toys for couples:
Penis rings: worn around the penis to help the wearer stay erect for longer. Some rings also vibrate to offer extra pleasure to both the wearer and their partner. 
Wearable vibrators: typically worn partially inside the vagina during penetrative sex, often with an external arm for clitoral stimulation. 
Remote control toys: Remote control toys allow you to hand over the remote to your lover. Some of them can even be controlled from smartphone apps from anywhere in the world!
Strap-ons: these allow you to penetrate your partner with a dildo in a way that mimics penetrative sex.
Double-ended dildos: these allow you to both experience penetration at the same time, using the same toy. 
These are far from the only options, but they're what you are most likely to see in the "toys for couples" section of the adult store. 
By the way: toys aren't just for straight couples, either. Whatever gender you and your partner are, you'll be able to find the perfect toy to share. 
Any sex toy can be for couples!
We believe that when it comes to sex, you shouldn't limit yourself. That's why any sex toy you might have in your collection or buy in the future can be a sex toy for couples! What matters is how you use it, and any toy can be used to create a shared sexual experience. 
If you have a penis, why not ask your lover to use your favorite stroker on you? If you have a vulva, your partner can pleasure you with a bullet or rabbit vibrator. And wand massagers feel amazing no matter what gender you are or what anatomy you have. Dildos in materials like glass and metal allow you to experiment with sensations that are very different from penetration with a bio penis. And so on. You are truly only limited by your imagination and creativity!
What do you want to use it for?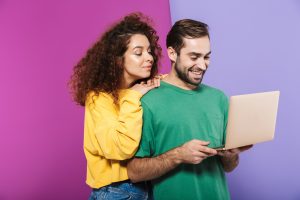 Before you choose a sex toy, get clear what sort of play you want to use it for. Are you interested in pegging or strap-on play? Are you looking for something you can use during penetrative sex that will provide extra stimulation but won't get in the way? Or are you ready to explore sensations that are unlike anything you've ever felt before?
All these questions, and more, will help you pick out the right toy. "We're looking for a clitoral vibrator that gives strong extra pleasure during sex without being obtrusive" is a much clearer starting point than, "We're looking for a couples' toy." 
You should also consider where and how you want to use the sex toy. For example, do you love having sex in the shower? If so, a waterproof toy will be a good pick. Or do you want to experiment with subtle play in public? If so, a quiet and discreet toy is a must! 
Is there a particular fantasy you're looking to fulfill? For example, maybe you want to simulate a threesome without actually bringing a third person into your bedroom. In this case, a realistic dildo might be a good choice. 
What do you already like?
If you're starting from the beginning and don't know much about sex toys, it can help to start by thinking about what you already know you like. 
For example, if you have a clitoris and enjoy intense stimulation in that area, a powerful vibrator might be a good choice. If you enjoy feeling very full, then a large dildo might be a great choice. If you love anal play, you might want to try a prostate massager or a dildo that is safe for butt pleasure. And so on. 
What sort of material do you want?
Sex toys come in many different materials, and they all have different benefits and drawbacks. If you choose a non-porous material, your toy will be easier to clean and last longer. Sensitive bodies will want to choose hypoallergenic materials. Silicone is a fantastic all around option that is safe, hygienic, and also feels lovely and soft to the touch. 
If you don't mind using a condom on your toy or replacing it every so often, porous materials like TPE, TPR, latex, and PVC are often more affordable options. Just remember these materials will be harder to clean. 
Finally, if you're in the mood for something a bit different, why not choose a harder material like stainless steel or glass? These materials are hardwearing, hygienic, non-porous, and you can even heat them up or cool them down to experiment with temperature play.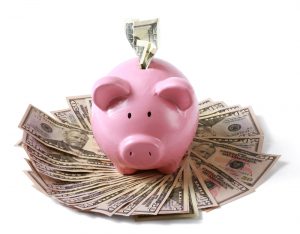 What's your budget?
Sex toys vary hugely in price. A simple penis ring can cost just a few dollars, while you can easily pay hundreds for a high-end, rechargeable or app-controlled toy. We recommend setting a budget before you start, and then choosing the best toy you can afford. 
Another option, if you're new to using toys, is to start with something less expensive to see how you like it. There's less pressure if you choose a low price-point product to start with and, if you enjoy using sex toys together, you can always upgrade later on. 
Should you surprise your partner with a sex toy?
There isn't a simple answer to this, because it can go either way. If you and your partner have never discussed sex toys before, surprising them with one can put a lot of pressure on them. They (or you) might also end up feeling bad if they're not up for trying it or don't enjoy it. 
Even if you've discussed toys in principle, choosing the right thing for someone else can be a minefield. If you know your partner and their preferences very, very well, you might be able to pick something out with a reasonable degree of accuracy. This is sometimes the case in long-term sexual relationships. 
Of course, if your partner has told you that there's a specific toy they want to try, you're probably safe to go ahead and surprise them with it. If not? We recommend playing it safe and getting them a gift card or making a fun date night out of choosing something together.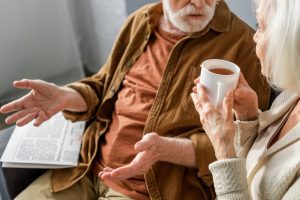 Busting couples' sex toy myths 
We wanted to finish by busting a few myths about sex toys for couples. If you've heard or believed any of these, you're not alone and we hope this is reassuring. 
"Sex toys are only for people who can't please their partner in bed."
Wrong!
Sex toys are for anyone—coupled or single, male or female or non-binary—who wants to experience more sexual pleasure. Owning and using them says nothing negative about your prowess in the bedroom. In fact, it says you are a considerate lover who enjoys sexual exploration and prioritizes your partner's pleasure. 
"If we use toys, they won't need me any more."
Wrong again!
Sex toys are tools, not partner replacements. Even if a sex toy gives your partner the best orgasm of their life, it is still only a piece of plastic or silicone and isn't going to replace you. A vibrator can't cuddle your partner, make them laugh, tell them it loves them, or take them on a romantic getaway. 
Say it with us: toys are not replacements for people!
"Sex toys are addictive."
Nope. Incorrect!
It is physiologically impossible to get addicted to a sex toy. Even if you really, really love using it. Even if you use it every day. The idea of vibrator addiction comes from a number of places: male egos not wanting to be "replaced" (see above), fear of anything "artificial," or even good old fashioned sexual shame. 
Whichever way you slice it, you cannot become addicted to a sex toy. So chill out and use them as much as you desire. 
"Using sex toys ruins you for sex without them." 
The slippery slope argument is enduring but completely untrue. 
Think about the first time you had sex. Chances are, you'd enjoyed other activities (kissing, cuddling, other types of intimate touching) before you got to that point. Did sex "ruin" you for other activities? Exactly. A sex toy is not a slippery slope to a place where you can't have or enjoy sex without them. Again, they are tools to enhance the experience. 
Conclusion: Adding sex toys will improve your sex life
Experts believe that incorporating sex toys into your partnered play will give you both more pleasure, make your sex life better, and bring you closer together. 
So what are you waiting for? Check out our extensive selection of sex toys for couples and get shopping!