Get ready to dive into the clitoral ocean with the adorable Satisfyer Orca Clitoral Stimulator! This playful clitoral stimulator vibrator will take you on a whirlwind adventure, leaving you breathless and craving more. So, are you ready to set Willy free and embark on an unforgettable journey of bliss?
Short Summary
Unlock intense pleasure with the Satisfyer Orca Clitoral Stimulator, a playful double-air pulse vibrator!
Enjoy powerful clitoral stimulation and customize your experience with 11 pressure wave intensities & 12 vibration settings.
Get ready for aquatic adventures in the shower or bath, plus extended playtime & an adorable whale design!
Discover the Satisfyer Orca Clitoral Stimulator: The Playful Double Air Pulse Vibrator
Meet the Satisfyer Orca Clitoral Stimulator, an innovative double-air pulse vibrator that will change the way you think about clitoral stimulation. With its unique features, the Satisfyer Orca offers a range of double-air pulse and vibrations:
Air pulse technology for intense and pleasurable sensations
Skin-friendly silicone material for a comfortable and safe experience
Suitable for beginners and experienced users alike
But don't let its innocent appearance fool you – the Satisfyer Orca packs a powerful punch, delivering mind-blowing orgasms with its seductive pressure waves and powerful vibrations.
Air Pulse Technology
The Satisfyer Orca offers:
Iconic air pulse technology for touch-free clitoral stimulation through gentle pressure waves
A unique and intense experience
An alternative to traditional vibrators
Say goodbye to traditional vibrators and hello to a whole new world of pleasure with the Satisfyer Orca Clitoral Stimulator.
Imagine something as soft as a whale or dolphin touching your skin – that's the sensation you can expect from this amazing device.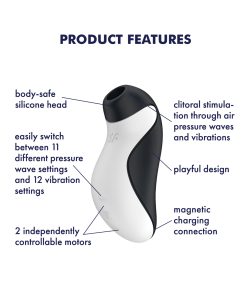 Skin-Friendly Silicone Material
Made from high-quality, body-safe silicone, the Satisfyer Orca is gentle on the skin and perfect for beginners. Its skin-friendly silicone features include:
Waterproof design, allowing for exciting experiences in the shower or a relaxing full bath
Use of air pulse technology, providing a unique and pleasurable sensation
Portable and discreet, making it easy to enjoy wherever you please
So go ahead, take the plunge, and let the Orca's seductive pressure waves sweep you off your feet!
Dive into Pleasure: Waterproof Design and Easy Cleaning
The Satisfyer Orca's waterproof design (IPX7 rating) means you can take your pleasure to new heights, both in and out of the water. Not only does this open up a world of aquatic adventures, but it also makes cleaning a breeze.
Shower and Bath Adventures
Whether you prefer to indulge in a steamy shower session or a luxuriously relaxing full bath, the Orca's waterproof capabilities will ensure you experience the ultimate pleasure and satisfaction.
Simple Cleaning Process
Cleaning the Satisfyer Orca Clitoral Stimulator is a breeze, thanks to its easy-to-clean silicone material. Simply wash it with warm water and mild soap, then pat dry with a clean towel or cloth.
Now, your Orca is ready for its next adventure!
Customize Your Experience: Pressure Wave Intensities and Vibration Settings
The Satisfyer Orca offers 11 pressure wave intensities and 12 vibration settings, allowing you to fully customize your pleasure experience. With so many exciting combinations to choose from, you can tailor the Orca's sensations to suit your desires and explore new realms of ecstasy.
Pressure Wave Intensities
Choose from 11 pressure wave intensities to find the perfect level of stimulation for you. Whether you prefer a gentle touch or a more intense sensation, the Satisfyer Orca has you covered.
Try to experiment with different pressure wave intensities first to discover your personal pleasure sweet spot!
Vibration Settings
After you find the pressure wave intensity that suits you, adjust the Satisfyer Orca's 12 different vibration settings to a level that feels good. From steady vibrations to pulsating patterns, the Orca's settings will have you exploring new sensations and reaching new heights of ecstasy.
So go ahead, indulge yourself, and let the Orca's thrilling vibrations guide you to uncharted territories of pleasure!
Charging and Usage: USB Charging Cable and Battery Life
The Satisfyer Orca comes with a USB charging cable for convenient charging and boasts an impressive battery life for extended playtime. So, whether you're planning a solo session or a steamy encounter with a partner, you can rest assured that your Orca will always be ready for action.
USB Charging Cable
Never worry about running out of power again thanks to the included USB charging cable. Simply plug it in and let your Satisfyer Orca recharge, ensuring it's always ready for your next pleasure-filled adventure.
The convenience of USB charging means you can power up your Orca anytime, anywhere!
Battery Life
Enjoy extended playtime with the Satisfyer Orca's long-lasting battery life. Perfect for those longer sessions or spontaneous encounters, the Orca's impressive battery life will keep you going for as long as you need.
So go ahead, lose yourself in the blissful sensations provided by the Orca, knowing it's got the stamina to keep up with you!
The Adorable Appearance: Cute Whale Design and Innocent Charm
The Satisfyer Orca's adorable whale design adds a touch of innocent charm to your pleasure experience, making it a cute and playful addition to your collection. Who knew that such an innocent-looking device with a playful design could deliver such powerful and intense orgasms?
Charming Cute Whale Design To Chase Orgasms
Embrace the Satisfyer Orca's cute whale design, adding a playful element to your intimate moments. The Orca's powerful air pulse technology and sensual pressure waves will have you chasing after orgasms like never before. Its ergonomic shape and intuitive controls make it easy to use, while its whisper-quiet motor ensures discreet pleasure.
Summary
In conclusion, the Satisfyer Orca Clitoral Stimulator is an adorable yet powerful clitoral stimulator that will undoubtedly bring a splash of excitement to your pleasure routine. With its innovative air pulse technology, waterproof design, customizable settings, and charming whale design, the Orca is the ultimate companion for all your aquatic adventures.
Frequently Asked Questions
What is the Satisfyer Orca?
The Satisfyer Orca is a clitoral vibrator that combines innovative air pulse technology and soft silicone for a unique and powerful sensation! This vibrator is designed to provide a unique and powerful sensation, with its combination of air pulse technology and soft silicone. It's perfect for those who want to experience intense clitoral pleasure.
Is the Satisfyer Orca waterproof?
Yes! The Satisfyer Orca has an IPX7 waterproof rating, so you can enjoy it both in and out of the shower!
This means that you can take your pleasure to the next level, no matter where you are.
How do I clean the Satisfyer Orca?
Cleaning the Satisfyer Orca is a breeze! Just use warm water and mild soap for sparkling results.
Can I customize the pressure wave intensities and vibration settings?
Yes, you can! The Satisfyer Orca provides 11 pressure wave intensities and 12 vibration settings, allowing for a customized pleasure experience.