Revolutionary Clitoral Stimulation
The Satisfyer Pro 2 Generation 2 Rechargeable Silicone Clitoral Stimulator is an affordable and innovative device that provides focused sensations to the clitoris without making it sore or overly sensitive. The Satisfyer Generation 2 Rechargeable Silicone Clitoral Stimulator has been a huge hit, made of medical grade silicone, selling over 375,000 units and giving users an amazing orgasmic experience right in the palm of their hands.
Unique Air Pressure Waves for Cunnilingus-Like Experience
This revolutionary sex toy uses air pulsing technology to create a gentle yet intense air suction on the clitoris, mimicking the sensation of oral sex through this clit sucking vibrator. The silicone head fits comfortably around your clit, providing targeted stimulation without direct contact. This allows you to enjoy multiple orgasms without experiencing discomfort or numbness with this clit sucking toy, unlike other suction toys.
Overwhelming Positive User Experiences
Marisa: "The Satisfyer Pro 2 has completely changed my life. I've never experienced such intense pleasure from any other toy."
Tracy: "I was skeptical at first, but after trying it out for myself, I can honestly say that this is hands down one of the best investments I've ever made in my sex life."
Kim: "As someone who struggles with achieving orgasm during intercourse alone, having a reliable go-to like this has been amazing. It is the only thing that does the job."
Discover the Satisfyer Pro 2 for a sensational, ecstatic experience with every use. This is the first air suction toy that will make you feel as experienced as a sex educator, sex writer, or sex therapist. The only toy recommended for clitoral orgasm through clitoral suction with soft pressure waves of air pulse that is equally satisfying for anal play with external stimulation, as not all suction toys are created equal.
Waterproof Design for Aquatic Adventures
One standout feature of the Satisfyer Pro 2 Generation 2 Rechargeable Silicone Clitoral Stimulator is its fully waterproof design, allowing for submersion during use and encouraging explosive orgasms even underwater. This versatile stimulator takes pleasure to new heights by offering exciting aquatic play options during partner play to deliver clitoral stimulation at the sweet spot and intense orgasms through multiple vibration patterns.
Submersible Fun in Bathtubs or Pools
Bathtub bliss: Relaxing in a warm bath can be made even more enjoyable with the addition of this toy. The pulsing sensation from the Satisfyer vibration settings creates an entirely new level of unique sensations for relaxation and arousal that you'll want to experience again and again.
A dip in the pool: For those who enjoy some outdoor fun, using this sex toy while submerged in a swimming pool can lead to exhilarating experiences. Just make sure your privacy is secured before diving into these uncharted waters. Just don't go too deep!
Easy Cleaning and Maintenance
Maintaining your Satisfyer is simple thanks to its waterproof design. After each use, simply detach the silicone head and wash it with warm water, mild soap, or a specialized sex toy cleaner. Once clean, allow it to air dry before reattaching it back onto your device – ensuring multiple orgasms are just as pleasurable every time you reach for your trusty companion
Comparing Satisfyer Pro Models
The Satisfyer Pro 2 Generation 2 Rechargeable Silicone Clitoral Stimulator is a fantastic choice for those seeking intense clitoral stimulation. However, some users find the silicone head size on the Satisfyer Pro 2 may be too big for their preferences. In such cases, newer models like the Satisfyer "Dual" clit stimulators are recommended for first-time buyers.
Differences between Womanizer clit stimulators vs. Satisfyer models: While both brands offer high-quality sex toys designed to provide powerful orgasms through air-pulsing technology, they differ in design and price range. The Womanizer Liberty offers a more compact and travel-friendly option compared to the larger Satisfyer Pro 2.
Choosing a model based on personal preference: It's essential to consider factors such as size, shape, intensity levels, and additional features when selecting your ideal toy. For example, suppose you prefer more targeted stimulation with a smaller silicone head or desire extra versatility with dual motors that can stimulate both your clitoris and G-spot simultaneously. In that case, there's likely an option within either brand's lineup that will suit your needs perfectly.
In conclusion, with so many options available from these two leading brands in clitoral stimulation devices, it's crucial to explore various models before making your final decision. By exploring the various models of these two leading clitoral stimulation device brands, you can guarantee a highly enjoyable and gratifying experience.
The Satisfyer Pro 2 is an excellent choice for those seeking intense clitoral stimulation, and the newer Satisfyer "Dual" models are recommended for first-time buyers who may prefer a smaller silicone head size. Additionally, the Womanizer Liberty offers a more compact and travel-friendly option compared to the larger Satisfyer Pro 2. Ultimately, choosing the right model comes down to preference and the features that matter most to you.
[Clitoral Suction Poll Infographic]
Jack And Jill Adult Instagram Poll Of On Those Who Have Experienced Clitoral Suction Stimulation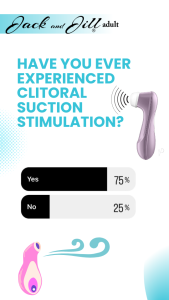 The Best Vibrator
Whether you prefer a magic wand, G-spot vibrator, or bullet vibrator, this one is different. It is one of the best suction vibrators, and it will quickly become your favorite toy and clitoral vibrator with its different vibration patterns and soft silicone head of body-safe silicone in a completely waterproof design.
This toy makes pinpoint stimulation one of the best vibrators and a top clit sucking toy. Made of medical grade silicone, this clit sucking toy will be your new favorite of all the suction toys on the market, so put away the Magic Wand and other USB rechargeable suction toys and make way for some fun that will leave you feeling rose gold, compared to other toys.
Achieving Multiple Orgasms with Ease
For those curious about experiencing multiple orgasms within one session, look no further than the Satisfyer Pro 2. Users rave about how they've managed not only two but up to five consecutive climaxes while utilizing various settings on the whole clitoris offered by their trusty companion that other wands cannot provide.
This clit sucking vibrator is like having oral sex. The combination of air pulsing and silicone head provides a unique sensation that can lead to mind-blowing results to make this your new favorite clit sucking toy.
Pulsing Sensation: The Satisfyer Pro 2 uses innovative clitoral suction and air pulse technology to create gentle yet powerful pulses with clitoral suction that mimic oral sex for intense clitoral stimulation.
Varying Intensity Levels: With 11 different intensity levels, you can customize your experience and find the perfect body safe setting for your G-spot pleasure journey towards multiple orgasms.
User Testimonials: Many women have reported achieving back-to-back orgasms using this body-safe toy, even if they never experienced dual stimulation before. Check out some of these amazing stories on forums like Reddit or in product reviews boasting it as the best vibrator.
To get started on your journey toward achieving multiple orgasms with ease, be sure to pick up a Satisfyer Pro 2 today, and it will not take a few weeks to discover what thousands of satisfied customers already know. This little gadget has the power to make a huge difference in your sex
Comfortable Grip & Whisper-Quiet Motor
The Satisfyer Pro 2 is designed with user comfort in mind, featuring an ergonomic shape that fits comfortably in your hand during both solo play and intercourse. This allows for easy maneuvering and precise control over the clitoral stimulation you receive. Additionally, the whisper-quiet motor ensures discretion during use, so you can enjoy your pleasure without worrying about any unwanted noise.
Ergonomic design for ease of use: The curved handle and silicone head make it simple to hold onto while providing targeted pressure on your most sensitive areas.
Tips for avoiding overstimulation: Although this sex toy delivers powerful pulsing sensations, some users have reported numbness after multiple uses due to increased pressure needed each time around. To avoid this issue, try sparingly using the Satisfyer Pro 2 or alternating between different air pulse settings throughout your session.
Enjoy Your Clit Sucking Toy
Incorporating these tips into your routine will help ensure a pleasurable experience every time you reach for this innovative sex toy. Remember that the right combination of air pulsing intensity and suction patterns may vary from person to person. It's essential to experiment with various settings on your Satisfyer Pro 2 until you find the perfect combination of air pulsing intensity and suction patterns that bring you to new heights of ecstasy.
Personal Experiences with the Satisfyer Pro 2
Gina writes, "I recently had the pleasure of trying out the Satisfyer Pro 2 Generation 2 Rechargeable Silicone Clitoral Stimulator, and let me tell you, it did not disappoint. I decided to take my new toy on a trip to fully explore its potential during my downtime after long conference sessions. The results were more than satisfactory, leaving me greedy, insatiable, and limitless."
Travel-friendly Design for Discreet Pleasure
The minuscule proportions of this clitoral stimulator made it simple to tuck away in my suitcase without taking up too much room.
Its discreet design allowed me to enjoy some private time without worrying about anyone discovering what was hidden inside my bag.
The rechargeable feature with USB charger meant no need for batteries or searching for an outlet when playtime called.
Boosting Self-Confidence and Sexual Empowerment
Incorporating the Satisfyer Pro 2 into my solo sessions not only led to multiple orgasms but also boosted my self-confidence as a sexually empowered woman. This amazing device helped remind me just how powerful and capable I am when it comes to achieving mind-blowing pleasure all by myself. Plus, having such an incredible experience alone left me eager to share these newfound skills once back home.
One of the Best Clitoral Vibrator Toys
If you're looking for something new and exciting in your arsenal of sex toys or want a reliable companion during those lonely nights away from home, give the Satisfyer Pro 2 a try. You won't be disappointed.
Finding Your Perfect Settings
Tailoring Intensity Levels for Personal Preference
Start slow: Begin with the lowest setting and gradually increase the intensity as you become more comfortable with the pulsing sensation.
Mix it up: Don't be afraid to switch between air pulsing and vibration modes – sometimes alternating can lead to mind-blowing multiple orgasms.
Pace yourself: If you're new to sex toys or clitoral stimulation, take breaks during playtime so you don't become overwhelmed by sensations.
Adjusting Suction and Vibration Patterns
The silicone head on the Satisfyer Pro 2 allows for precise positioning around your clitoris, ensuring maximum pleasure from its unique air pressure waves. Here are some tips for customizing your experience:
Try adjusting the distance of the Satisfyer Pro 2 from your body to achieve a softer suction sensation.
Vary between steady vibrations and rhythmic pulses until you discover what feels best for you – there's no right or wrong way to enjoy this versatile toy.
Remember that the Womanizer Liberty is another great option for those who prefer a smaller silicone head.
Outperforming Other Toys
In the end, finding your perfect settings with the Satisfyer Pro 2 may take some trial and error with the suction toy. Get ready to have your mind blown with never-before-seen pleasure and sensational climaxes.
Conclusion
In conclusion, the Satisfyer Pro 2 Generation 2 Rechargeable Silicone Clitoral Stimulator offers a unique and revolutionary design that sets it apart from other suction toys. Its focused sensations and ability to mimic cunnilingus make for an incredibly pleasurable experience, while its waterproof design allows for aquatic adventures.
For those looking to enhance their sex life with mind-blowing multiple orgasms, the Satisfyer Pro 2 is definitely worth considering. Be aware of potential desensitization, as one must find the correct harmony between delight and overstimulation.
If you're interested in trying out the Satisfyer Pro 2 Generation 2 Rechargeable Silicone Clitoral Stimulator or any other adult toy, check out Jack and Jill Adult for a wide selection of products that can help take your intimate experiences to new heights!