Are you looking for the perfect couples sex toy that gives you sensation and stimulation in the places you need it most — without getting in the way of the penetrative sex you crave? You're not alone. Plenty of couples want exactly that. The We-Vibe Sync Couples vibrator may be the perfect solution.
Here's what you need to know about the Sync and how to customize your pleasure when you use it.
Why the We-Vibe Sync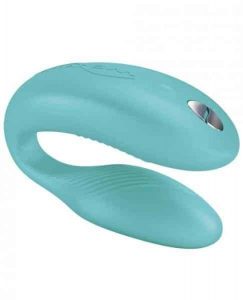 A lot of sex toys for couples claim to be the best. What makes the We-Vibe Sync so special? Like all the products they make, We-Vibe knows that one size doesn't fit all. The Sync is designed so that both partners get plenty of pleasure — at the same time.
The Sync is a vibrator that provides both clitoral and G-spot stimulation but with an elegant design that allows for penetrative sex between partners at the same time. While you get the stimulation where you need it most, your partner also feels the vibrations with each thrust and stroke.
Because the Sync is adjustable in two places, you're better able to target your clitoris and G-spot so you feel the vibrations exactly where you want to. Dual stimulation means you get twice the pleasure in one toy, especially with a minimum of 10 vibration modes to choose from.
This We-Vibe toy is meant to be hands-free so when you're ready to change the mode or the intensity, use the included remote control for a quick change. It can be used up to nine feet away. Feel free to change positions while you use it as it fits comfortably within and against your body and won't move around during use.
We-Vibe Sync Details
What else do you need to know about the We-Vibe Sync couples vibrator? This is a luxury sex toy made to last a long time and safe for everyone to use.
It's made of body-safe silicone with no phthalates or BPA and is latex-free.

The Sync is USB rechargeable so you don't have to worry about replacing the batteries.

It's 100 percent waterproof so you can use it anywhere you enjoy having sex.

You get 10 vibration modes to choose from and a remote control.
We-Connect App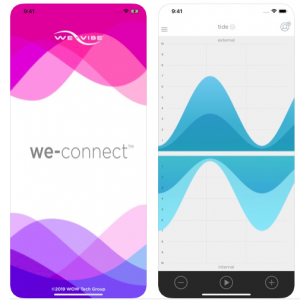 What makes the Sync couples vibrator so special isn't just the way it cradles your body and gives you targeted sensations. It's not just the way it makes you both feel good during penetrative sex or the luxurious feel of the material against your skin. The real star of any We-Vibe sex toy is the We-Connect mobile app. This is where you can really customize your pleasure — alone or with a partner.
You and your partner can download the We-Connect app to your phone (Android or iPhone). Connect to your We-Vibe Sync and any other We-Vibe products you own (one won't be enough once you try it). When you do, you can play with your vibrator and each other when you're together or apart. Use it in place of the standard remote control or let your partner control your pleasure from anywhere on the planet.
We-Connect Features
Downloading the app unlocks amazing features for your Sync that makes the 10 standard modes look pitiful. With We-Connect, you can truly customize your orgasmic experience.
Beat mode vibrates to the beat of music

Touch mode lets you use your touch screen to create real-time custom stimulation

Save your favorite custom vibration setting

Create playlists of your favorite vibrations — including the ones you create yourself

Swipe to change modes and pinch your screen to change the intensity

Draw your own vibration pattern

Chat with your partner by text or video in the We-Connect app
Best of all, the We-Connect app is FREE!
Conclusion
The We-Vibe Sync is the ultimate in couples pleasure. If you need clitoral and G-spot stimulation to get off, and you crave it during penetrative sex with a partner, this may be your new favorite vibrator. Use it with the remote for one level of pleasure, but add the mobile app to create a truly customized experience and get exactly what you crave from a vibrator.
Have you used the We-Vibe Sync? What do you think of it? Let us know in the comments below!
Share the We-Vibe love by sharing the infographic below!