Do you prefer your own hand and fingers when you masturbate, trusting yourself to find your most sensitive spots more than a toy can? Are bigger vibrators too bulky and powerful for you? The Fin Finger Vibrator takes what makes your orgasms so good and makes them better than ever.
If you want to add sensation, stimulation, and vibration to your next orgasm, you need to try the Fin.
Why the Fin Finger Vibrator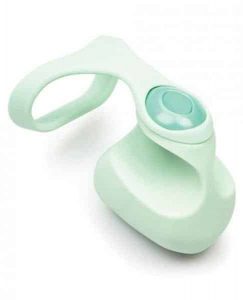 Whether you're playing alone or want to add extra pleasure to foreplay with a partner, the Fin Finger Vibrator is perfect. It fits naturally along your fingers so it feels like an extension of your hand. Instead of a bulky sex toy that gets in the way, you've got powerful stimulation at your literal fingertips.
Wear the Fin in whichever hand is most comfortable and then touch your clitoris. Depending on the angle of your hand, you may even be able to finger yourself at the same time. If you want vibrations that surround your clit in pleasure, use the flat and squishy side of the Fin. And if you prefer pointed stimulation, use the firm and pointy side. The choice is yours.
What makes the Fin even better than typical vibrators is that your partner can use it to make you feel amazing. They'll hold it at a different angle than you will so the sensations will be completely different. Because it's relatively small, it fits against your body, no matter what kind of sex you're having. All your partner needs to do is touch your clit to make you feel good.
About the Fin Finger Vibrator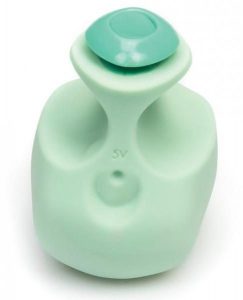 The Fin Finger Vibrator is all about being easy. It's easy to use and to take off. Easy to charge and easy to clean. It's made by Dame Products who's all about your pleasure, so they're not going to let bad design stand in the way of your orgasms.
Here's what you need to know about the Fin:
Includes optional tether

Offers dual sensations

3 speeds to choose from

Water-resistant

(but not waterproof so don't submerge it in water)

Made with medical grade silicone

USB rechargeable

Use water-based lubricant for added pleasure
Ways to Enjoy Your Fin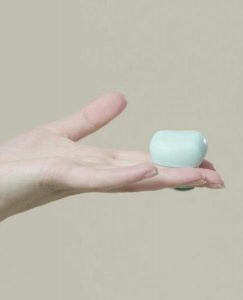 New to finger vibrators? Looking for some ideas to increase your pleasure? We've got a few ideas for how to have the most fun and orgasms with your Fin.
Solo Shower Sex
You don't want to submerge your Fin in water, but that doesn't mean it can't get wet. Instead of taking it into the bath, bring your finger vibrator into the shower. The buzz will be discreet, so you only need to worry about how loud you get when you climax. Use it in a standing position, hold onto the wall, and make your shower much more pleasant than usual.
Reach Around
If you want to enjoy the Fin with a partner, let them wear it in their hand and enjoy the sensations when they reach around your body to touch your clit. Maybe they press you against the wall in a kinky game of dominance and submission. You might be in a doggy style sex position and their hand (and your vibrator) find your clit. No matter how you play, you'll get the sensual pleasure of their body pressed against yours and vibrations exactly where you need them most.
Masturbate Together
Sex is much more than penetration — with a penis or a sex toy. If you need something more chill and relaxed than your usual wild sexcapades, try some mutual masturbation. You can masturbate side-by-side, which lets you use your Fin finger vibrator the way you enjoy most. You can also masturbate each other, which puts your pleasure in your partner's hands. Either way, you're both getting what you need in a more relaxed, fun way.
Conclusion
If you love self pleasure, vibrating stimulation, and discreet sex toys, you're going to love the Fin Finger Vibrator by Dame Products — the first sex toy ever to have a Kickstarter campaign. It's designed with your needs and your vulva in mind. From subtle pleasure to screaming orgasms, you can have exactly what you want with this luxury finger vibrator.
Have you used finger vibrators before? What did you think of them? Let us know down in the comments!