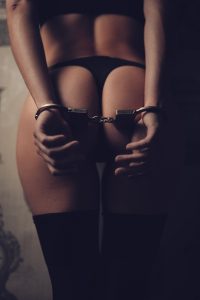 Penetrative sex can be nice, but it's not the only way to have a sexual experience with your partner. Outercourse can be just as intimate and pleasurable as intercourse. Outercourse sex? Yes, please!
One way to enjoy outercourse sex is through an erotic massage. Slow and sensual touch is one of the most arousing forms of outercourse. It is a great way to grow more comfortable with your partner's body and to develop trust and understanding. You can learn what parts of your body your partner likes to have touched, as well as what parts they don't.
If you and your partner want to experiment with BDSM, outercourse is a great place to start. A lot of BDSM actually does not involve penetration. You and your partner can play with blindfolding, rope play, spanking, and bondage to experiment with your kinks.
Stepping up your oral sex game is a great way to please your partner. When performing oral sex, take time with your lips, mouth, and tongue to stimulate your partner. Oral sex isn't just for genitalia. If your partner has a penis, try using your mouth and tongue to stimulate their perineum, which is behind their testicles and in front of their anus. Rimming is another way to please your partner orally. If your partner has a vulva, you can spend time learning how they prefer to receive clitoral stimulation. Try kissing, licking, and sucking to pleasure your partner.
Improve your outercourse with toys and products from Jack & Jill Adult. We carry bondage items, edible products, oils and lubricants, and more. Browse our inventory by category online or visit one of our Florida locations to shop products in person.