We did it! We survived the dumpster fire that was 2020! For a lot of people the past year put the world into perspective in big ways and small. It made us more aware of what's important, but it also gave us time to examine our priorities around much smaller things too. Like what and who really matters, and that self care really is necessary and important. A lot of folks have spent the better part of a year now, starved for touch and intimacy. In many instances this has changed how people experience pleasure. It has also created a movement in which masturbation is seen, now more than ever, as a necessity for our well-being. 
In light of a hellish year, and in the spirit of a fresh start, let's get back to sexy stuff and attack your sex toy collection! This is a great time to take an inventory of what you have, get rid of what you don't like or use, and add some hard-working basics onto the roster to ensure you get everything you can out of your partnered or solo sex life. 
Here are some ideas on what to ditch, as well as some recommendations for fun new items to keep you happily sustained. 
Say Goodbye to Dangerously Cheap Sex Toys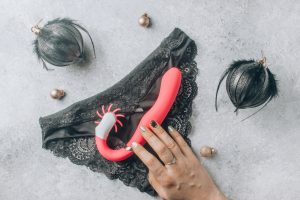 We have all done it. Spontaneously hit "add to cart" on some cheap and cheerful sex toys without considering what makes them only cost the same as a couple of lattes. Sex toys are like any other industry. There are well priced quality items out there, but you need to be a bit discerning because some of the most inexpensive materials are the ones that you should avoid. 
One of the worst offenders are insertable "jelly" toys like butt plugs and dildos. Jellies are appealing because they are usually brightly colored and pleasantly soft, as well as inexpensive. This is because they are filled with phthalates, a family of industrial chemicals used to soften polyvinyl chloride (PVC) plastics. Phthalates are carcinogens (cancer causing!) that can also damage the liver, kidneys, and reproductive system. 
"Jelly" toys, as well as rubber/PVC and vinyl toys, are not only toxic to one degree or another, they are porous. This means they can never ever be fully sanitized no matter how hard you try. If you have some of these sex toys kicking around, consider how long you've had them. For toys in good condition (no cracks, tears, or strong odors), use them with condoms. If they have any noticeable wear and tear, or it's been more than a year, it's time to toss them. 
Say Hello to Silicone, Glass, and Ceramic
When it comes to insertable/penetrative toys, body-safe is best. Luckily, there are some awesome, affordable items made of silicone, glass, ceramic and other materials that are easy to clean and sanitize which don't pose any significant risks when you put them into your body. Silicone feels very realistic. Glass toys are beautiful and very hard wearing. And ceramic and wood insertables are often uniquely designed and/or handmade. Worth it! 
Check Your Expiration Dates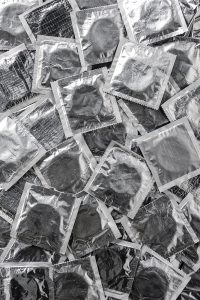 Nothing lasts forever (I'm looking at you, pandemic!), and that includes condoms, lubes, massage balms and oils. Not all of these products will always have an expiration date, so it's a good idea to get in the habit of noting when you purchase them and rotating them out of use. 
In general, lubes and oils will last one to three years, depending on how they are stored. Keep them away from prolonged direct light or heat (somewhere cool and dark like a drawer or bedside table). Toss them as soon as you notice the color, texture, smell or efficacy of the product changes. 
Most condoms have a three to five year shelf life. While you may no longer trust an expired condom to protect you from pregnancy or STIs, they can be good for solo use on sex toys. Slip one onto a dildo for easy clean up afterward. Use one if you want to go from anal to vaginal without stopping to properly sanitize it. 
Discard products that you are unsure about. When in doubt, air on the side of caution. Your body will thank you. 
Clear Out the Clutter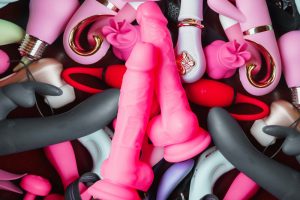 Once you eliminate the problem pieces in your collection, examine what's left and make a few cuts from the team. Toss out things you don't use, or sex toys that have seen better days. Do you really need that knotted clump of frayed bondage rope that you only ever used with your ex that one time? Are you ever going to wear those tattered crotchless undies again? Isn't it time to let go of those cheap handcuffs that you lost the keys to? You know the answers to these questions. Out with the old, in with the new!
Upgrade to the Sex Toys You Want
Maybe you have always dreamed of a big, powerful wand vibrator, or you're curious about some BDSM related gear. Perhaps this is the year you get into lingerie or you start using quality lube. Whatever it is that your heart desires, it's out there and it can be yours. Do some research, (our blog is a good place to start!), and invest some time in deciding what you want out of your toy collection and how you can best grow it over time so you have all the fun supplies, toys and tools you need.
Conclusion
Exploration with sex toys and pleasure items is natural, healthy, and can go along way towards a balanced, healthy and fulfilling life. We live in uncertain and stressful times. Indulging in sexy fun, alone or with someone, and buying quality products to do so, is not frivolous. It is an investment in yourself, and you are absolutely worth it.