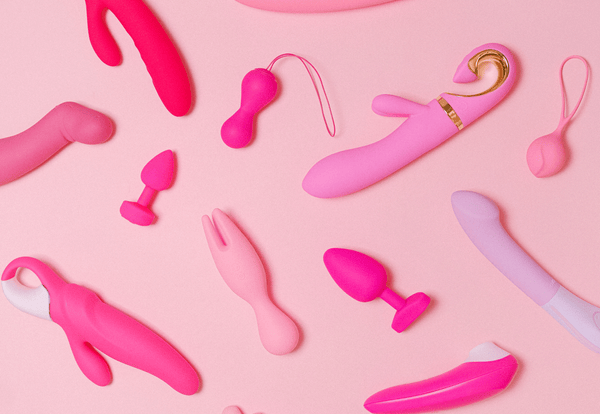 Not too long ago, in a land far, far away, sex toys weren't all that interesting. In fact, if we're honest, they were pretty boring and easy to figure out. Most were phallic-shaped and not so sensual to say the least. Sounds sexually stimulating now, doesn't it? NOT! But luckily, over time, these sex toys started to evolve and change shape! They came with some special attachments, motorized parts, and more! Slowly but surely, sex toy companies realized that there was an overwhelming need for something more than just a simple, boring phallic sex toy. There were imaginative sexual appetites out there that needed to be satisfied! The world had started to openly talk about kinks, sexual desires, women's bodies, and more. And just like that, suddenly, a large number of creatively designed sex toys were released that didn't look like boring phalluses anymore.
Now, let's fast-forward to today, where sex toys are fun, saucy, and playful for couples with all different pleasureful needs. While the journey to this point may look different for every type of toy, it is interesting to reflect back on how we got here and what erotic sex toys could be on the horizon!
The Rise Of "Kink"
The BDSM and kink community has been growing for a while now, but it's hard to deny that the 50 Shades of Grey series didn't move the dial more than anything else could have. While there are still some people who have struggle with the concept, those who take the time to understand what the kink community stands for have come to appreciate it, even if they don't necessarily love it, embrace it, or want to partake in it.
Many people have changed course and now own a paddle, a pair of handcuffs, or other goodies in their own little kinky collections. Sexual taste is unique and different for everyone. So, while you may not want to have whips and chains in your nightstand, there's nothing wrong with a blindfold or a feather for some spontaneous erotica.
Clitoral Vibrators
Hello ladies! As phallic sex toys dipped in popularity, more attention was put on the pleasure of women. The truth is that most women's sexual pleasure comes from the clitoris, not the vagina. Thus, clitoral vibrators started to catapult in popularity. They are smaller, quieter, easier to use, and come in many varieties.
Just like phallic sex toys, clitoral vibrators come in many different sizes and shapes and have varying functions. Some look more like tongues, while others have more of a suction motion. And if you're feeling naughty, they can even be easy to hide like a lipstick vibrator! There are so many choices to pick from that it is a good idea to sit down with a glass of wine and browse your options for blissful pleasure!
Bullet Vibrators
Vibrator? Yes, please! Another new option that has emerged is the bullet vibrator. These vibrator sex toys are smaller, easier to hide, quieter, and still pack quite a pleasure-filled punch. They also come with fun accessories like remote controls, panties, and kegel vibes. Most of them are about the same shape, but how they work is what differentiates them. Some are modern and sleek with remote controls and wireless capabilities, while others are geared for the less tech savvy population who are still comfortable with cords. Either way, they both bring erotic fun to the bedroom!
These bring endless fun for when you're on-the-go or just want to surprise your partner. Many of these are conveniently rechargeable since they are so small, so you can take them anywhere the mood strikes!
If You Like It, Put A Ring on It
Rings and sexual pleasure go hand in hand! As phallic toys began to lose favor, the sexual focus shifted to the cock ring – a toy to help keep you in the moment and slow things down a little bit. Just like with phallic toys, there have been some attachments added to it over time, so you can find something that really suits your needs. There are vibrating cock rings, cock and ball rings, and so much more available. Some are equipped to help stimulate the man, while others help stimulate the woman. The possibilities are endless!
Back It Up
For some, the butt is where it's at! Your butt is really having a moment right now, and sex toys have kept up with it. Some of the most popular toys on the market today, for both men and women, are butt plugs. These toys come in many different sizes and shapes, and most people certainly have their favorites. Some have tails on the back of them, while others have diamonds for full sexual expression!
Some people are intimidated by butt plugs and hesitant to try them because they think they will hurt, or they've tried them before, and they just didn't work. But the good news is that butt plugs won't hurt if you take your time, use a little bit (or a lot) of lube, and start small. It's a process but definitely worth it!
Remember, sex toys aren't the only things that have evolved over time. Our attitudes toward sex and intimacy are constantly changing…and mostly for the better! As sex toys change, so does everything else from the way we talk about sex, the porn that we indulge in, and the steamy television shows we watch. Even the music we listen to can have an impact on sex toys!
With the ever-changing sex toy market, it is important to buy your toys from a reputable sex toy company that will provide high-quality toys with premium parts you can depend on for all your pleasure needs. Sex toys can be dangerous if they aren't designed properly and can cause injury to some of the most sensitive parts of your body. So, always buy your toys from qualified retailers and be sure to inspect them thoroughly on a regular basis – and always wash them after every use! Sex toys are unique and play to all different needs, so express yourself! Be open, have fun, and explore different sex toys to indulge in all the playful erotica that you can bring to your bedroom!