You've been told you need to use lubricant, but why? What even is lube? And how do you know which one to choose?
If you're overwhelmed by lube-talk, you're not alone. Consider this your quick and dirty introduction to personal lubricant and finding the right kind for you. 
What is Lube?
Personal lubricant aka lube reduces friction, adds moisture, and makes sex (in all its forms) feel really good. The body is an amazing machine and can often, though not always, produce its own natural lubricant. This occurs when the vagina gets wet or the penis leaks pre-ejaculate. But what our bodies produce naturally isn't always enough, or we want to play with a part of the body that doesn't make its own lube like the butt.
When that happens, you don't have to suffer through painful or uncomfortable sex. Nor do you have to skip it completely. What you really need is a good bottle of lube because in sex, wetter is always better.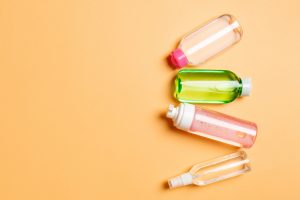 Types of Lube
Needing lube and picking out the right kind are two different things. Everyone needs lubricant, but the type you buy matters. How do you know what to get? Which one is right for you? Are there certain lubes that are better than others? 
Here's what you need to know to help you pick the right lube for the sexy fun you want to have.
Water-Based Lube
Water-based lubricant is the most common type of lube on the market. Why? Because it's one of the most universal types. You can use it with any kind of material and during any kind of sex, and it works well. From silicone sex toys to jelly and "skin-like" materials, water-based lube is the universal choice. You can also use it with any kind of condom.
As the name indicates, the main ingredient is water. This means it's often thinner and dries out more quickly than other lubes. But it also means it washes off easily and won't stain your clothing or bedding. Be prepared to re-apply this kind of lube often for longer sessions or in parts of the body that don't get wet on their own, like the butt. We also don't recommend it for sex in water, because it washes off so easily.
Water-based lubes come in a variety of options:
Basic, standard lube
Flavored lube
Warming lube
Tingling lube
Silicone Lube
As the name says, silicone-based lube is made with silicone as the main ingredient. It's thicker, softer, and feels really good on the skin. Unlike water-based lubes, silicone lubes are great for fun in the tub or shower as it doesn't wash off quite as easily. It also tends to be free of ingredients that can cause irritation, though you should always check the ingredient list to be sure.
The one downside to silicone lube is that it doesn't play nicely with many (though not all) silicone sex toys. Over time, the surface of your toy can break down, creating abrasions that can harbor bacteria. If the manufacturer says your sex toy is safe to use with silicone lube, go for it. But if not, stick with water-based lubes. And yes, silicone lubes are safe with condoms, too.
Hybrid Lube
While there is a variety of hybrid lubes available, the most common is a combination of water and silicone-based lubes. These tend to take the best of both worlds and put them in a single bottle. You get the universality of water-based with the long-lasting and silkiness of silicone-based lube. Use them with any type of sex toy!
Oil-Based Lube
Oil-based lubricant lasts the longest, reduces friction the most, and is highly popular for anal play, vaginal fisting, and any kind of sex in water. This is the lube you (usually) only need to apply once and not worry about again — until you're ready to clean up. The two downsides to oil-based lubricant: its incompatibility with latex condoms and the mess. 
Oil breaks down latex, causing your condom to be less effective in preventing pregnancy or sexually transmitted infections. It's also not great with some sex toy materials, specifically porous materials like jelly, rubber, and skin-like options. If you use oil-based lube, be prepared to get oil everywhere. Put down old towels or sheets you don't care about to minimize the mess.
Safety Concerns with Lube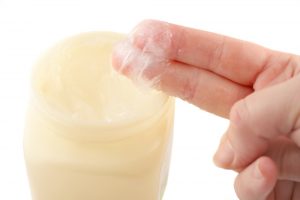 Lubricant, in general, is very safe to use regardless of the type you choose. That being said, certain ingredients can upset the pH balance of the vagina which can lead to yeast infections and other infections. Other people are sensitive to specific components found in lube which leads to skin irritation. It's important to read the ingredient label when considering a new-to-you lubricant. 
In general, silicone lubes tend to cause the fewest issues. Another option is to look for a "natural" or "clean" brand of lubricant. These tend to have a short ingredient list making it easy to know what's in your lube and to identify ingredients you want to avoid. These lubes also tend to avoid the most common irritants in their formula:
glycerin
Petroleum
propylene glycol
nonoxynol-9
chlorhexidine gluconate
Can I use coconut oil or petroleum jelly as a lube?
In general, we do not recommend either as a personal lubricant. Petroleum can cause irritation and lead to infections in some people, so it's best to avoid it. Coconut oil can't be used with latex condoms and may not be great with your sex toys depending on what they're made of. 
Using Lube with Sex Toys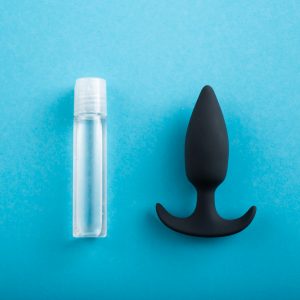 You can (and should!) use lube for any kind of sexy fun you want to have. It's great during penetrative sex, anal play, and masturbation. If the sex you're getting only involves bare skin, you can use any lube you like that feels good and is best for your skin and body. 
Sex Toy Material
We've talked about sex toy materials before. There's a lot to consider when you buy a sex toy including safety, how to clean it, what feels good, how long it might last, and whether you're sharing it. But in terms of lubricant, it's about how the material will react with the ingredients in the lube.
Water-based lube works with any kind of sex toy material: jelly, TPR/TPE, CyberSkin, silicone, metal, glass, and more.
Silicone-based lube can be used with metal, glass, wood, and some porous materials if the manufacturer indicates that it's safe. Silicone lube is not always safe with silicone sex toys (as mentioned earlier) – you have to read the manufacturer's information to know for sure.
Oil-based shouldn't be used with porous materials like jelly, rubber, TPR/TPE, Cyberskin, etc. You can use it with most silicone sex toys, as well as glass, metal, and wood toys.
When You Should Use Lube with a Sex Toy
The easy answer is anytime you want to and/or every time you play. Lube reduces friction and helps your sex toy move across your body in a way that feels amazing. But if you're looking for examples, here you go:
While wearing a penis ring to reduce a "rug burn" effect around your shaft
Inside a masturbation sleeve for easier stroking
When using a penis pump
During penetration with a dildo
While using a vibrator internally (G-spot) or externally (clitoris)
With any kind of anal toy: butt plugs, anal beads, prostate massagers, etc. Always use lube during butt stuff.
Top Lube Brands
What lubes are the best? We think all our lubes are great, but to help you narrow it down, here some of the top brands we carry.
Jack and Jill Adult: Of course, we're biased, but we're also proud to offer water-based lubricant safe to use with all our products and safe for any kind of sex you want to have. Our lube comes in three sizes, but to try it out, start with the 2oz bottle of Jack and Jill lube.
Gun Oil: Don't let the name fool you. Gun Oil offers both water and silicone-based oils so you can keep your gun well oiled during any intimate moment. We recommend Gun Oil H20.
Pink: Available in water-based, silicone-based, and hybrid formulas, Pink lube is smooth, slippery, and feels amazing against the skin. We recommend Pink Water Lube.
Pjur: A long-running, well-known lubricant brand, Pjur offers multiple lines of lube so you can find exactly what you need for the sex you want to experience. We recommend Pjur Woman Nude.
Sliquid: If you prefer natural lubes that also feel good and last longer, you're going to love Sliquid. We recommend Sliquid H20 Intimate Lube.
Spunk: The name says it all. If you want a lube that feels more like the lubrication it's replacing, go with Spunk. We recommend Spunk Pure Silicone Lube.
Wicked Sensual: While Wicked Sensual offers multiple types of lube, they're most well known for their flavored lubes. They actually taste good so you actually want to use them for your oral sex fun. We recommend Wicked Sensual Care in Candy Apple.
Conclusion
Don't let yourself get overwhelmed with all of your lubricant options. Ultimately, think about what you want to use lube for — fun with sex toys, penetrative sex, oral sex, anal play, and more. Then look for the lubricant that's best suited to that. Like sex toys, no one type of lube works for everyone so you may have to try a few different types until you find what you love. But once you do, you'll wonder how you ever had sex without it.
Do you use lube on a regular basis? What's your favorite type and brand? Let us know in the comments below!