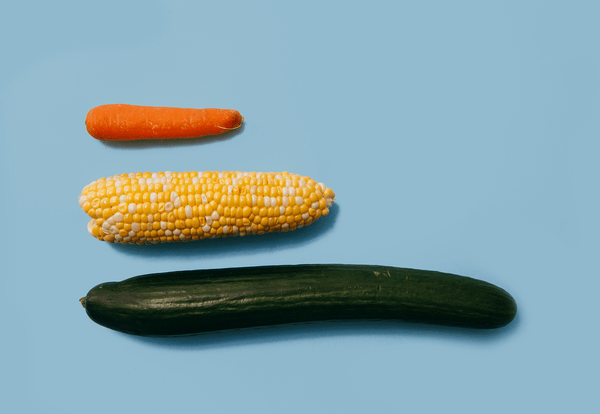 What do you do when your dildo just isn't big enough to satisfy your needs? Can you make a dildo bigger? If you've ever wondered how to make a dildo bigger, then you're in the right place! From a vibrating dildo for increased clitoral stimulation to a glass dildo or even a double ended dildo for double penetration, dildos can be a lot of fun,especially if you size up from time to time.
Today, we're sharing top tips for sizing up your favorite penetrator or shopping for a larger version or a big dildo.  Read on to find out how to take your next sexual experience to new heights (or lengths, more specifically!), all thanks to a dildo that hits all the right places.
Why Would You Need or Want a Bigger Dildo?
Do women like big dildos? Or anyone for that matter? Yes! For some people, it's all about craving those extra inches of stimulating stretch from their adult sex toys. Larger dildos and penetrators are generally much more filling, so they reach farther in all directions. For others, it's about easily targeting the g-spot, prostate, and other inner sweet spots. When your current dildo prevents you from enjoying playtime the way you want to, or you have to work harder to reach orgasm, it may be time for a larger dildo.
Of course, these are just a few of the many reasons why you may want a larger toy. Maybe you're moving forward with your dildo size training regime after you've gotten comfortable with a smaller dildo, or maybe you're just experimenting to see how much you and your body can handle. A giant dildo/massive dildo can be used for a variety of things from sexual pleasure to experimenting in the bedroom with a new sex toy.
Whatever your reasons for craving a larger dildo, know that you definitely have options! If you're in love with your current dildo and would like to size it up, there are tons of great extender sleeves you could make some sexy use of. Of course, you can always purchase a brand new bigger dildo, too! We'll go through both options for you.
Maximize Your Dildo with a Penis Sleeve or Extender
One quick and easy way to make a dildo bigger, both in length and thickness, is to slip an extension sleeve or extender over it. These soft, stretchy accessories are technically designed to be worn over a real-live penis, but they can absolutely be used with a dildo, too.
For example, a real-life penis will usually be narrower in width and girth than a dildo, so you'll need to find an extender that will fit properly. Some sleeves are made of a stretchy silicone, elastomer or rubber that will work with dildos of various dildo sizes, while others will not. Taking some measurements will help with this.
In addition, you'll need to find a way to fasten the sleeve to the dildo, so it stays in place. Even sleeves with lots of stretch could slip off of the dildo mid-romp. Mood killer! Choosing a sleeve or extender with a ring at the base or small straps that are meant to attach over the penis and testicles (or in this case, the end of the dildo) will help prevent this from happening.
Shop For a Bigger Dildo
Another simple solution involves buying a larger dildo than the one that you currently own. Rather than spend time pondering just how to make a dildo bigger, maybe it's time to purchase an upgrade. You could also explore with a realistic dildo, suction cup dildo, or a squirting dildo when shopping for a new dildo.
Of course, you will need to know which size will work best for you, so spend some time answering these questions before adding an upgraded playmate to your shopping cart:
How big is your current dildo?
It's important to know exactly what you are dealing with, so you can choose an upgrade accordingly. Since dildos come in a wide variety of lengths, widths, and girths, you will need to get all of the measurements of your current one, lest you accidentally buy a dildo that is too close in size to your current one. Pull out a rule and a tape measure (or check the site that you purchased the dildo from) to find out for sure.
What size do you want?
While it seems that this question is similar to the previous one, it really is not. Understanding the size of your current dildo is a bit different than finding one that meets your goals and aspirations. Do you want a huge dildo that provides plenty of stretch? Or one that is only slightly larger than your current model? It all comes down to picking the perfect dildo for your enjoyment, so think long and hard (no pun intended) about your ideal size.
Are you looking for extra features?
Since dildos can come with things like extra ridges, g-spot massagers, and even built-in vibrators, it makes sense to peruse all of the available models and then spend some time examining them to see what you are looking for. After all, you do not just have to upgrade the size of your dildo – you can choose one that will enhance your sensual pleasure as well.
Go Big or Go Home
Choosing to make a dildo bigger can only lead to more hot and steamy fun in the bedroom. No matter what your reasons are for upgrading, the end result is a better erotic experience either alone or with your partner, and that's all that matters. You can either add on to your current dildo with a penis sleeve or extender, or simply start a collection by purchasing a larger one. Just make sure you know how to use a big dildo safely so you are prepared for the larger size! The choice is yours, and as long as you or you and your playmate wind up satisfied, you really can't go wrong!