If you haven't experienced a "blended orgasm" yet, you will very soon, with the help of Jill's LanditRabbit by Jack and Jill Adult. This rabbit-style vibrator is a pleasurable, multitasking toy that can take your sexcapades to new heights. 
For those unfamiliar, rabbit vibrators are a love-child of a clitoral vibrator and a dildo. It is designed to stimulate both the clitoris and the vagina. Notably, a sweet spot inside the vagina called the G-spot.  
Jill's LanditRabbit is a classic-yet-modern rabbit-style vibrator. Read on to discover why this sex toy can help you "land it" every time! 
Jack and Jill Adult: Why We Chose Rabbit Vibrators
We've decided to include rabbit vibrators in our line of Jack and Jill Adult sex toys for one crucial reason — us ladies need to stick together. One research found that only 18.4% of women can orgasm from intercourse alone. That means that the rest need additional stimulation to get off. 
So, it stands to reason that we created a toy that can do just that! Thanks to this silicone bunny, you'll soon be seeing stars every time you decide to play solo or with a partner.
Genital Touching Sexual Pleasure And Orgasm [Infographic]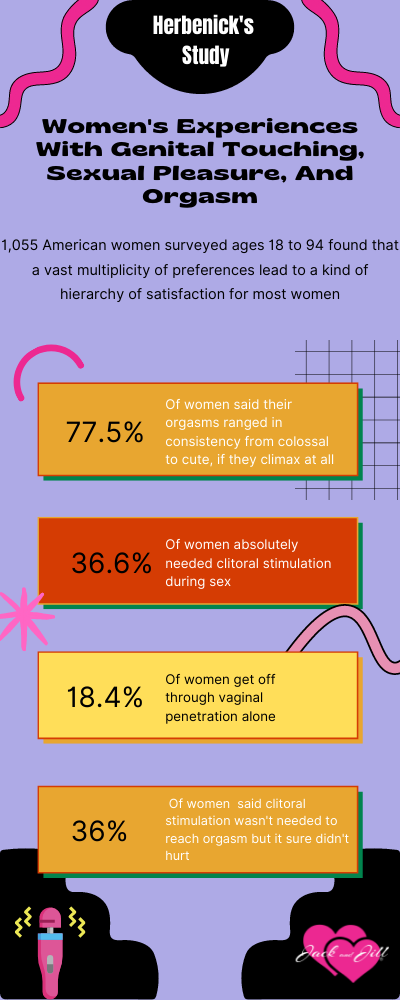 What Makes Jill's LanditRabbit So Amazing
1. The Famous Rabbit Ears
Jill's LanditRabbit by Jack and Jill Adult features the famous rabbit-ear-inspired clitoral stimulator. That means you get to feel like a true Charlotte from the one Sex and the City episode we remember all too well ("The Turtle and the Hare") each time you use it. 
The rabbit ears earned their popularity for a reason. Aside from looking cute, the shape fits perfectly over your clit. So, you can feel the vibrations and a fluttering motion at the center of your clitoris and the sides.
Flexible Ears
The clitoral stimulator is flexible, meaning you can maneuver and hold it in places that feel good to you each time. The flexibility is important because different people have different clitoris-to-vulva distances. So, it is hard to find the perfect position stimulating both the clit and the G-spot with nubs sitting in one place.  
Powerful Motor
The stimulator also has its own motor with seven powerful speeds and patterns to choose from. Thanks to this system, you can set the vibe for your external hot spot independently from the shaft.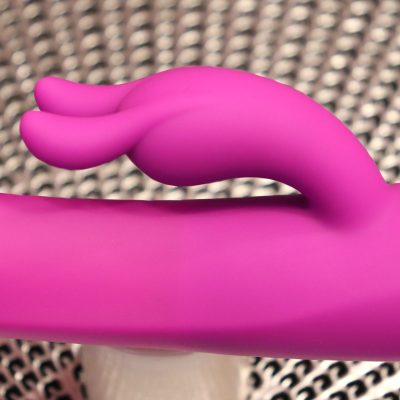 2. The Shaft
Not many think about the length when buying their first rabbit-style toy, but this is a mistake. Ideally, the shaft should be just long enough to stimulate your G-spot. But if you buy a non-flexible toy that goes too deep or not deep enough, you will miss out on a big part of the whole experience.
The Perfect Length
Jack and Jill Adult rabbit vibrators sport 8.2″ height, 1.3″ width, and 1.5″ depth. The shaft is also gently arched with a unique blunt tip. This particular design perfectly syncs with the vulva, ensuring you hit the right spot every time. In addition, the vibrator tip is slightly broader, providing the ultimate pleasure to your G-spot. 
Flexible Shaft
Since the shaft is flexible, you can adjust it to create the perfect angle. Like the clitoral stimulator, the shaft has its own motor with seven mighty speeds and vibrating styles. That way, you can set different stimulation speeds for your internal and external areas.
3. The Material
We usually put toys on or inside the most sensitive parts of our bodies. Although they bring us hours of fun, not all of them are safe enough to be in contact with the skin and soft tissue inside the genitals. Some of the common adult toys have been linked to various side effects ranging from irritation to cancer.
Why Is the Right Material So Important?
The problem is that the vagina rapidly absorbs chemicals without metabolizing them. That is how the harmful substances from toys can enter your bloodstream without being broken down first. For this reason, you should pay special attention to what kind of material your toy consists of. 
Our Rabbit Vibrators Are Safe
At Jack and Jill Adult toy store, we closely inspect the materials we use for our adult toys. Jill's LanditRabbit is made of luxurious, soft silicone, with the handle consisting of durable ABS plastic. The latex is body-safe and phthalate-free, so you can use our rabbit vibrator for prolonged periods without worrying about harming your health.
4. Waterproof
Another great thing about Jack and Jill's rabbit vibrators is that they are fully waterproof toys. Hence, you can freely take them to the bath or a shower.
5. Rechargeable
Rechargeable sex toys are good for the environment and great for your pocket! Jill's LanditRabbit comes with a charging cable included in the price. 
How to Care for Jill's LanditRabbit Vibrator: Tips from Jack and Jill Adult
Keep It Clean
One of the most essential tips for the safe use of any sex toy is to keep it clean. Washing the toy before and after each use is a must if you want to avoid bacteria build-up and risks of infection. The best way to clean the Jill's LanditRabbit is with the Jack and Jill Toy Cleaner. 
But if you ever run out of toy cleaner, you can use warm water and soap instead. Since this rabbit vibrator is a waterproof toy, washing it in a shower or bath after you finish it won't cause any damage. 
Use Lube
The second rule for safely playing with sex toys is using plenty of lube. Lube helps you maintain enough moisture for a smooth glide. This will prevent irritation and tearing of the vaginal tissue. 
As previously mentioned, vibrating rabbits usually consist of silicone. However, you can't use just any lube with silicone toys. For instance, silicone-based lubes can damage the material shortening your toy's lifespan. 
Water-based lubes are a good choice, although you usually have to reapply them more often. For instance, Jack and Jill water-based lubricant is less likely to irritate. In addition, it mixes well with just about any material.
Jack and Jill Adult Superstore: Final Thoughts on Vibrating Rabbits
If you own one and enjoy our LanditRabbit, we would love your feedback! Feel free to explore our website and find more products that we offer. 
Are you searching for other rabbit-style vibrators? There are four in our line:  Jill's Rolling Rabbit, Jill's Handy Rabbit, Jill's Wonder Rabbit, and Jill's Flash Rabbit. 
Want an intense experience that goes a little easier on your wallet? In that case, we recommend trying the Rolling Rabbit, which lets you change rotation direction. Jack and Jill Adult ensure the stock is always full, so take your pick!