If you get off on the idea of tying up your partner — or being tied up — but don't have the skills for rope bondage, you're not stuck with unfulfilled fantasies. With the Under the Bed Restraint System by Sportsheets, you can indulge in all your kinky desires with less stress and hassle. Here's what you need to know so you can get straight to the fun!
Why Choose an Under the Bed Restraint System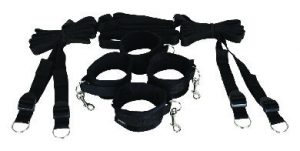 The simple answer is because it's easy. Once you set up the restraints, getting tied up is as simple as putting on cuffs. You don't have to worry about correctly tying knots or putting a rope or even bondage tape in the right spot. Clip your partner in and have fun.
The other reason to choose an under the bed system is that it's so easy to hideaway. When you're done playing, tuck the straps under the bed. You may choose to leave the cuffs attached or remove them to store someplace else. And if you want to travel and get kinky with hotel sex, bring your straps with you! They travel well and are easy to install.
Setting Up Your Restraints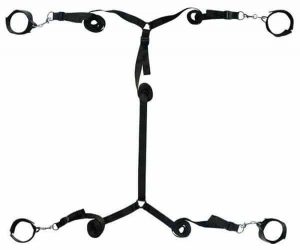 The Under the Bed Restraint System by Sportsheets includes adjustable straps that are 60 inches in length. Measure the width of your bed and adjust the straps to fit properly. Hook the individual straps to the connector strap and extend them to each corner of your bed. If you intend to use both the wrist and ankle cuffs, do this with all four straps. But if you plan to only play with ankles or wrists, only connect the straps you need.
Bring the straps over the top of the mattress and book the cuffs to each. Whoever will be tied up should lie in the bed and stretch their arms and legs to reach the cuffs. This will help you make last-minute adjustments in length. Place each cuff around their wrists and ankles, according to how you want to use them. The bound partner should move around to test how much movement they have and to find what's most comfortable for them.
You both might enjoy the idea of a little pain or difficulty moving, but being restrained should not cause serious discomfort or injury. Testing the fit is an important step in setting up your restraints. Once you've done this, your restraints will be ready whenever you are.
Playing with Under the Bed Restraints
Once your under the bed restraint system is set up, it's time to get kinky! What that means is entirely up to you and your partner. Make sure you talk about what you want to try and explore in a consensual way. If you need a few ideas, try these!
Sensual Tease
Once your partner is tied to the bed, they're at your mercy. Surprise them with sensual touch instead of something rough. Run your fingers over every inch of their skin. Linger or not on their erogenous zones. Come back to or avoid the places they most want to be touched. It all depends on how much of a tease you want to be. You can use ticklers, feathers, and your hands to create new sensations on their skin.
Add a Blindfold
Your partner is already in your control because they can't move. Add another layer of power by taking away their sight, too. A soft blindfold will keep them guessing about whether you're keeping things sensual or you're adding pleasurable pain. To really keep them on their toes (metaphorically speaking), stay quiet so they never quite know where you'll be next.
Sex and Sex Toys
Sex can be anything you want it to be, and sex toys are made for lovers to enjoy together. Use one or both to increase your partner's orgasmic pleasure or to tease them until they're begging for release. You may ride your partner until you both get off or apply a high-powered vibrator to sensitive parts of their body — or both. Either way, you're in control of your mutual pleasure.
Conclusion
You don't have to tie knots like a sailor or know all about Shibari to enjoy bondage in the bedroom. All you need is a simple set of restraints that immobilize your partner (or you!) in a comfortable way. Sportsheets Under the Bed Restraint System is the perfect option if you're more interested in the kinky sex you want to have than in the pretty knots you could tie.
This system is versatile, adjustable, and perfect for anyone new to bondage or who wants to focus on the kinky pleasure faster. Add other kinky gear and sex toys or not. The choice is yours and the possibilities are endless.
Have you tried this under-the-bed restraint system or another version? What do you think of it? Share your experience in the comments below!