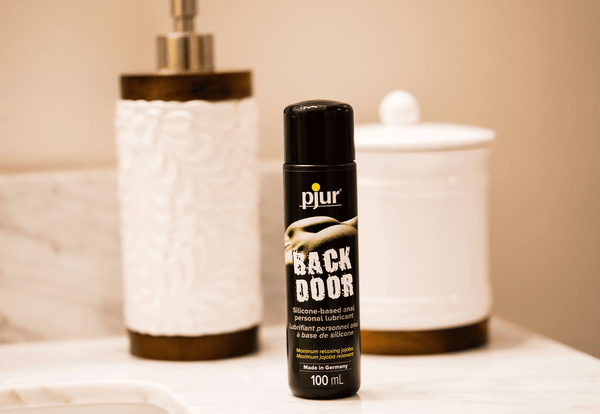 When comes to shopping for sex supplies, whether it's the latest and greatest adult sex toy, a costume, a prop, some very specific BDSM gear and (much) more, there's hardly anything I would feel confident saying "absolutely everyone should be buying this regularly". There is, however, one big, slippery exception: Lube. 
We may all have different lube preferences and we may use it in our own unique ways, but I legitimately have no problem saying that absolutely everyone should be keeping at least one type of lube (and possibly more, I'll explain why in a little bit) in their nightstand at all times. So let's break it down. What is lube? What types of lube are there? How do you use it? Read on for the answers to all those questions and more!
What is lube?
Before we go any further, we should be clear on what exactly we're talking about. So, what is lube? Lube is short for "lubricant" and in this context, we are referring specifically to personal lubricant used in a sexual context. They come in liquids, gels, or creams and they are used to reduce anal or vaginal dryness and to prevent discomfort or irritation from skin-on-skin friction during sexual activity. 
You can use lube for literally any kind of sex, solo or with a partner. Anal play, vaginal penetration, while playing with toys, manual stimulation, and even oral sex can all benefit from the addition of lube. This can be tricky for people to understand. As vaginas have the ability to self-lubricate (though many, depending on the circumstances, often don't produce sufficient lubrication), many people see using lube as some kind of failure. It can be an ego thing that results in people being adamant that they don't "need" lube. 
Here's the thing: even if you don't "need" it, even if you or your partner has a niagara-esque vagina that lubricates at the merest mention of sex, lubricant makes stuff feel better. What stuff? Stuff when hands touch genitals, stuff with toys, stuff with butts (remember, they don't lubricate), even stuff with that super-lubricated vagina, which might not feel so wet after you've been at it for a while. Trust me on this: Lube Makes EVERYTHING Better.
Choosing the right lube for you
One of the things I hear alarmingly often in my life as a sex educator/lube proselytizer is "I've had problems with that stuff." With frightening regularity, people try the lube that is most readily available in their drugstore, assuming that must be the simplest thing available. Then, they have a bad reaction and decide that lube isn't for them. After all, if  something "basic" irritated them, then something "fancy" definitely would, right? Nope.
Here's the thing: lots of the lubes that you can find in your drug store or supermarket actually contain ingredients that can upset the body's pH, trigger yeast infections and bacterial vaginosis, and even cause skin irritation that can actually leave the user at greater risk for contracting STIs. That said, know that if you are irritated by drug store lube, it's probably the product, not you. Be picky when you picky when you pick your slick stuff!
You have some choices when it comes to lube (and you don't need to pick just one!) so let's take a minute to break them down:
Water based:

A good, thick water based gel lubricant like

PinkCherry Water Based Lubrican

t is a solid pick. Versatile and comfortable as it adds a little cushion in addition to slickness. That said, water based lubes can dry out fairly quickly making it necessary to reapply often. 

Silicone based:

Silicone lubes are real workhorses. The last and last. That said, they can be kind of thin and can ruin silicone toys. If you want to use a silicone lube with a silicone toy, do your research (

Pjur

has a well-established reputation for being good with silicone toys) and perform a patch test on the base of the toy. If the texture of the toy changes after you apply a

silicone lubricant

, they are not a match.

If you're in the market for the best lube for anal play

, silicone lubes are a great choice.

Hybrid

:  A hybrid lube is a water based formula with a touch of added silicone. It's versatile like water based (hybrid lubes tend to be safe with silicone toys)  but long-lasting like silicone. They also often come in a delightful creamy formula.

Oil based

: oil based lube is often left out of the lube convo because many oil based lubes don't get along well with vaginas and all oil based lubes cause latex or polyisoprene condoms to break. But

for external uses, like masturbation and massage

, these super-slick, long lasting lubes can be a great choice. 

Flavored:

flavored lube is usually a water based lube that contains additional flavors. They can be great for oral and manual sex. 
How to use lube effectively
Here are my favorite tips and tricks for using lube that can help you get the most out of the slippery stuff!
Pay attention to ingredients: Many lubricants contain ingredients that can cause irritation or infection. Read the ingredients list on your lube and avoid the following ingredients:
glycerin

nonoxynol-9

petroleum

propylene glycol

chlorhexidine gluconate
Warm it up: lube can get cold so before you slap it on your (or someone else's) genitals, you might want to warm it up in your hands, first. 
Reapply before you think you have to: A good rule of thumb with lube is that if you think you need to add more, you probably needed to add more 5 minutes ago. This is especially true of water based lube. To stay comfortable, reapply even when you don't "need" to. 
Layer your lube: Silicone lube is super long-lasting while water based lube can be thick and cushion-y. You don't have to choose between the two though! If you apply a base coat of silicone lube and then layer a thick water based lube on top of it, you get the cushiony feel of water based lube and when that dries out, you still have the glide of the silicone. 
What not to do
There's not really a "wrong" way to use lube but there are a couple of things you should keep in mind to keep things gliding smoothly. 
Don't forget to check your lube: Lube DOES expire so, if you know your lube has been unsealed for a while be sure to check it to make sure it hasn't spoiled. Check the smell, color, and texture.
Don't use oil lubes with condoms: This one is actually a safety concern. Oil based lubes can degrade latex or polyisoprene condoms causing them to break. So if you're practicing safer sex, skip the oil. 
Maybe don't rub it in: When we are touching our partners to apply lube, it can be tempting to stroke, massage, and caress but in the case of (especially water based) lube, this can be counterproductive as you are creating friction that encourages the lube to dry up before you even get to the moment you are using it for. 
Lube is a quick, easy, accessible way to take sexual pleasure up a notch. Whether you are newly curious or a lube aficionado, check out PinkCherry! They've got all the adult sex toys and lube you need to level up your sex life!